At this point in SXSW's evolution as a music festival, the only way you could adequately report on every day's show offering is to gather a hundred rock critics (literally a hundred), give them assignments and rations and canteens, send them out early enough to wait in line at all the key day party venues, and then sequester them after the shows for long enough to make sense of their notes -- perhaps during the primetime showcases that are still supposed to be the focal point of the festival.
It wasn't always like this. Back in the day, bands would just do their evening showcases, and perhaps make a couple of isolated appearances during the week at other venues. But now, bands are more likely to use their primetime showcase spot as a jumping off point to pack in as many shows in a week as possible.
For at least five years now, SXSW Music has been two festivals: one for the high caste of badge holders and middle caste of wristband holders, and another, more chaotic one in which the lines of privilege blur and thousands upon thousands come together to map out their own SXSW experience show by show.
My experience this year was a patchwork of new discoveries and slightly indulgent reminiscences to past eras -- the latter made possible via various reunion tours and bands with such longevity that this round of shows merely seemed like a reunion tour.
Perhaps the most fascinating thing about the day show circuit to me, in watching its evolution into the city-stopping free-for-all that it now is, is that virtually anything can and does become a venue. Parking lots are outfitted with tents and stages and instantly become hubs for music fans -- in the case of Fader Fort, at the edge of the increasingly vital day show territory just east of downtown -- home to ND's solid all-week lineup, the Other Music/Dig For Fire two-day extravaganza at the French Legation Museum, and Saturday's massive Mess With Texas Festival -- lines for wristband pickup were several hours long at their apex.
The most creative reconfiguring of a space into a venue probably goes to KEXP, the superlative, Seattle-based radio station with an eclectic playlist featuring much of the music worth knowing about. The station, for this year's edition of its annual live remotes, teamed with Mellow Johnny's, the Lance Armstrong-owned bike shop in Downtown Austin's Warehouse District. At its most packed -- including for Thursday's Black Angels show and Friday's back-to-the-future show from OMD, audience members in the back, with obscured sightlines, could hear music but could only see rows of bikes hanging from the walls, sporting four-figure price tags.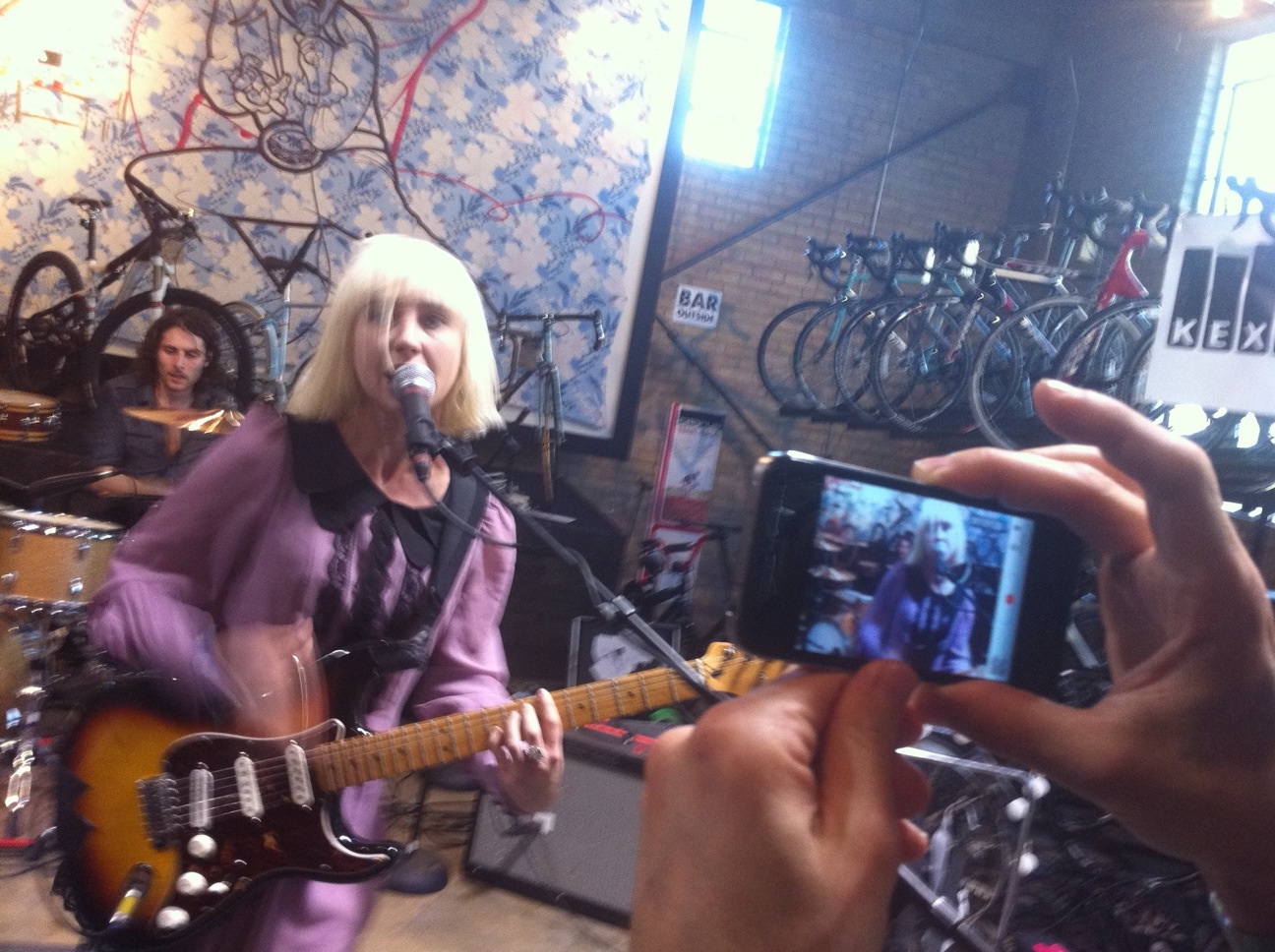 KEXP also hosted what might have been the most joyful show of the week, from Welsh trio Joy Formidable, with an elegant brand of fuzzy, swirly pop that sounds fresh yet could have found a home on the 4AD catalog in its goth heyday. Singer/guitarist Ritzy Bryan delighted the photographers upfront, intently staring, grinning, grimacing and mugging to the crowd while attacking her Stratocaster and vast array of pedals with a healthy ferocity.
Day shows also lend a certain proximity to bands that fans don't necessarily get even in indie-leaning nightclubs. At Beauty Bar for the eMusic showcase on Thursday, not only were featured artists like Ty Segall and the Obits' Rick Froberg (formerly of seminal rock math band Drive Like Jehu) affable and mingling after their sets, Jeff the Brotherhood's Jake Orrall decided to take band-to-fan contact directly to the crowd during its set by plunging into the throng mid-solo.
As SXSW and all its ancillary shows grow in number and scope, day show becomes a bit of a misnomer, as a number of the events stretch into the evening hours. The massive Rockfest on 5th and Colorado -- on a parking lot made into a two-stage venue with festival food booths and a vaguely frightening Guinness pint mascot -- hosted a massive lineup of bands not officially on the SXSW roster, and yet pulled into the gravity of its orbit all the same.
Rockfest actually featured one of my favorite, most unexpected moments of the week -- seeing teenage sensations Yayo charge through the final songs of a set that happily embraced decades of rock clichés with a youthful exuberance and the optimistic sincerity of a band that clearly aced its School of Rock final exams. As soon as Yayo finished its "I Want You to Hate Me" (which led one young woman in the audience to exult, "I love to hate you!") with a final, triumphant textbook rock ending -- and of course it was -- lights came up on the stage next door, and Whiskey Six, a clearly hard-living quartet from Phoenix, started its set, completing a tableau that might have been Portrait of Dorian Gray, might have been cautionary tale to Yayo, but was delicious all the same.
The sheer size and scope of what's out there in Day Show Nation makes it a disappointment if you're intent on seeing everything on your schedule of possibilities. Saturday's Mog showcase at Mohawk -- with a lineup including Big Boi, TV on the Radio, and Okkervil River -- might have won the week's award for Most Disappointed People Sweltering in Line, edging out perennial contender The Rachael Ray Party, across the street at Stubb's.
And yet, for those open to the unexpected, the day shows allow for moments of unanticipated perfection. For me, it came in the form of Versus' Friday afternoon set in the backyard of Home Slice Pizza. With a Marfa Recording Company crew rolling, the New York-based veteran indie rockers did an acoustic set of a handful of its best songs, four of them sitting in front of a crowd dutifully keeping silence, except when asked politely to sing along. In a festival full of noise and chaos and a connect-the-dots of sound from a chain of stages bleeding into one another, it was a perfect little bubble of connection between band and fan, in a way that is still gloriously, happily possible.

SUBSCRIBE TO & FOLLOW ENTERTAINMENT
HuffPost Entertainment is your one-stop shop for celebrity news, hilarious late-night bits, industry and awards coverage and more — sent right to your inbox six days a week. Learn more