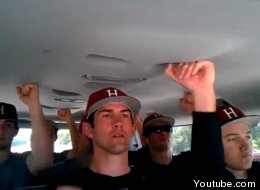 Maybe it's our generation's addiction to a "look at me!" culture. Maybe it's our devotion to an ever-expanding pantheon of pop music divas. Maybe it's just YouTube.
But something has caused an unprecedented (and for that matter, unusual) slice of the American population -- including athletic teams, Marines, models, fraternity brothers, and cadets -- to join together en masse in emulating music videos by the likes of Britney Spears, Whitney Houston, Ke$ha, Katy Perry, and Kylie Minogue, all with the intent of posting the evidence online for countless viewers to watch at will.
That something behind America's swelling obsession with lip-dub videos is gay men.
Long before a group of Harvard University baseball players found YouTube fame lip-syncing to Carly Rae Jepson's "Call Me Maybe," gay men were uploading pop-princess parodies of their own -- albeit to the beat of a slightly more fabulous drum. As is often the case when society finally swings around to granting something collective coolness, gays got there first: Back in 2009 in a historic section of Fire Island called the Pines, eight New York City friends vacationing together broke out a Flip Cam, disco'd-up their dance moves, and transformed Miley Cyrus' summer anthem, "Party in the USA," into "Party in the FIP."
"We all loved the song and thought it would be fun to do a video to capture the essence of our summer at the beach," creator David Fudge told Aussie gay mag DNA after the video went viral in less than a week. "I've had a LOT of people that I haven't heard from in a long time -- and hundreds of people that I don't know -- reach out to me. It's strange to think that something I did as a fun project with my friends has been seen by so many people." One of those people was Miley Cyrus, who shared the sun-kissed lip-dub with the rest of her fans, tweeting, "I am OBSESSED with this video! Let's make one!" Even Disney, which could have yanked the video for copyright infringement, joined in on the fun when then-president Rich Ross personally phoned Fudge.
"I was like, who?" Fudge recalled for the The New York Times. "He just said that he loved it and wanted to tell us that. He was extremely nice."
That scenario, between groups of men and the stars they spoof, repeats itself time and again as throngs of lip-dubbers join the nation's meme-obsessed zeitgeist. "It's hysterical," explained Katy Perry in an interview with The Advocate about "California Gays," a homofied twist on 2010's "California Gurls" from budding filmmaker Ryan James Yezak. "For me, what signifies that a song works is when cheerleaders are making up cheers to it or when people are making parodies of it, putting in their own personal time and sometimes money to make a video and put it on YouTube. That's when I really know a song is going to be of some value," she said. Indeed, the value for Yezak came when he landed a job at MTV shortly after -- having left, now, two years later to pursue his proven ability for "entertaining you."
It's hardly novel for gay men to lead the charge toward popular interests and trends -- just look at the current dominance of dance music or the swelling support for President Obama's bid to regain the country's trust or the death of pleated pants. Gays, it seems, have something in common with Helen Mirren's masterful anticipator in Gosford Park: "I know it before they know it themselves."
Certainly, the range of factors influencing the queer community's manifestation of these communal diva tributes is deep and wide -- from strong bonds with female performers, to drag queen stage culture, to the high percentage of out professionals in creative and media industries. And, yes, participation in lip-dub videos reaches all segments of society (an airplane full of U.S. Olympians, for one example), not just men with particularly extroverted tendencies. Still, there has to be something to explain why America's traditional bastions of whitebread, heterosexual masculinity have usurped (though somewhat diluted) the viral YouTube habits of gay men.
Worth further eyebrow raising are the sub(or maybe not sub)conscious intentions of soldiers who film themselves covering Britney Spears and Ke$ha, Mariah Carey and Lady Gaga, when only a generation ago that same "Oorah!" enthusiasm now churning out Top 40 Spirit Spots would have crushed such obvious affronts to prevailing heteronormativity. Should we, just maybe, understand this shift in gender expression as somehow tied to the slow disarmament of Don't Ask, Don't Tell and the quietly prevailing preference for marriage equality?
Maybe, if the DADT repeal is upheld and love is finally given its day in court, the gay community will have something more to thank Britney Spears for than an album or two of legitimate music and that sudden, kinetic volt one feels when it's 3 a.m, you're four drinks past caring who sees, and the DJ unleashes "Oops!... I Did It Again."
25 of YouTube's Greatest (and Gayest) Lip-Dub Videos
As a trailblazing example of today's viral phenomena, the Spice Boys 5 were among the first all-male amateurs to douse YouTube sparkle on a pop song, lip-dubbing the Spice Girls' "Stop" back in February 2008. Of the countless videos to since follow suit, none have quite matched the "Gay Power!" spirit of Dylan, Geo!, Frank-Joseph, Devit, and Daniel.

With a cocktail of giddy charm, bikini-clad beach scenes, and DIY choreography, eight friends escaping New York City for Fire Island Pines in the summer of 2009 would almost single-handedly introduce the world to guycentric lip-dub videos. The instant fame of the FIP boys, as they came to be known, is owed in part to the infectious nature of Miley Cyrus' "Party in the USA" -- and to the directorial talents of David Fudge, the "so hard with my girls not around me" soloist circa 1:20.

The gays of Asbury Park, NJ will be the first to admit that their "Million Dollar Bill" video found its inspiration in "Party in the FIP." Just a month later and some 90 miles of coastline away, creator Adam MacLean and his friends payed homage, not to Miley, but to a then still living Whitney Houston with this sassy, skimpy-suited summertime romp.

For bearded trio Josh Cheon, Jason Whipple, and Mark Louque, there was never a question of remaking Dionne Warick's "I Say a Little Prayer" -- or even Aretha Franklin's -- when Glee offered its own scene-stealing version to lip-dub.

Booty poppin'. Booty droppin'. Cowboy hats. Toy guns. Nipples. And even a thong. They're all here in this glute-obsessed lip-dub from 2009 to Qwote's "Shawty It's Your Booty."

On day 23 of "hell," cadets at the US Air Force Academy channeled the famously feral Ke$ha to celebrate their Recognition in 2010, a milestone training process toward becoming upperclassmen. But these cadets might have exceeded even Ke$ha's antics, because when's the last time you saw her backflip off the wing of a fighter jet?

"This is a video we made for Ke$ha's YouTube video contest," director Christopher Swank wrote of this nearly naked dance party from a group of guys calling themselves The Boys of Boston. "However, we didn't realize it was for her 'Tik Tok' song" and not the song they actually lip-dubbed, "Take It Off." Whoops.

Ironically intended or not, these US Navy men really were alone when they reveled together in the 1987 reign of mall-pop princess, Tiffany.

"Prepare yourself for a fantastical journey," announce the YouTube notes for this badass barracks video -- not that anything truly preps you for the sight of soldiers in Afghanistan performing the full choreography (yes, quirky side clap and all) from Lady Gaga and Beyonce's "Telephone."

"Blah blah blah" seemed an apt response to opponents of repealing Don't Ask, Don't Tell in May 2010, when soldiers stationed in Afghanistan made a DADT-themed video to Ke$ha's irreverent jam -- more than six months prior, mind you, to Congress enacting a bill to repeal the policy.

These days, Ryan James Yezak is a pillar of the gay viral video genre, but in July 2010 he was just a budding filmmaker who corralled an eclectic cast of guys into transforming Katy Perry's "California Girls" into a dancetastic tribute to West Coast gaydom. Yezak has since applied his tongue-in-cheek treatment to such pop hits as "Peacock," "We R Who We R," and "Hold It Against Me."

If you recognize some of the faces (or bodies) populating this highly produced video of Kylie Minogue's "Get Outta My Way," that's probably because you watch gay porn -- Randy Blue to be specific, which lent out some its main stars, including Reese Rideout, Chris Bines, and Cayden Ross, for more-clothed-than-usual cameos in honor of the Australian diva.

Rowdy frat-boy culture made its contribution to the YouTube generation when several male students at the University of Arkansas reached boredom to the point of lip syncing to Katy Perry's "Firework," while standing outside -- shirtless, of course -- in the snow.

Filming their lip-dub video "somewhere deep in the heart of Afghanistan," the U.S. Marines 266 Rein and HMLA 169 payed tribute to Britney Spears with a desert-disco rendition of "Hold It Against Me." Later that week in April 2011, Spears took to Facebook to express her appreciation, writing, "I am in LOVE with this… I always knew our soldiers were fierce! Thanks for everything you guys do… –Britney."

Like something out of West Side Story, The Boys of Boston returned for another video contest, staging Britney Spears' "(Drop Dead) Beautiful" as a basketball court brawl. Only, these Jets and Sharks ultimately settled their differences out on the dance floor with moves Jerome Robbins never dreamed of capturing on camera. (See US soldiers lip-dub Spears' song here.)

Three little words -- "Don't Stop Believing" -- were motivation enough for the group of British soldiers deployed to Afghanistan who adopted Glee's signature song as their own (but, you know, borrowed from Journey) in July 2011.

A notable exception among a slew of Top 40 songs, The Dandy Warhols' power-pop track "Bohemian Like You" presents fashion's point of view on the lip-dub craze. In collaboration with street style blog Jak & Jil, director Justin Wu shot a gaggle of male models during Fall/Winter 2011 Fashion Week in Paris and Milan -- resulting in what is quite certainly the best-coifed moment of this list.

Who knew Britney Spears had such a strong following amongst the few, the proud, the Marines? Yet another group of the military's finest re-imagined their barracks as the set of a pop video, this time for the grammatically flawed "Till the World Ends."

After learning that the HMS Ocean would return home in time for the winter holiday, her majesty's crew aboard the amphibious assault ship stripped their shirts and celebrated with a lip-dub video of Mariah Carey's "All I Want for Christmas Is You," complete with homemade (err, boatmade) costumes. (See the FIP boys' holiday lip-dub to "All I Want For Christmas Is You" here.)

The 25th Company Plebes Class of 2015 makes lip-dubbing LMFAO for a Spirit Spot video look sexy. Problem is, they know it.

Also in the sexiness know? The UC Davis baseball team.

As anyone who's watched "A League of Their Own" will know, a professional baseball team's bus plays host to all sorts of interstate mischief, the least of which is a group performance of Nicki Minaj's 2012 smash, "Starships" -- exactly how minor leaguers the Winston-Salem Dash passed its four-hour drive from Frederick, MD to Lynchburg, VA.

No song has spawned as many variations on a theme as "Call Me Maybe," Carly Rae Jepson's 2012 career-maker, with even Abercrombie & Fitch getting in on the single's popularity. Models from the retailer's global flagships invaded their respective cities with improvised choreography, later spliced together to create a black-and-white, scantily clad video worthy of even Bruce Weber's approval.

Remarkably, Havard University's baseball team managed to lip-dub the entirety of Jepson's "Call Me Maybe" en route to a game without once waking teammate Jack Colton, who snoozed in the backseat of the van unaware of a soon-to-be viral video unfolding around him. (See six more lip-dub videos of "Call Me Maybe" here, here, here, here, here, and here.)

Calling this parody from the Naval Academy's 22nd Company a lip-dub video might be a bit of a stretch, as it's clear that no one actually knows the words to Psy's K-pop megahit, "Gangnam Style." Still, it's a valiant effort with plenty of regalia-clad eye candy.