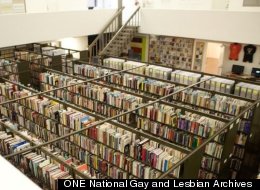 I've informed several people that it's LGBT History Month. Those people have all had similar reactions, something like, "Uh... really? Isn't that June?"
Then I say, "No, that's LGBT Pride Month."
Then they say, "Oh. What happens during LGBT History Month?"
Then I don't have a good answer... until now!
My answer is simple: Y'all should go to the library.
Seriously, if you live in a major city, chances are there is a library, an archive or a collection of LGBT materials near you. It's interesting stuff that you should see, so do it. Go visit it! See the pictures, flip through the old magazines, read the books. Learn something about the men and women who put their fear aside and paved the way for the rest of us.
I've done a little work for you and come up with a few examples of some of the great collections.
LGBT History Archives And Libraries
From its website:Founded, and coordinated, in 1990 by volunteer archivist Rich Wandel, the collection includes thousands of papers, periodicals, correspondence, and photographs donated by lesbian, gay, bisexual and transgender individuals and organizations. The Center's history archive is a national leader in gay and lesbian archives by virtue of the size of its collection, and advocacy efforts for gay and lesbian history. Countless researchers, academicians, historians, filmmakers, etc.,. pour through the files in search of further information regarding queer history dating back from 1920 to the present.The collection is accessible Tuesdays and Thursdays between 4 p.m. and 7 p.m., and by appointment. The library is open Monday through Thursday between 6 p.m. and 9 p.m., and Friday and Saturday between 1 p.m. and 4 p.m. For information on how to donate papers and ephemera, contact Rich Wandel at archive@gaycenter.org. Photo: Patrik Moreton

The GLBT Historical Society, founded in 1985, holds one of the largest collections of LGBT historical archives in the United States. Often referred to as San Francisco's "queer Smithsonian," the society has offered exhibitions and programming since it was founded. With the establishment of the GLBT History Museum, a full-scale museum in the Castro District in January 2011, these public history activities were made a central part of the museum's mission. Every year dozens of researchers -- authors, journalists, filmmakers, students and others -- are welcomed to the reading room at the society's archives near downtown San Francisco. The Castro District museum has attracted tens of thousands of visitors from around the world -- including celebrities and public figures ranging from Britney Spears to Oscar-winning screenwriter Dustin Lance Black to Mariela Castro (daughter of Cuban President Raúl Castro and niece of former Cuban President Fidel Castro). Photo: Daniel Nicoletta

According to its website, "Gerber/Hart Library and Archives was founded in 1981 to be a depository for the records of lesbian, gay, bisexual, and transgendered (LGBT) individuals and organizations." The organization's holdings include over 20,000 volumes, 1,000 periodical titles and 100 archival collections. It is the largest LGBT circulating library in the Midwest. Gerber/Hart moved this past spring to a new space at 6500 North Clark Street and is currently closed while its new space is being finished. The organization expects to be open before the snow flies! Phone: 773-381-8030; Web: www.gerberhart.org.

From the website:Founded in 2001, the Gittings Collection of gay and lesbian materials is named in honor of Barbara Gittings, an early pioneer in the fight for gay and lesbian civil rights. Gittings' commitment to libraries was galvanized when, as a teenager, she was unable to find any books about gay people at her local library. She was among those who demonstrated for the civil rights of the gay community during the mid-1960s at the Pentagon, the White House, and Philadelphia's own Independence Hall. Although not a librarian herself, she headed the Gay and Lesbian Task Force of the American Library Association for 15 years and edited its Gay Bibliography and other gay reading lists. Barbara lived much of her adult life in Philadelphia, and it is fitting that this collection, housed within blocks of the site of her early civil rights demonstrations, should be named in her honor. The Gittings Collection, the second largest (after San Francisco Public Library) gay and lesbian collection in a public library, takes up an entire wall near the front entrance of Independence Branch and features over 1500 items including books, music, DVDs, audiobooks, and periodicals.

From the website:The Leather Archives & Museum is a library, museum and archives pertaining to Leather, fetishism, sadomasochism, and alternative sexual practices. The geographic collection scope is worldwide and includes all sexual orientations and genders. The library collection contains published books, magazines, scholarly publications, films and electronic resources related to the subject matter. The museum collection contains original erotic art and artifacts from alternative sex organizations and individuals. The archival collection contains unpublished papers and records from notable activists, artists, businesses and organizations related to the subject matter.

From the website:The Jean-Nickolaus Tretter Collection in Gay, Lesbian, Bisexual and Transgender Studies houses over 100,000 items in a wide variety of media. The collection is international in scope and has materials in approximately 58 languages. It covers all time periods, from a 4,000-year-old phallic statuette from Egypt, up to current editions of GLBT periodicals. Although books are the core of the collection, substantial sections include textiles, glassware, film, music, art works, and three-dimensional objects such as event buttons and furniture. The collection includes unpublished manuscripts, vertical files, and periodicals from all over the world. Among the significant archival holdings are the Jim Chalgren Collection, the personal papers of Professor Toni McNaron, Patrick Scully, Dallas S. Drake, Stuart Ferguson, and Tobias Schneebaum. The archives of the National Log Cabin Republicans, National Education Association GLBT Caucus, the Lesbian Review of Books Archive, Gay/Lesbian Postal Employees Network (PEN) Minneapolis/Saint Paul, Paper Eagles--the employee group of the Minneapolis Star Tribune, the Ramsey County GLBT Employees Network, and the archives of the Twin Cities-GLBT Pride Committee.Available for University of Minnesota undergrads, graduate students and faculty, the archive is also open to and frequently used by the press, community members and scholars from other institutions. The is no charge to use the archive.

From the website:ONE National Gay & Lesbian Archives is the oldest active Lesbian, Gay, Bisexual, Transgender, Queer, Questioning (LGBTQ) organization in the United States and the largest repository of LGBTQ materials in the world. Founded in 1952, ONE Archives currently houses over two million archival items including periodicals, books, film, video and audio recordings, photographs, artworks, organizational records and personal papers. The collections at ONE Archives are a part of the University of Southern California Libraries.The archives are free and open to the public Tuesday and Friday from 1:30 p.m. to 5:30 p.m., Wednesday and Thursday from 3:30 p.m. to 9 p.m., and Saturday from 11 a.m. to 5 p.m.
Follow Phillip M. Miner on Twitter: www.twitter.com/PhillipMiner