Farmer U Shwe Tay had trouble sleeping at night. When the sun set and rural Myanmar (Burma) was plummeted into darkness, U Shwe Tay and his animals had to rely on dim candlelight. Often, a strong gust of wind would blow out the flame lighting his pigs' stall, and in the darkness, the mother pig would mistakenly sit herself on one of her piglets.
Paranoid, U Shwe Tay constantly woke up sick with worry. Multiple times each night, the weary farmer would stumble his way to the pig stall to replace or relight the candle, only to get up exhausted the next morning and face a full day's work ahead of him.
Meanwhile, in Myanmar's Delta, Lei Lei Su is a 12-year-old student with big dreams. This little girl wants to be a doctor, but the path laid out in front of her is a rocky one. When she comes home from school, she spends the day's remaining hours helping her mother do chores and farm work: hauling water for household use, tending to the animals, and cooking dinner for a hungry family of four.
Come nightfall, already squinting hard in the dim light, Lei Lei Su would start studying only to be disturbed by mosquitoes or wind blowing out the flames.
Each night, both the heavy-eyed farmer and girl with big dreams could only afford two hours of light. Candles cost money. As do diesel and battery operated lights. And money is something rural families don't have a lot of-- especially in rural Myanmar.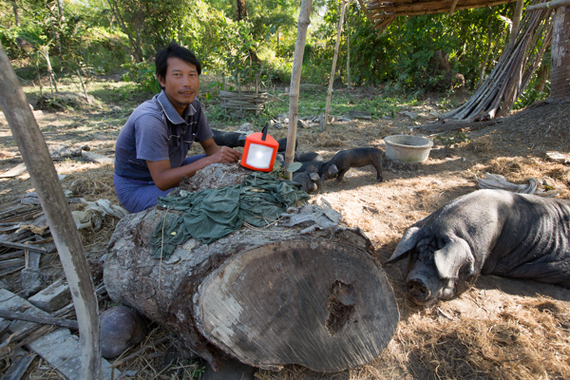 If you look at an aerial photo of Southeast Asia at night, you won't see much of the country. Lights are centered in only the major cities and it is estimated that 84% of the rural population live completely off the grid. Myanmar's existing energy network doesn't reach rural families; Electricity is accessible to just a quarter of the country's population of 60 million people.
This means that when the sun sets, sometimes as early as 5:30 pm, roughly 45 million people are left in darkness, forced to rely on unreliable candlelight and expensive battery systems for activities like schoolwork, sewing, cooking, and sorting produce for sale at the market.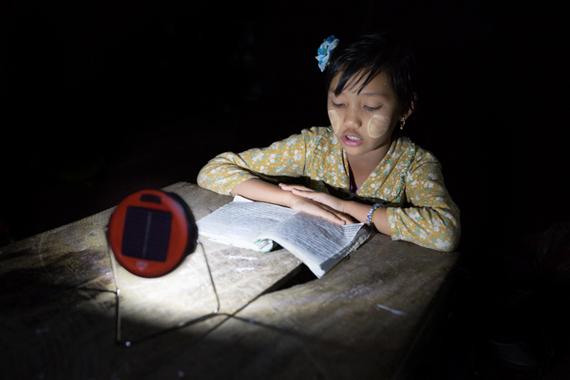 Fortunately though, Myanmar has sunshine in spades. And sunshine is free.
Since March 2012, Proximity Designs has offered an affordable, sustainable alternative for the majority left in the dark: solar-powered lights. More affordable, durable, and practically indestructible compared to battery and diesel powered lights and candles, the lights we sell cut lighting costs by 60%. But they aren't just money saving; bright solar lighting extends the workday, creating more time for money making.
Now, thanks to our lights, farmer U Shwe Tay sleeps easy. His piglets are safe from heavy mothers and their owner wakes up fresh for a productive day on the farm. Lei Lei Su, meanwhile, can work inside the mosquito net without risk of fire and continue studying towards her dream career with less obstacles to hurdle. And no matter what the weather is doing, the light won't go out.

***
With a little capital and a lot of empathy, you can help human-centered design and innovation happen in rural Myanmar, for people who need it most. Join us here.