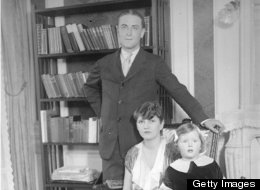 Why does the magic endure? Zelda and Scott Fitzgerald, those star-crossed celebrities of the Jazz Age, still appeal to our collective imagination some 90 years after the peak of their fame. In the roaring 1920s, she was the quintessential flapper, and he America's bright new literary star, their names synonymous with the adventures and follies of an entire generation.
In the wake of the fracturing nationalisms of the Great War, young Americans inherited a world that seemed stodgy, violent, and bizarrely puritanical. In the summer of 1920, the 19th amendment gave women the right to vote; only seven months earlier the 18th amendment had enacted the prohibition of alcohol. Scott and Zelda, embodying the confidence and conflictedness of their time, tested the new limits of liberty, while being acutely aware of how fleeting such freedoms might prove.
Better than any writer of his day, Fitzgerald chronicled the sad but always partying young men, while celebrating the newly free-spirited young women. In the public mind Zelda and Scott became interchangeable with the reckless yet somehow idealistic characters of his fictions, from This Side of Paradise to The Great Gatsby.
Lately, the Fitzgeralds have again been on the collective mind. First, there was the 2008 film of Fitzgerald's story of reverse ageing, The Curious Case of Benjamin Button, which starred Brad Pitt. Then came Woody Allen's glancing portrait of the couple in Midnight in Paris, which casts the Fitzgeralds as a charming but silly pair, inebriated in their very approach to life. In our cultural moment, people again throw roaring 20s parties, whether in real life or on TV shows such as the CW's The Vampire Diaries. Even The Vaccines, Britain's indie band-of-the-moment, give a shout out to Scott in their brilliant celebration of celebration, "Wreckin Bar (Ra Ra Ra)," a track from their 2011 debut.
And, of course, there's this summer's most anticipated film, Baz Luhrmann's The Great Gatsby, starring Leonardo DiCaprio, Tobey Maguire, and Carey Mulligan. The movie seems certain to renew debates about how and why to read Gatsby, while revitalizing the lore and legacy of American literature's most famous couple. Soon we'll be studying a new Daisy Buchanan, trying to discern glimpses of the real-life Zelda in the latest rendering of Fitzgerald's enchantingly blasé and fatally careless heroine.
For all that's been written about one of literature's greatest real-life love stories, much remains unknown about the Fitzgeralds' story. In their earliest days they were at once brilliant and pathologically silly. As they grew older - and began to pay a steep price for once having been so young, so foolish, and so oddly sure of themselves - their commitment in the face of adversity proved imperfect, but deeply poignant. In the most basic sense, they never gave up - not on each other, not on their touching, almost naïve belief that a turn of the wheel of fortune might allow them to "come back" or maybe just "go back." I've tried to capture some of their unyielding romanticism in my new novel Beautiful Fools, The Last Affair of Zelda and Scott Fitzgerald, an imaginative take on what might have happened during a trip they took to Cuba in 1939 -- the last time they ever saw each other. Like most great affairs, theirs is made up of hundreds of smaller stories that combine to give us a sense of their messy, fascinating lives, and their great love. What follows are a few scenes from a 20 year marriage, one that still inspires fear, envy, awe, and ink.
F. Scott and Zelda Fitzgerald
Zelda met Scott as a young first lieutenant in the army, stationed in her hometown of Montgomery, Alabama. He struck a fine figure, with his strong profile, piercing green eyes, and officer's uniform specially tailored at Brooks Brothers. Years later Zelda would remember the impression he made on her, in her highly autobiographical novel Save Me the Waltz: "There seemed to be some heavenly support beneath his shoulder blades that lifted his feet from the ground in ecstatic suspension, as if he secretly enjoyed the ability to fly but was walking as a compromise to convention."

What stood in the way of Scott and Zelda's getting together? At first, just about everything. Scott was deeply aware of the death tolls at Verdun and the Somme. Believing he too might soon die, he hastily finished his first novel while in officer's training. His manuscript was rejected, but his life spared — even as he was about to be deployed overseas — by the armistice of November 1918. With the war over, he courted Zelda from New York, besieging her with love letters and telegrams, winning but then losing her hand because his career prospects were still so uncertain. Dejected, he moved home to St. Paul, Minnesota to rewrite the book he hoped might tell the story of his generation as no one else could. When Scribner's accepted This Side of Paradise, Scott wrote his editor asking if the publication date could be moved up. "I have so many things dependent on its success," he explained, "including, of course, a girl."

During the roaring twenties, Zelda was often seen as a fashion icon – a woman whose zeal and personal style sold magazines and defined trends. But it was not ever thus. Zelda arrived in Manhattan a southern belle from the stodgy South, dressed in frills and furbelows hardly worthy of fashionable New York. Scott, dangerously close to being mortified, asked a fashionable young woman of his acquaintance to take Zelda shopping. His Princeton buddies expressed reservations about his less-than-sophisticated fiancée. "Chews gum—shows her knees," one of them remarked. "I do not think the marriage can succeed." It didn't take long, though, for Zelda to win them over. As the writer Ring Lardner once remarked, "Mr. Fitzgerald is a novelist and Mrs. Fitzgerald is a novelty."

It's been said that a bully is a man who picks fights he knows he can't lose – if so, Scott Fitzgerald was no bully. In fact, he seems rarely to have picked a fight he could win. One evening a Princeton friend noticed an over-served Scott quarreling with an oversized bouncer outside the Jungle Club's inner bar, whereupon Zelda poked her head out, asking whether Scott planned to join her. Unable to say no to his beloved, Scott tried to force his way inside, only to find himself tossed across a table. When the friend tried to escort a humbled Scott to a cab, Zelda dashed out of the speakeasy, shouting, "Scott, you're not going to let them get away with that!" The friend didn't return with Scott to the club, but visited him at home the next day, discovering him in bed, head bandaged, one eye swollen shut, unable to recall the previous night's grand cause or its ignoble results.

If only. Fitzgerald was best known in his day for This Side of Paradise, which set all of America to talking about flappers and their "petting" habits. In the 1920s, Hollywood twice tried to persuade Scott and Zelda to play the novel's famous lovers, Amory and Rosalind, in a film adaptation of the story. Zelda desperately wanted to star in the film, and Scott was sorely tempted. But his editor Max Perkins worried that dabbling in the movies (remember, this was in the pre-James Franco era of American culture) might damage the literary cred of his handsome young author.

Every author approaches reviews with a certain degree of dread, but what if you opened the newspaper one day to find your novel held up for scrutiny by your spouse? Writing for The New York Tribune about Scott's 1922 novel The Beautiful and Damned, Zelda Sayre offered one of the wittiest book reviews ever penned. In it she suggested that readers ought to buy her husband's novel because she knew where there was the "cutest" gold dress on 42nd Street. She also thought she recognized here and there a passage from an old diary of hers that had gone missing after her wedding, and a few pages from her old love letters. "Mr. Fitzgerald," she famously remarked, "seems to believe that plagiarism begins at home."

We remember them as cosmopolites, but in the early 1920s, relishing their youth, glamor, and entitlements, Scott and Zelda set out on a tour of Europe, only to be decidedly underwhelmed by France and Italy. "I think it's a shame," Scott wrote his friend Edmund Wilson, "that England and America didn't let Germany conquer Europe." Gradually the Fitzgeralds changed their tune, falling in love with the Old World (especially Paris and the Riviera) during a three-year residence there in the middle of the decade. Their cosmopolitanism didn't come naturally so much as gradually — but it holds sway in Tender is the Night (1934), the novel that perhaps more than any other has sent Americans to the Riviera's beaches in droves.

Early in The Great Gatsby, Daisy Buchanan recalls for her cousin Nick what she said after giving birth to a girl: "I hope she'll be a fool – that's the best thing a girl can be in this world, a beautiful little fool." The line — which inspired the title to my new novel Beautiful Fools — comes almost straight from Scott's journal entry recording Zelda's waking words (still dazed from the ether) after giving birth to their only daughter Scottie: "I hope it's beautiful and a fool — a beautiful little fool." Fitzgerald kept a notebook with him at all times, forever jotting down other people's words. And if he's sometimes charged with plagiarism for this activity, it should be noted that it's a rather special form of plagiarism when you quote your wife saying words she can't remember saying.

Zelda's first breakdown, precipitated by the pursuit in her late twenties of a career in ballet, occurred during the spring of 1930. She ended up at Prangins Clinic in Switzerland, diagnosed as schizophrenic. When her cure didn't progress quickly enough, Scott spared no expense getting her the best possible help, even considered reaching out to famed psychoanalyst Carl Jung for his insights and advise. Interestingly, Jung was passed over for a doctor with greater expertise on illnesses of Zelda's sort. Eugen Bleuler, who'd first introduced the term "schizophrenia" into the medical world, confirmed her diagnosis, then helped establish the regimen for Zelda's cure.

The "Jazz Age" may stand for American prosperity and excess, but it's also a sign of "pride before the fall," the era that gives way to the October 1929 crash and the subsequent Great Depression. Almost too eerily, the Fitzgeralds' lives run parallel to that rise and fall in American history. Zelda's first breakdown occurred during the spring after the Wall Street Crash, and she spent most of the subsequent decade in institutions in Europe and America. Meanwhile, Scott also bottomed out. In the mid-1930s he wrote a series of searching, confessive essays for Esquire — since collected as The Crack-Up — that chronicled his despair and alcoholism in poetical, heartbreaking detail. Friends like Ernest Hemingway and John Dos Passos rebuked him for baring his soul so nakedly, which isn't surprising: though the book now stands as a formidable forerunner of today's confessional memoir, it was far ahead of its time.

Though it is inarguable that Scott sometimes held Zelda back —resentful when her training regimen for ballet inconvenienced him, later calling for cuts in scenes from her only novel Save Me the Waltz because the character based on him was painted in unflattering terms — he spent far more time and energy supporting her creative endeavors. To that end, he organized a major 1934 exhibition of Zelda's paintings at a NYC gallery in order to lift her spirits as she suffered her third breakdown. Though most often grateful for his efforts on her behalf, she could be ironically astute about their mutual miseries in personal letters as well as in her art. Was it sympathy or well-tempered rage that inspired the 1934 exhibition's most sensational painting, "Portrait in Thorns," which depicted her husband, head tilted, wearing a crown of thorns?

Relationships prove most fascinating when they move out of that dizzying spell of early romance and become (or don't become) something greater: a force that can't be left behind by time, sometimes even by choice. To call the Fitzgeralds' marriage stormy would be an understatement of the highest order. Theirs was a relationship that went up, down, and all around more than a few times during their brief lives — but it endured. The last chapter of their marriage is explored in my new novel. Alone in a foreign land, desperate for the fast fix that an exotic locale can sometimes provide a love affair, Scott and Zelda try again. Their 1939 trip to Cuba would prove to be, unbeknownst to them, their last affair, the last week ever spent in each other's company. But if they were broken, they remained unbowed, still enchanted by the spell of their love, still searching to put their lives back together somehow, some way.