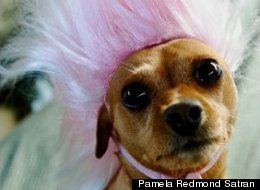 My upcoming book Rabid: Are You Crazy About Your Dog or Just Crazy? is about all manner of contemporary dog insanity, from dog bikinis to dog reiki, vegan diets to pet cloning.
But one of the craziest aspects of dog culture is still one that's been around as long as dogs themselves: dog hair. Here, wild and wacky hairstyles of the dog world.
There's nothing like a pink mohawk to bring out the soulfulness in the eyes. This photo of Rabid's cover dog is by Jeremy Hurd.

The right hairstyle highlights your best features. Photo by Jean-Francois Phillips

When your curls feel like concrete, you've either a. Gone too heavy on the hairspray or b. Got hair not actually made of hair. Photo by KaCey97007

Are you talkin' to ME?

A cute hat is a handy cure for a bad hair day. Photo by Donnitamae

Like so much else, it seemed like a good idea on the beach in Negril.....

Why should the girl dogs get to have all the hair fun? Photo by Ilja

Who's more of a hair expert than someone who's got it on every inch of their body? Plus, imagine the marketing possibilities. Photo by Sylvia Chiu

Sometimes, if you really want to change things up, a shorter haircut or a new style just doesn't go far enough. Try painted-on stripes for a trans-species experience.

Hair-challenged dogs might want a head-covering knit from real dog hair. Find out how to make one for your dog -- or yourself! -- in Rabid.

The twins obviously got their pink hair from Mom. Photo by Jon Feinstein

Make the most of your, ahem, freedom from hair with a large tattoo of a....vulture? Really, anything will do, as long as it's not a cat.
Follow Rabid on Twitter: www.twitter.com/@prsatran