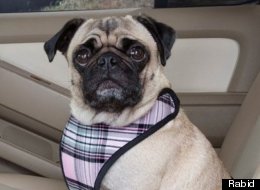 Dog owners often claim that their dogs are just like kids, and thanks to a raft of new products and services, they're getting closer to being right.
Adopting a fur-baby (yes, that's what they're really called) can mean feeding it with a bottle, baking it special puppy food, outfitting it in diapers and hiding the diapers under cute little leopard print panties.
Puppy gear that imitates baby gear includes carrying slings and jogging strollers, hand-smocked dresses and car safety seats. We take our fur-babies to daycare and to yoga classes, arrange play dates and throw first birthday parties.
Since we're having fewer babies later or not having them at all, it makes sense that there are now more dogs -- 78 million -- than children under 18 -- just shy of 72 million according to the latest Census figures -- living at home in the U.S. And often, they're enjoying equal treatment.
Dog toys have come a long way from your ratty old tennis balls. The newest toys include things that bring back memories of your own childhood, like baby (make that puppy) dolls or rubber soldiers, toy versions of things you wish you could afford such as Chanel bags or Cuban cigars, and interactive puzzles designed to stimulate your pup's growing intellect. Photo from Rabid, by Michele Runje.

Puppy-care products imitate baby-care products. Among the items for dogs on the market are receiving blankets, pacifiers, steps to help them climb up into your bed, and a heating pad to mimic a warm body. There are all manner of carrying slings, plus little helmets in case you -- oops! -- fall and drop your fur-baby. Photo from Rabid, by Jaime Foran.

Hate picking up your dog's poop and carrying it around in a bag? There may be a better way. Some dog owners, if YouTube evidence can be believed, have trained their dogs to go in the toilet. There are also specially designed dog "toilet products" that let your dog be more self-sufficient. Or you can rely on doggie diapers like those in the picture from Dog Channel, in sizes from newborn to Oh-God-you-don't-wanna-think-about-it; both disposable and, for those who truly have too much time on their hands, washable and reusable. Cute diaper covers extra.

Dog birthday parties are become compulsory rights of passage, to be held either at home or at the dog run, with both human and canine friends invited. Evite has special dog party invitations and dedicated dog birthday sites offer everything from party planning ideas to party goods. Photo from Rabid, by Denise Hahn.

Puppy clothes can be every bit as adorable (and expensive) as baby clothes. Take for example this gorgeous hand-smocked dress in an animal-appropriate duckie motif from Modern Tails. Other options include ruby slippers with attached ruffled socks, four to a pack, from Trixie + Peanut, and a zebra-striped onesie from The Sassy Pup. And no fur-baby should be without a tutu and a home-sewn Halloween costume.

Used to be, you walked your dog in the morning, went to work, and came home at night hoping not to find a mess on the floor. Now, with studies saying dogs left alone all day suffer from separation anxiety and depression, doggie day care has become routine. Getting your pet into the top facilities can be as high-pressured as getting your child into a posh nursery school, with interviews required for both owner and dog. Some centers offer amenities like massages and swimming pools, plus webcams so you can keep your eye on Rover while you're working. Photo from Rabid, by Tom Faulkner.

Yes, you can bottle-feed your baby dog, using milk-replacement formula rather than cow's milk or goat's milk as with a human baby. Puppies also need special food and treats -- you can even make them yourself! Photo by shutterstock.

What, you make your fur-baby walk? The perambulating dog never needs to let her paws touch the ground if you're considerate enough to buy her a puppy stroller. Muttropolis sells models from the basic up to a $399 jogger. Photo from the wonderful blog Dogs of San Francisco, which details life with fur-babies in the city where dogs outnumber children nearly two to one.

Just as kids today have playdates planned and supervised by their parents, dogs don't just hang out with anybody: Mom or Dad create opportunities for canine socialization. How to meet other dogs and dog-owners? The same way modern humans meet each other: Online, especially via Meetup, which offers such groups as the NYC Downtown Puppy Social to Dallas Party Dogs. Photo from shutterstock.

An entire blog devoted to Pet Auto Safety, source of the photo here, details the options available for keeping your dog safe in the car: seat belts, booster seats, car seats, sleepers, carriers, and for the steel-hearted, barriers. Other safety gear for dogs includes goggles, lighted dog tags, and reflective vests.

Once your puppy is out of diapers, has graduated from the baby sling, and has been socialized via meetup, he or she may want to join Dog Scouts of America. Dog Scouts is a bona fide organization with troops across the country, badges, and even summer camp. Just don't expect any letters home. Photo by Karen Lundgren for Dog Scouts of America.
Follow Rabid on Twitter: www.twitter.com/@prsatran