McDonald's may have its 60-second service guarantee, but if it's not a Sausage McMuffin or McChicken you're craving off the dollar menu, the same buck can buy four or five Beijing-style fried meat-and-chive dumplings at dollar-an-order establishments all over Manhattan's Chinatown.
Fried dumplings -- also called pot stickers or jiaozi -- are believed by the Chinese to bring prosperity since their crescent shape resembles golden ingots used as currency during the Ming Dynasty (1368 to 1644). The evergreen Asian version of a ravioli can be eaten year round and served as any meal, but is especially lucky when devoured at midnight on Lunar New Year.
In order to see if these cheap lucky eats could keep up with Mickey D's speedy service, I visited five restaurants last December, armed with a dollar in one hand and a timer in the other, to see who could deliver the tastiest fastest dumpling in a New York minute -- and who puts the dump in dumpling.
Vanessa's Dumpling House (118 Eldridge Street)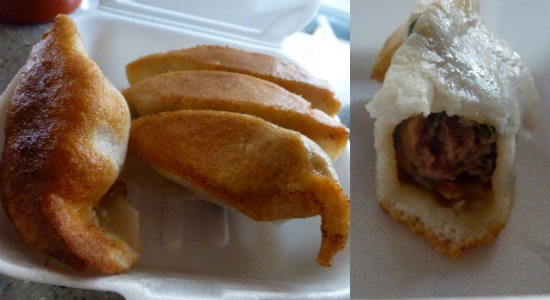 Number of dumplings: 4 for $1
Wait time to cashier: 0:24
Wait time for dumplings: 0:55
Total wait time: 1:19
Taste test: 4 out of 5 chives
Hailed as the mecca of dollar dumplings, Vanessa's Dumplings has been churning out its handmade chive-and-pork fried dumplings since 1999. With wood panel windows, an open kitchen, and 25 seats to fight for, a mix of students on a budget, tourists in search of authentic Chinatown eats, and businessmen looking for a quick meal on the go congregate in the most "luxurious" of the dollar dumpling dives. Open from 7:30 a.m. to 10:30 p.m. every day except Sunday when it closes at 10 p.m., the constant line moves seamlessly, as they serve up their trademark dumplings -- fried to a healthy crisp in a thick dough wrapper -- in less than 60 seconds from when the receipt lands in your hand. (Bonus "Art" Exhibit: Grab the bathroom key on the wooden plank and step into the surprisingly clean bathroom that feels like you're standing inside a graffitied cube -- even the surface of the Victorian mirror is covered.)
Prosperity Dumpling (46 Eldridge Street)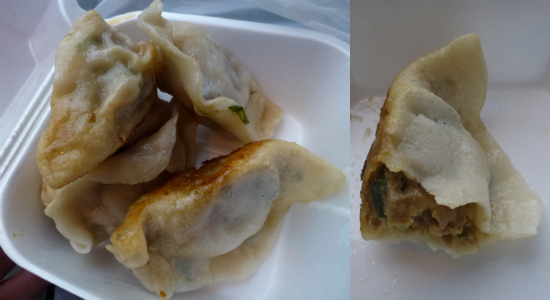 Number of dumplings: 5 for $1
Wait time to cashier: 6:11
Wait time for dumplings: 0:15
Total wait time: 6:26
Taste test: 3 out of 5 chives
Although it lacks the fanfare of its better-known competitor two blocks north on Eldridge, Prosperity Dumpling has no trouble attracting a crowd -- dominated by college kids and older Asian folks -- to what feels like a hole in the wall off the street. With only seven small stools tucked under a thin counter, the customers are as pressed up against each other as the eight women with maroon caps and aprons are in the kitchen as they hand-stuff the filling into the dumplings. In front of them stands a gruff man taking orders who won't hesitate to argue with students over a discrepancy of 75 cents. But with the quickest order placed-to-dumplings in hand time, these juicy chives-and-pork dumplings lightly fried at the bottom with a crepe-like skin make the pushing, shoving -- and sometimes fighting -- worth the bite.
Fried Dumpling (106 Mosco Street)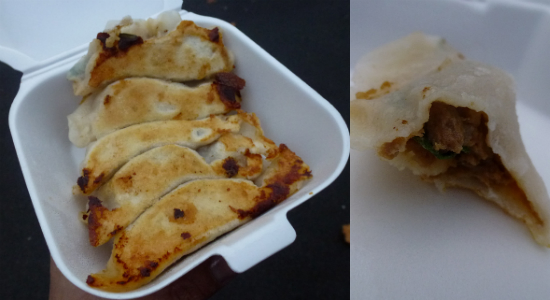 Number of dumplings: 5 for $1
Wait time to cashier: 0:02
Wait time for dumplings: 0:20
Total wait time: 0:22
Taste test: 2 out of 5 chives
Mosco feels more like an inclined alleyway you're taking a shortcut through than an actual street in Chinatown. But follow your nose and you'll find yourself smack dab in the middle of the 220-foot long street at the tiny storefront simply marked Fried Dumpling. Just as you pass under the translucent shower curtain and try not to trip over the haphazardly placed black floor mats followed by cardboard pieces serving as makeshift mats, the woman dubbed by online users as "Angry Dumpling Lady" asks, "How many?" While single-handedly whipping up batches of sardine-like dumplings at every stage, she quickly scoops, packs, and sends you on your way -- not even 30 seconds after setting foot in the store. While the dumplings seem meek -- with thinner skin and less meat -- and are served lukewarm, the hard crispy bottom unites the tastes, perfectly contrasting the textures and flavors.
Tasty Dumpling (54 Mulberry Street)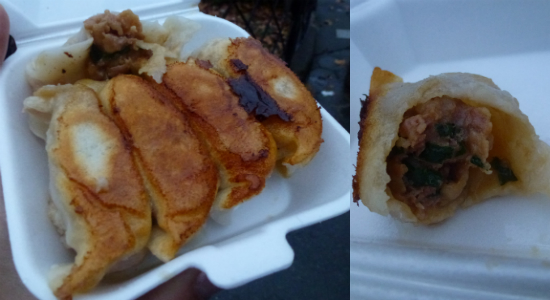 Number of dumplings: 5 for $1.25
Wait time to cashier: 0:03
Wait time for dumplings: 6:29
Total wait time: 6:32
Taste Test: 5 out of 5 chives
The signs "Please refrain from using laptop computers," "Please limit your seating time while others are waiting," and "No card playing" hang ironically on the walls of this rundown restaurant with a thumbs up photo under the words "Number 1" in the middle of their menu. There's nothing inviting about this spot that would make you want to stay -- except for the chatty lady who immediately warns it's going to be a five-minute wait for the fried Beijing-style chives-and-pork dumpling that costs a quarter more than its competitors. "But really they're all the same," she says in Mandarin Chinese. "It's all about the sauce, so you just have to try them all." After the promised wait, she offers hot sauce and soy sauce and warns on the way out, "Don't eat too salty!" Even minutes later, the dumplings are piping hot to the point that steam rises out of them as a bite is taken. But the particularities of the marinated meat that she wouldn't reveal indeed makes this pork tastier than the rest and worth the wait, despite the six visits to Fried Dumpling you can make in the same amount of time.
Fried Dumplings (99 Allen Street)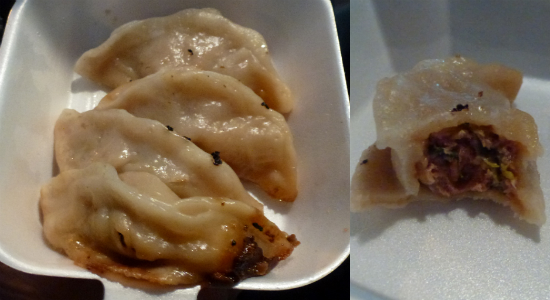 Number of dumplings: 4 for $1
Wait time to cashier: 0:02
Wait time for dumplings: 1:04
Total wait time: 1:06
Taste test: 1 out of 5 chives

Unlike the other dollar dumpling shops where the sizzle of the grill can still be heard, at Fried Dumplings (not to be confused with the store on Mosco with a singular version of the same name), the kind of meat is unspecified on the menu and the dumplings sit in a metal warming pan, waiting for customers to slap down their dollar bills. The chef in the green apron has kicked back and is chatting up a friend in the seats, but hops to attention the moment the door opens. Even with seconds wasted because of his careful efforts to remove the charred ends and his trouble opening the plastic to-go bag, the dumplings are delivered in just more than a minute. With a slightly translucent skin and a stringier filling, these dumplings lack the fresh zest of their competitors, despite their speedy delivery.
FOLLOW HUFFPOST