I just recently came back from one of the most incredible and life changing trips. In late July, I traveled with Martha Stewart and Terry Lundgren, Chairman & CEO of Macy's, Inc. to meet with artisans in Haiti, which is still working to recover from the devastating January 2010 earthquake. Our goal was to meet these talented Haitian artists, seek out the products they craft and incorporate them into Macy's stores nationwide. Take a look at what my day consisted of starting from 4:30 in the morning until 3 in the afternoon. I hope this gives you a sneak peek into how we made a difference in the life of the women and children of Haiti. Enjoy!
July 27, 2011
4:15 am: Snooze button until 4:40
4:40 am: Got out of bed. Unpacked from my LA trip to make room for my Haiti needs
5:30 am: Yuri is downstairs to pick me up
5:55 am: I dash into his SUV. I'm on the road to Teterboro. I take this time to let my twepple know what I'm doing today & where I'm going. I send out all final request & commands for the day.
6:40 am: Make a quick stop at Starbucks before pulling up to Teterboro. (Skim latte -- Grande)
6:45 am: Pull into Teterboro and meet Terry & Martha and -- wheels up!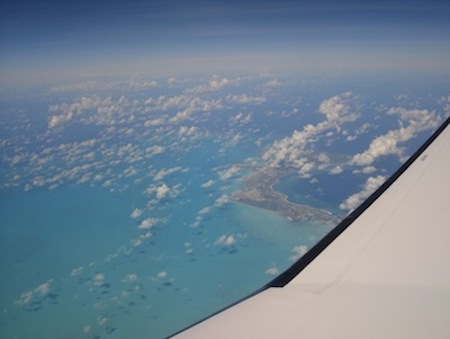 7:00-9:30 am: Fly into Haiti. Catch up on the past 10 WWD's for the last 10 days I was on the west coast.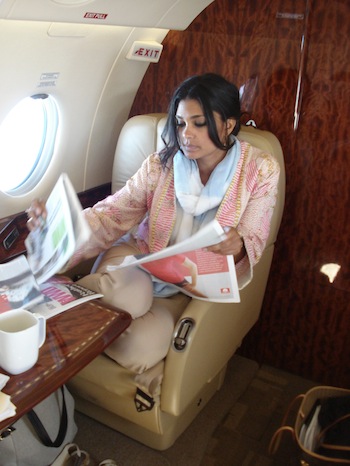 10:00 am: Wheels down. Full armed car security to each stop with a guide that had been chosen just for me -- super chic Keith -- who downloaded me on Haitian religion -- Voodoo -- on the way to the first stop.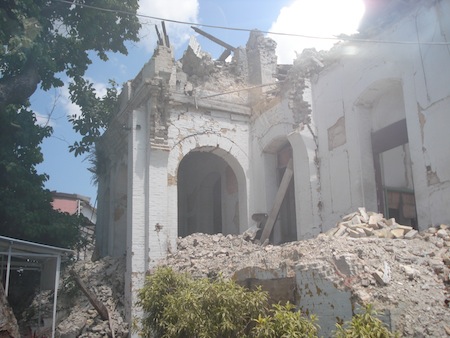 10:30 am: (Artisan Village) Jean Baptire -- Possibly my favorite artist who beads, also a Voodoo priest. Voodoo actually being a good thing -- over the years it has gotten a bad rap ('black magic'). Well really it is no different than other religions that offers hope -- provides clients and provides dietaries and substance a nation. Learn something new ever minute... I love to learn!
11:00 am: Meet all of the FairWinds artists and shop shop shop. I try to spend as much time as I can explaining what I truly believe will sell the best to each and every artist -- my point in doing it is so that the more sellable the product, the more wanted the artist will be. I could have stayed here for hours... I am in my element.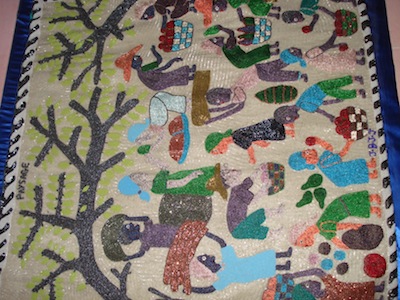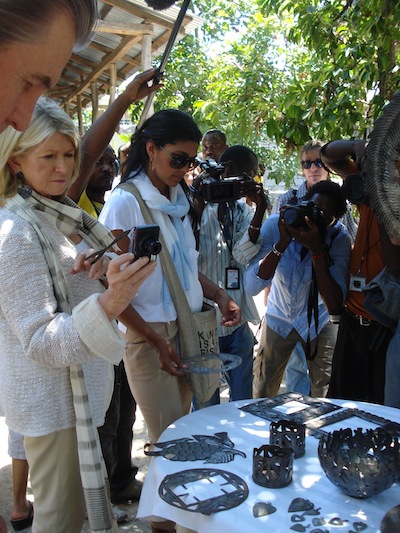 12:00 pm: (lunch in car) -- served in the car as to not offend the locals -- sooo much food! Presented in a straw basket with a beautiful hand sewn napkin -- time to check emails -- 57 inbox.
1:00 pm: (We lead center for women) Tweet time! Hardest stop of the trip wow! Kids -- these are just kids -- raped -- by their fathers, neighbors, no food, no parents. 1 million in the tents -- I can't bare it. I walk out, feel helpless.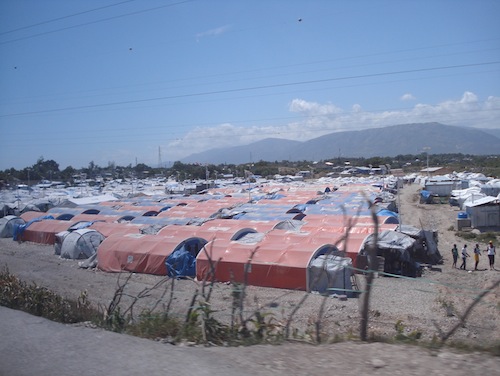 (I hug the girls and leave in tears -- can't speak in the car ride to meet the president -- not even to chic-Keith -- my heart has been broken.)
1:47 pm: (Meeting President Martelly @ Palace) Wow -- I HATE going through security -- for politicians especially -- I don't trust anyone... he comes in and small talk ensues... Terry and Martha are impressively, strong and encourage the President greatly!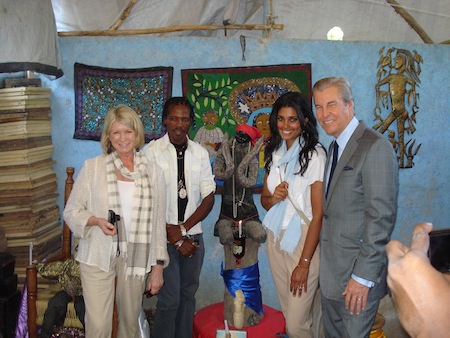 Five minutes before I know we are to go I address him -- I am here only because I want to provide jobs for women -- so he asks me to come back -- I will only come back if you can pledge that the women will be as safe when I leave as they are when I am here... he looked me in the eye and promised me that if I come back he will make sure it happens... CHANGE!