Tonight, ASSME — or, the American Society of [Recently Fired] Media Elites, as the NYT's David Carr so delicately puts it — is having their first-ever Swag-A-Thon, which I am pleased to have had a modest role in helping with along the way, through my micro-giving site, Charitini.com.
Don't know what swag is? You probably aren't reading enough Us Weekly. "SWAG" stands for "Stuff We All Get" and refers to the freebies that are handed out at promotional events -- from pens and tote bags and magnets and mugs to, well, much better stuff, depending on the event (think Oscar gift bags. That's Stuff We Totally Don't All Get). In any case, media folks typically pick up swag of various kinds over their event-attending lifespan, and if you're a pack-rat like me, you just can't bear to throw it out ("Because somebody could USE it!").
Thank God for ASSME, which forced me to admit that I have a problem. From the invitation:
At the door, you'll be invited to donate a piece of SWAG, some branded promotional item you've been holding onto for no good reason. That Pets.com onesie? Bring it! Your Dancing With the Stars headband? That too! These items will be raffled, with 100% of the proceeds going straight to supporting homeless people with AIDS and HIV.
OMG a Dancing With The Stars headband sounds AWESOME. But anyway — what a great idea! In one ingenious organizational swoop, they've turned a far-flung collection of stray, neglected items into one great resource going to benefit a great cause, via the wonderful Housing Works. And, in addition to that, they've forced me to clean my apartment.
So, without further ado, here is a list of what I excavated from the various nooks and crannies of my apartment today. Here it is — My Life In Swag:
(a) Computer bag from Melissa Beth designs. That hipster-stylin', would fit in perfectly on the L train! Also an adorable velveteen makeup case (puple!) and a super-cute velveteen laptop case (polka dots!) that is hard for me to part with but I already have a laptop bag, also Melissa Beth. She good.
(b) Milli Home Decor apron, from the back when Domino magazine launched. (Still one of the best gift bags ever.) Still in plastic. I don't cook.
(c) "Bad Girls Club" promotional shot glass, tattoos and "instant party mix." Oo-kay.
(d) Mercedes-Benz S-Klasse car model (still in box). Liberated from atop my microwave, just because. Why would I keep this? I have no answer for you.
(e) Kellogg School of Management desk clock. Make visitors think you went to biz school!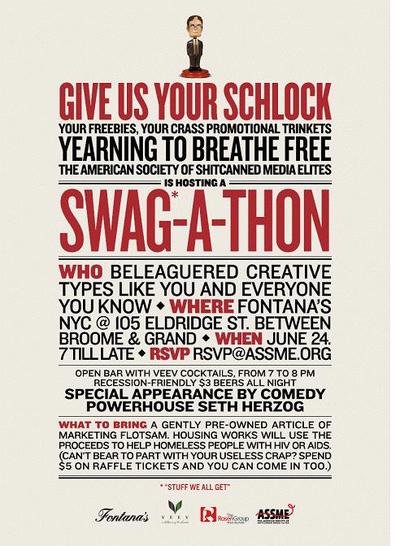 Comes with Kellogg School of Management leather-bound coffee mug, too. (Spoke at conference.)
(f) Women's Health "Ultimate Fat Burn!" video (unused, obviously.)
(g) Jill Stuart eau de parfum "Night Blooming Lily" (no clue where from)
(h) Chloe eau de toilette (not from swag, from an ex who got it free from his boss. I wear Hugo Woman.)
(i) Remnants of Thrillist Vegas gift bag (remember that? I covered it for Radar Magazine, but under its new management apparently bylines aren't important. Thanks, Zombie Radar! Go stalk the Octomom or something.) For the record, I did offer my editor the entire contents of the gift bag for a prize or something, but they couldn't use it. Here's what's left a year later:
Microsoft Zune. A really good gift unless it's worth nothing.
Obnoxious Equinox dice in a drawstring bag. Think "sex dice," except "gym/health dice." A little less exciting.
Cervesa metal-chainy-things that are not handcuffs but look like handcuffs. Enjoy.
Jet Blue tote bag (handy! Easily the hardest to part with.)
(j) Myriam Gallego bowling-ball leather purse (in my prize pack for being a "2008 Power Woman" for New York Moves magazine). I can see that on the L train too.
(k) Ethan Allan decorating book and silk/woven throw (in pretty big box with a ribbon, also from my Power Women gift bag). I do not decorate.
(l) California Country Style by Diane Dorrans Saeks — big coffee table book. I do not have California country style.
(m) Pop Art Toaster - a gift from Huffington Post Entertainment Editor Katherine Thomson, actually. Gently used (for a bagel, once or twice). It has plates that you can insert that will burn "bite me" and "i'm hot" into the bread. It is the stupidest thing ever. But, when you take the plates out, it is a functioning toaster, and it's cute and round and white.
(n) Jimmy Carter, A Remarkable Mother - Enough said.
(o) Simon Doonan, Eccentric Glamour - despite this collection of items, I do not have that.
(p) Joy Behar and Friends, whatever that means - When You Need A Lift
(q) Bonnie Fuller, The Joys of Much Too Much - I have two. Having two of a book called "The Joys of Much Too Much" is pretty funny.
(r) Kathy Freston, The One: Finding Soul Mate Love And Making It Last. HuffPo swag! Arianna co-hosted that party, and Kathy is a fellow HuffPo blogger.
(t) Fareed Zakaria, The Post-American World (I got one for free after I bought it)
(u) "Go Green Huffington Post" tote bag. It's hazy now, but I am pretty sure I brought recycling to the office, back in our early days (circa spring 2006). Every little bit counts!
(v) Terminatrix: The Sarah Palin Chronicles, Compiled by the editors of the Wasilla Iron Dog Gazette. Yes.
(w) Collector's Item! 02138 "Power Couples" issue, featuring Eliot and Silda Spitzer, pre- Emperor's Club. Classic.
(x) Extra-large T-shirt featuring the Obama family, from Inauguration Day, from the streets of DC. Own a piece of history!
(y) A few CDs - Peter Gallagher (aka Sandy Cohen), "7 Days In Memphis"; OM Yoga Mix 2" (SO totally unopened); "Bioneers: Weaving The World VII." Alas, I don't have V and VI.
(z) A set of 3 Canadian maple leaf tea-candles. That's just because I want to spread a little love from my homeland. Yay!
That's it - a life in swag, from A to Z. Now I have room for all the great new stuff I'll pick up tonight!
SUBSCRIBE TO & FOLLOW TRUMP'S FIRST 100 DAYS
How will Donald Trump's first 100 days impact YOU? Subscribe, choose the community that you most identify with or want to learn more about and we'll send you the news that matters most once a week throughout Trump's first 100 days in office. Learn more