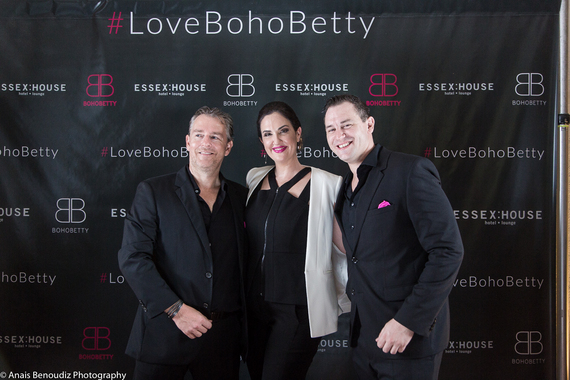 Once in a great while something happens that changes the course of your life unexpectedly. For Erin Miller, CEO and Creative Director of Boho Betty USA, that 'something' was a piece of jewelry. Listening to her and the lead designer of the brand, Rebecca Middleton, you immediately feel a true love and a passion for what they bring to the market.
During their USA launch at the Essex House Hotel in Miami, I got a chance to sit and chat with both of these ladies about their love of jewelry and the importance of building the brand presence of the global brand in the U.S.
RM: Erin, Boho Betty was originally based solely in the UK and Asia, what connected you to the brand and what eventually lead you to bring the line to the US?
EM: Our neighbor's grandchildren were in town and I was 7 months pregnant at the time. They came over with a gift for my child and also brought me this beautiful bracelet. I loved it and never took it off. It was like a running joke in my household because my husband was like could you at least take it off when you shower. I just immediately fell in love with the brand because the piece I had could virtually go with anything. I wanted to know more about this jewelry line that was based in the UK, I reached out to the lead designer, Rebecca Middleton and decided that we should bring the brand to the U.S.
RM: Rebecca, can you tell me a bit about your background and what inspires your work?
RMD: I've been in Asia for 18 years so first in Hong Kong an then in Beijing. I'm British and have another partner who was based in the UK. My inspiration really comes from my travels. All the different materials, the experience of living abroad and I can tap into all those lovely things. I bring all of the colors and culture into the brand.
I look at trends and colors and think this could look lovely and get feedback from our audience about what they would want to wear, which is really important. We want everyone to be happy and share that same experience.
RM: When did you first start designing?
RMD: I've always been into design, my background isn't design, I'm actually a trained doctor. We were laughing about this earlier because Erin is a scientist. You don't have to be stereotyped; just because you've done one thing doesn't mean you have to stay in it. I've always had a creative side. It started with my love for interiors. That then spun off into jewelry. Every woman loves jewelry, we like to feel smart, pretty, sassy, elegant, fun all sorts of things, so my designing just naturally lead into designing for women who love unique pieces.
RM: So who are you designing for?
EM & RMD: Virtually it's for every woman on the planet. We are founded on two core beliefs, one is to bring culture and our love of traveling into our brand but also to empower woman to feel sexy and confident. Our line is so diverse. There is something for everybody, the socialite, mom, wife, sports enthusiast even the yoga queen.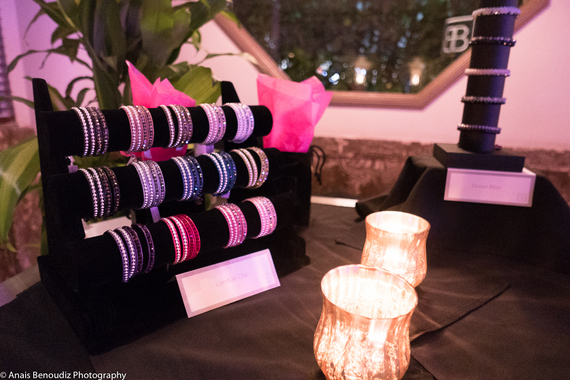 RM: Can you tell me about the plan to roll out the brand in the US?
EM: We are introducing 11 collections in the US and turning out a new collection every six weeks. This quick turnaround is so important to our brand because there
is not another company that I can think of that is doing this. We wanted to bring the hottest styles to your doorstep every single month.
RM: Switching gears a bit, lets talk about why it is so important for women in business to support each other?
RMD: It's all about team building, working well with people man or woman. For women some do go on to have a family and some don't. I think when you've had a family sometimes getting back into business can be overwhelming and your self-confidence can be knocked. It's important for women to know they can be a mom and can be in business. Partnering with other woman reminds you of this.
EM: We each have unique skill sets and when we collaborate that's when magic happens. We are nurturers by nature and we support each other and we build on each other's strengths. When you put all of that together there is no way we can fail.
RM: That's awesome and so true. I find that in my own experience. There is such a strength and empowering feeling that comes when women collaborate and accomplish something positive together.
As you wrap up your U.S. launch, what is absolutely important for everyone to know about Boho Betty and what is to come?
EM: Well we've been reviewing a lot of new materials. We are thinking about bringing in more animal materials like python for the next collection.
We also have an awesome VIP program with great rewards. For 1 week only, the more you share the brand, the more you wear. We are willing to give away 1000's of bracelets until August 9th. You sign up, receive a link and the more people that click on your personal link, the more pieces we will send you.
Secondly, our site has a lot of great features. We have the stacked for you feature, which helps you visualize how pieces look together. We have also created a style quiz that helps customers figure out what is the best collection for them based on their personalities. It takes a lot of the work out of the process for them. We really want to create the best user experience possible for our customer.
For more on Boho Betty visit their site, and don't forget about their great rewards program and an extra 50% off of your pre-order that ends on August 9th.
Photography credit: Anais Benoudiz Photography
Disclaimer: Boho Betty USA provided transportation and lodging for the reveal of their U.S. collection.
SUBSCRIBE TO & FOLLOW LIFESTYLE
HuffPost Lifestyle is a daily newsletter that will make you happier and healthier — one email at a time. Learn more