When Tim Berners-Lee invented the World Wide Web, it was simply a project designed to share information at CERN. Today, the Internet is a global collection of mobile devices, servers, networks and heaps of data. The Information Superhighway has grown at an explosive pace -- 399.3% since 2000, according to Internet World Stats. Cisco's Visual Networking Index (VNI) has reported that by 2014, Internet traffic will be 63.9 EB per month and that 87% of the traffic is forecast to be consumer driven.
A significant part of this wildfire growth is due to smartphones -- like T-Mobile's Garminfone. Smartphones have become a communications platform -- a Web 2.0 podium where consumers and prosumers (combination of producer and consumer) engage the Internet. Take a brief moment and look around -- you will see people watching videos, checking-in, texting, using augmented reality and tweeting on their wireless device. The average smartphone consumer generates 10 times the amount of traffic over his non-smartphone counterpart.  To be more exact -- by 2014, mobile data will be 50 times what it was in 2009.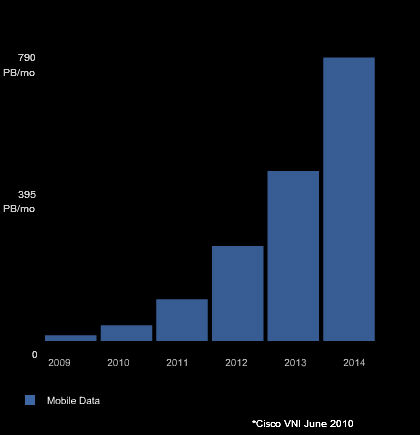 This is mammoth growth of data over the next four years. The primary contribution of this increase will come from video. The question on the minds of many prosumers is -- what will be the future state of the wireless ecosystem? That is a subject which mobile telephone operators have been wrestling with and appear to have addressed.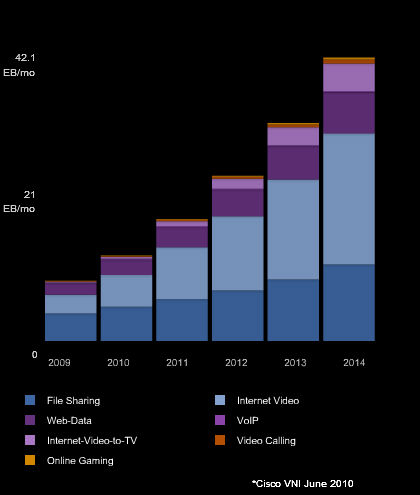 One of the top U.S. mobile operators that have been a leader in this space is T-Mobile. They have taken on the massive project of future proofing their infrastructure. According to T-Mobile, they are the only carrier in the U.S. to launch the HSPA+ service -- which delivers theoretical downlink throughput of 21.6 Mbps. T-Mobile explains that HPSA+ delivers 4G speeds on more than a dozen devices in their lineup today -- of which the webConnect Rocket Laptop Stick is one of. I was fortunate enough that T-Mobile lent me a webConnect stick, and I was very impressed with its performance: 5.38 Mbps downlink and 1.13 Mbps uplink.
"HSPA+ is going to be an exciting opportunity for us and our customers," said Neville Ray, Senior Vice President of Engineering and Operations for T-Mobile USA.
T-Mobile is working feverishly to roll-out HSPA+. They currently cover New York, Connecticut and Rhode Island. They plan to roll out to 100 metropolitan areas in 2010, covering 185 million people, by the end of 2010.
"Our competitors are asking consumers to pay more for faster wireless service with limited coverage and very few capable devices," Ray said. "In contrast, T-Mobile is already delivering 4G speeds today to customers, and we continue to make major leaps in expanding our HSPA+ mobile broadband footprint."
T-Mobile intimately understands the implications of Cisco's Visual Networking Index (VNI). They are investing considerable resources into HSPA+ and making certain that their wireless ecosystem is ready for the monsoon of mobile data heading its way.
SUBSCRIBE TO & FOLLOW THE MORNING EMAIL
The Morning Email helps you start your workday with everything you need to know: breaking news, entertainment and a dash of fun. Learn more