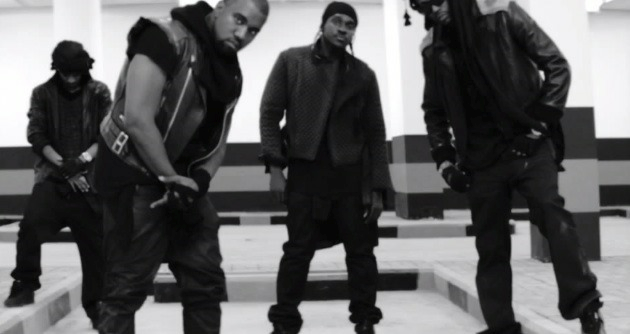 Kanye West is back, and he brought friends! The ambitious and always-entertaining rapper has a new film, Cruel Summer, and a soundtrack that features tracks from him and the rest of his G.O.O.D. Music crew. So far, the standout song of the bunch has been "Mercy," and we bring you its highlights below, one line per artist on the tune. Full lyrics and explanations to "Mercy" can be found on Rap Genius.
4. 2 Chainz: "Spit rounds like the gun range, beat it up like Rampage / Hundred bands, cut your girl, now your girl need a Band-Aid" It's almost unfair to include Chainz here. While the lyric here is very good -- the double entendres of "cut your girl" and "beat it up," the Rampage Jackson reference -- it loses something on the page. The reason that 2 Chainz has become a near-ubiquitous guest on rap records these days is because of his voice and delivery. His Southern drawl matches perfectly with his upbeat attitude. He always sounds playful and happy, and like he's having the most fun of anybody in the room. In a genre that can get dreary with tough-guy posturing, his obvious delight is a breath of fresh air.
3. Fuzzy Jones: "It is a weeping and a moaning and a gnashing of teeth"The links between reggae and rap go back to the very beginning of hip-hop -- a genre which, it should be noted, was started by a Jamaican. Kanye, never one to pass up good source material, takes a bit from Fuzzy's classic intro to Super Beagle's "Dust A Soundboy." While Fuzzy didn't get to see his G.O.O.D. Music debut -- he passed in 2005 -- reggae fans everywhere will surely enjoy it. In addition, we at RG are always a sucker for a good Matthew 13:42 reference.
1. Kanye West: "I threw suicides on the private jet / You know what that mean -- I'm fly to death" Kanye started out his rapping days as a jokester, imbuing nearly every verse with a punchline. In recent years, while doling them out a little more sparingly, he has also sharpened them. He has been relying less on the ribald humor of days of yore (see his memorable "I'm doing beats for pro bono soon as we get to bone" joke in "Half Price," for example), and more, as here, on wordplay. While plenty of rappers -- too many, in fact -- mention so-called "suicide doors" (car manufacturers prefer the less-scary "coach doors"), few make use of the evocative name in any creative way. Major points go to Yeezy for the puns on both "suicide" and "fly" in this couplet.
SUBSCRIBE TO & FOLLOW ENTERTAINMENT
HuffPost Entertainment is your one-stop shop for celebrity news, hilarious late-night bits, industry and awards coverage and more — sent right to your inbox six days a week. Learn more