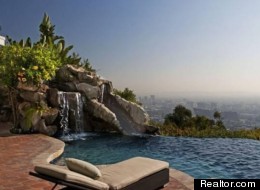 This one goes out to everybody who's been sweating out the heat wave that's blasting the East Coast with triple-digit temps: we've rounded up five high-end water slides and swimming pools for your mind to float away to while you're broiling in the subway or swimming in the heat mirages out on I-95.
Southern California Homes With Waterslides
Our first stop is this inviting swimming pool in Rancho Santa Fe, California (at top.) Complete with water falls, slide, adjacent spa, and fire pits, this 6 bed, 10 bath home provides plenty of H2O to cool your burning skin -- and a wet bar to cool you inside, as well.

L.A. may be experiencing mild temps now, but later in the Summer, when the Valley is hot enough to melt asphalt and the city is wilting under super-heated desert winds, you can beat the heat by sliding into this pool high above Sunset Boulevard. After you're done swimming, haul yourself out to look out over the city as you dry in the sun, or pop inside the accompanying 5 bed, 6 bath home until the sun sets and you can go on a night swim with the lights of the basin spread out all around you.

If you're looking for a more rugged swimming and sliding experience, this grotto in the mountains above Malibu has got you covered. Soak in the cool ocean breezes, the beautiful views, and the poolside statuary at this 5 bed, 7 bath canyon retreat. Of course, the biggest body of water in the world is a short drive away, so you can always surf with the dolphins and poke around the tide pools just down the PCH at Point Dume.

If Orange County is more your speed, this Newport Coast pool offers a slide, a spa, and another fine example of the now-ubiquitous fire pit (the Tiki Torch of the new millenium.) This spacious patio has plenty of room for all your inland dwelling friends looking to escape the heat, and an outdoor BBQ to help you feed them. The 6 bed, 8 bath home is also not far from Laguna Beach, if the night's festivities leave you feeling like you need your chakras cleaned the next morning.

Finally, we wrap our tour with this classic Brentwood estate. Hang out in the Mediterranean-style cabana, slide into the cool waters of the pool, or rinse off L.A.'s ever-present summer dust/soot in the adjacent spa. When the sun sinks behind the Santa Monica Mountains, throw some mesquite logs in the cabana's fireplace, sip a drink, and just tell yourself "It may be hot, but at least it's a dry heat."
Follow realtor.com on Twitter: www.twitter.com/realtordotcom