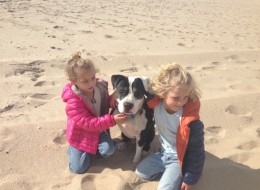 One of my wisest friends -- a devoted father of two -- welcomed me to the club of parenthood when I was nine months pregnant by stripping away the platitudes. "It's as if a nuclear bomb has gone off in your living room," he counseled, "and everyone tells you not only to carry on, but to smile about it. And somehow, against all odds, you will." In other words, not that different from being a dog owner: Prepare for more chaos and mess than you ever thought possible, with more love in return than you ever dreamed.
Five years after having twin girls, I can say that living with and loving dogs has taught me the eleven essential truths of being a parent.
1. Eventually, they will get into something they shouldn't and spend the night vomiting on you. You'll be exhausted the next morning; they will have the buoyancy that comes with a juice cleanse and want to go to the park to play. Here's to early bedtimes for all.
2. Your dogs and children are the center of your lives... not everyone else's. Most people don't really want to see more than a picture or two. If they are wowed that your dog has learned to high five or your kid is teaching herself how to read, they'll ask for a follow up visit.
3. Manners win. It makes our lives easier when pets and kids are welcomed into social situations with friends, especially with those who don't have either. For dogs, that requires understanding, "Sit, stay, lie down." For children, that's not a bad place to start.
4. Rules rule. Here's to boundaries: Dogs and kids thrive when they know what is expected of them so they might please. The rules are deeply personal -- some of us love dogs and kids in our beds, some of us not so much -- but they want to know the drill so they can get a good night's sleep regardless.
5. It will be embarrassing. Carrying wipes helps, even as a nervous distraction. These creatures are out of control.
6. Routine is liberating. It's not sexy (what happened to spontaneity?) but every animal likes to know what's happening next. At dinner, dogs will sit by their bowls, and they're at the door when it's time for a walk. When kids sense their needs are being met with regularity, they too can stop panting and relax into play. Everyone's getting fed, everyone's getting walked. It's all good.
7. There's an art to apology. There is no such thing as a perfect dog in the dog run; there is no such thing as the perfect child in the playground. There will inevitably be fights and hurt feelings. Learn, as the person in charge, to say, "I'm sorry" (it's not like you bit someone) and mean it so you and yours are welcomed back.
8. Joy is everywhere. Dogs and kids don't have our distracting, internal dialogues ("Did I remember to pay the bills?" "Does my boss hate me?"). They live fully in the moment and act like they have never seen a park or an ice cream cone before, and all of it is the best ever. When we put down our smartphones and pay attention, we have the chance to be right there with them.
9. The best time is down time. We are so quick to overschedule ourselves, feeling "successful" with accomplishing one more thing we can't remember the next day. The most memorable, intimate times I have had with my dogs and my children have been curled up doing nothing memorable.
10. Patience is actually a virtue. I've always rescued adult dogs that come with their own histories and personalities. Children are just as individual, and as much as we would like them to be blank slates, their tempers -- and temper tantrums -- are entirely their own. It is our job to adapt and understand them to be the best caretakers we can be, even when it brings us to our knees. Which is a given.
11. There is such a thing as unconditional love. But it's not ours towards them, when we are tired and fractured and shattered from cleaning up after and tending to one more being. Dogs and children don't care what we look like, how we are doing at our jobs, or about the current crisis that wakes us up at 3:00 a.m. And they don't care that we forget every rule above about how to be our best selves with them. They ask only that we walk back through the door every day, arms open, so they might reward us with kisses and remind us that we're doing a far better job than we thought, just by showing up.
Rebecca Ascher-Walsh is a journalist and the devoted owner of Buddy, a pit bull she rescued from a shelter near her home in New York City. She volunteers at a shelter in Manhattan and is the founder of the Deja Foundation, which assists small organizations helping dogs rescued from high-kill shelters. Her book, DEVOTED: 38 Extraordinary Tales of Love, Loyalty, and Life with Dogs was published by National Geographic Books in October and is available as a hardcover, ebook, and enhanced iBook through the Apple iBookstore.
Earlier on HuffPost:
Research in mice presented just last month at the annual meeting of the American Society for Microbiology suggested that dust taken from dog-owning homes could help to protect against respiratory syncytial virus (RSV), which is known to increase asthma risk. "Mice fed dust did not exhibit symptoms associated with RSV-mediated airway infection, such as inflammation and mucus production," study researcher Kei Fujimura, of the University of California, San Francisco, said in a statement. "They also possessed a distinct gastrointestinal bacterial composition compared to animals not fed dust."

A study published earlier this year in the American Journal of Cardiology shows that for people with chronic diseases, having a pet is linked with the heart's capability to adapt to any number of circumstances that can affect the body (like increasing heartbeat speed during a stressful moment). Reuters reported that the people who owned pets had heart rates that changed more than people who didn't own pets -- meaning the heart rates were more adaptable.

Bringing Fido to the workplace could help to lower your stress levels and increase your job satisfaction, according to a study in the International Journal of Workplace Health Management. "Pet presence may serve as a low-cost, wellness intervention readily available to many organizations and may enhance organizational satisfaction and perceptions of support," study researcher Randolph T. Barker, Ph.D., a professor of management at Virginia Commonwealth University, said in a statement. "Of course, it is important to have policies in place to ensure only friendly, clean and well-behaved pets are present in the workplace," he said.

People with pets have more self-esteem and feel less lonely than people without pets, according to a study in the Journal of Personality and Social Psychology. The Daily Mail reported that pet-owners are also, generally, less fearful and more extroverted than their non pet-owning peers. "Pets can serve as important sources of social support, providing many positive psychological and physical benefits for their owners," the researchers wrote in the study.

When a person is stressed, the social support that comes from having a pet could help to lower blood pressure, according to a 2001 study in the journal Hypertension. The study, conducted by State University of New York at Buffalo researchers, showed that among people who were already taking ACE inhibitors for high blood pressure, having a pet seemed to help to stabilize blood pressure levels during moments of stress. "This study shows that if you have high blood pressure, a pet is very good for you when you're under stress, and pet ownership is especially good for you if you have a limited support system," study researcher Karen Allen, Ph.D., said in a statement.

WebMD reported that owning a cat is linked with a lower risk of dying after a heart attack, according to a study presented in 2008 at the annual meeting of the American Stroke Association. The study, which included almost 4,500 people, showed that owning a cat is linked with a 40 percent lower risk of death after a heart attack and a 30 percent lower risk of dying from other heart problems like heart failure, heart disease and stroke, WebMD reported.

Kids' future allergy risk goes down if they lived with a pet during infancy, according to a study published last year in the journal Clinical & Experimental Allergy, Health.com reported. The researchers told Health.com that they think the protective effect may be because the immune system is strengthened from the pet-related allergens and bacteria.

Having a pet could protect men with AIDS from developing depression, according to University of California, Los Angeles research. Specifically, depression was three times more likely to be reported by men with AIDS who didn't have pets, compared with those who did have pets, researchers said. "Pet ownership among men who have AIDS provides a certain level of companionship that helps them cope better with the stresses of their lives," study researcher Judith Siegel said in a statement. "This is one more study that demonstrates the health benefits that owning a pet can provide."

Just petting a dog could help to boost levels of the "feel good" hormones oxytocin and serotonin in your body and decrease levels of the stress hormone cortisol, MSNBC reported. The research, conducted by scientists at the University of Missouri-Columbia, also showed that just petting a dog for 15 minutes to a half hour was able to lower blood pressure by 10 percent, MSNBC reported.

Pet expert Cesar Millan talks about the many health benefits of owning a dog.