THE BLOG
Twice Baked Potatoes with Kale (VIDEO)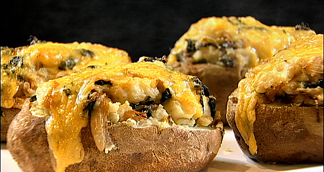 When I find a new food I like, I can't wait to get into the kitchen and do something with it. Recently I learned about kale from the farmer who grew it - but how to prepare it in a way that doesn't take a lot of time and tastes good? Putting into practice for The Week of Eating In, after our visit to Dancing Roots Farm, Ivy Manning went straight to the kitchen and made a dish that was built upon an old family recipe called Colcannon. She married it together with the concept of twice-baked potatoes - which are yummy and easy to do - and came up with Twice Baked Irish Potatoes with Stout Onions and Kale:
I like cooking with fresh ingredients, something that isn't too complicated, yet satisfies the various palates in our household. This one did the trick and I'll be doing it again soon. For a PDF of the recipe, click here.
Originally posted on Cooking Up a Story.