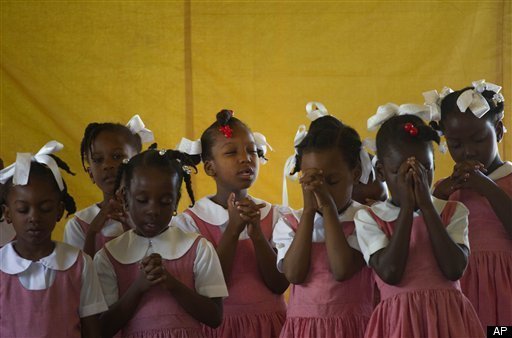 This Week In Haiti News:
From The New York Times:
Some schools reopened in the wrecked Haitian capital on Monday nearly three months after the January 12 earthquake, but others could not because of lack of repairs or equipment, staff said.
The education ministry, backed by the United Nations children's agency UNICEF, had called for classes to resume 12 weeks after the quake which reduced many parts of the city to rubble and destroyed or damaged more than 4,000 schools. The education ministry itself was also destroyed.
But while some schools, many private, were able to reopen using donated tents as classrooms, others remained closed or turned students away because their premises were not yet repaired. Overall figures for how many schools had restarted were not immediately available.
From The Washington Post
Gangs have charged into settlement camps slashing machetes to swipe food and water delivered by aid groups, stolen money from sidewalk vendors and gunned down passersby to steal as little as a few hundred Haitian gourdes, the nation's currency, police say. Officials say the spike in violence is particularly demoralizing because Haiti had made great strides to bring the gang problem under control prior to the earthquake.
From The AP

A brief rain storm flooded Haiti's earthquake camps Wednesday, worrying residents hours after they were told to brace for a more-active-than-usual hurricane season.
A windy 20-minute downpour left a half foot of water inside makeshift tents on the sloping golf course of the Petionville Club, now a tarp-and-tent neighborhood of about 45,000 people.
People ran for cover in viscous mud wearing plastic shower caps and towels over their heads. Leaks sprung in emergency tarps given by aid groups after the Jan. 12 earthquake destroyed their homes.
"Of course I am worried about the rain. I have my mother here with high blood pressure and my family lives here," said a 37-year-old woman who gave her name as Ammeni.
From Fox News:
For the United Nations World Food Program, it was a moment of satisfaction: the U.N.'s flagship relief agency announced on its Web site on March 19 that two gleaming passenger ships had docked in ravaged Port au Prince harbor.
What the Web site announcement did not disclose was that the vessels were intended to house not homeless Haitian refugees, but employees of the U.N. itself. Nor did it publicize the cost of leasing the ships: $112,500 a day. Nor did it mention that one of the vessels is owned by a company closely linked to the government of Venezuelan strongman President Hugo Chavez.
Another thing not mentioned: Even U.N. staffers regularly refer to one of the ships as "the Love Boat."
Then the WFP apparently had second thoughts about the whole announcement.