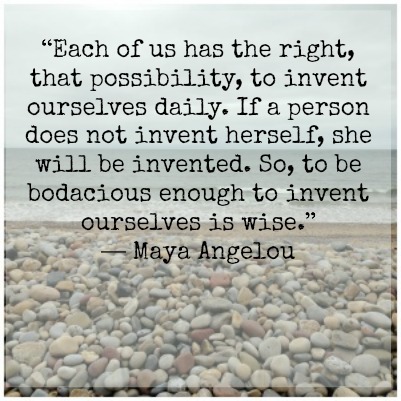 I have a great fondness for this quote from Maya Angelou and it sums up perfectly for me life as a Woman in Midlife. We have reached a point of transition, there is so much change in our lives both physically and emotionally. We have the opportunity right now to grab the second half of our lives and reinvent ourselves should we choose to do so. We can face changes in midlife either with a heavy heart and resentment or embrace this new phase in life with excitement.
As we head towards the end of the year I always like to find time to reflect on what has gone by and look forward to what the year ahead might bring. I'm not a great one for making New Year's resolutions as I feel it's a way we set ourselves up for failure. We slip up and boom we have something to beat ourselves with (yet again). Rather, I like to take the time to sit and reflect with a journal on all the things (great and small) that I've achieved during the past 12 months. I then like to day dream a little on all the things I hope for and plan for in the coming 12 months. How will you treat yourself kindly if you choose to make resolutions/plans for the coming year?
This year I celebrated my 50th birthday. It has been a coming of age for me. The year I finally stepped into myself. This has been the year that I made the decision that I was going to be me... warts and all and in all my glory. This has been the year that I decided to truly 'show up' in my life, and I do so with more confidence than ever before.
I asked my tribe of friends for words to describe women in midlife, words that we'd use to describe one another (asking for positive words to describe themselves was sadly likely to be a stretch too far!). The words they came up with were an outpouring of warmth and love and recognition for the journey that we have all been on by the time we reach midlife.
honest, direct and fabulous
courageous, positive and bloody awesome
spirited, experimental and risk taking
open minded, curious and free thinking
non judgmental, independent and witty
sassy, cheeky and full of fun
insightful, energetic and gracious
sexy, flirty and sensational
kind, compassionate and serene
wise, optimistic and powerful
inspiring, generous and big hearted
challenging, loyal and loving
These are the qualities of women I choose to surround myself with. I am blessed to have such incredible women in my life. These are the women who pick me up when I fall down, the women I laugh with, the women I cry with and the women I celebrate with. Who's in your tribe? How will you celebrate with them as the end of the year approaches? What words would you use to describe your tribe of women?
If you were to take a look back on your year, what would you reflect on?
Will you make changes next year? What might they be?
Follow Rebecca Perkins on Twitter: www.twitter.com/rebperkins1