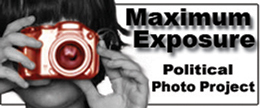 --------------------------------------------------------------------------------------------------------------------------------------------
Gregory Daurer's final Convention slideshow documented morning through night as the Democratic Party wrapped it up during it's final day in Dener. When all eyes and lenses focused inside Invesco Field, Daurer photographed places where most cameras did not look--directly outside. Though tens of thousands were able to witness Obama's acceptance of the Democratic Nomination, people without tickets participated in events of their own during the evening of Thursday, August 28.
Got photos or videos from Denver? Format images to 400 x 300 pixels and send them with captions to campaigntrail@huffingtonpost.com.
SUBSCRIBE AND FOLLOW
Get top stories and blog posts emailed to me each day. Newsletters may offer personalized content or advertisements.
Learn more