THE BLOG
Bras Without Borders: Donate Undergarments to Uganda
The girls need your support! Literally.
Kristy Lakin has been working in Uganda, and according to her "highly scientific guess-timation, 99.82% of women in rural Uganda do not own a bra. Women want bras, but just can't afford them."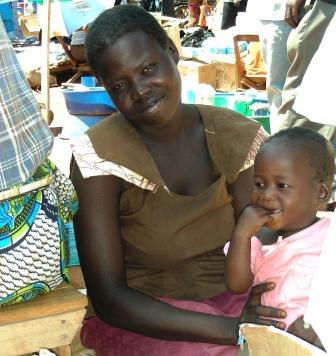 Photo courtesy of Laura Peterson
Kristy wants your bras. Do you have some lying around that don't fit quite right? Whether they are used or new, gather up your undergarments and send them my way, and I'll forward to them to Laura in Uganda, her friend and partner in project "Uplift Africa/Bras without Borders" (the name has not yet been decided). Laura founded Hands to Hearts International, a nonprofit dedicated to improving the health and well-being of orphaned and vulnerable children and economically disadvantaged women around the globe. Hands to Hearts will distribute this first donation at one of their mother trainings in Kampala. (And, because many of HHI's mommies are breast-feeding, nursing bras are especially welcome!)
As Kristy notes, the "desperate" need for bras sounds odd.
"It didn't exactly top the U.N.'s list of problems plaguing the developing world," she writes. "But, imagine spending every day without a bra. Ouch. Now, image that your day involves walking miles to the water pump, walking even more miles to the market, and your free time is spent working in the fields...without a bra. Ouch. Now image that you've had four or five children, one of which you're probably currently breastfeeding, and you don't own a bra. Ouch."
Nicholas Kristof writes in Sunday's Celebrate: Save a Mother in The New York Times:
Happy Mother's Day! And let me be clear: I'm in favor of flowers, lavish brunches, and every other token of gratitude for mothers and other goddesses.

And because so many people feel that way, some $14 billion will be spent in the United States for Mother's Day this year, according to the National Retail Federation. That includes $2.9 billion in meals, $2.5 billion in jewelry and $1.9 billion in flowers.

To put that sum in context, it's enough to pay for a primary school education for all 60 million girls around the world who aren't attending school. That would pretty much end female illiteracy.
We take for granted so much, even the ability to buy a simple bra. So if you can, send us your older bras. It's great way to honor mothers worldwide and particularly in Uganda.
Email me at rebecca.snavely@gmail.com for an address to send your bras by Saturday, May 15.