By Andrea Gargotta
I love hosting any type of party. But I especially love the idea of an easy, no-pressure open house gathering that is filled with holiday cheer. Open houses are great because everyone can come. No pressure to stay for a long meal but simply a glass of cheer or a quick bacio! But instead of hosting it in December when calendars are full, I prefer to do it in January. I send out a fun evite that begins with a sentiment such as "Ring in the New Year with Amore" or "Cheer to Love, Happiness, and a Fresh New Year." The idea is to state something celebratory and fun--and then have some fun yourself.
Set the Atmosphere
I always like to weave my southern Italian heritage into whatever I do, so a southern Italian cocktail party fits the bill. I serve Prosecco and Pinot Grigio for my guests. For my appetizers I keep it simple and easy. I try to keep everything limited to finger foods. I always do a large antipasto platter of several Italian cheeses, olives, and rolled up salami. I garnish the platter with lots of fresh rosemary and basil bunches. I roll imported proscuitto around bread sticks and display them in a large, deep bowl as a centerpiece on my buffet table. I also prepare meatballs on mini-forks and mini-grilled sandwiches (ciabatta, pesto, and mozzarella are easy and scrumptious). And then a huge table of all sorts of cookies and candies.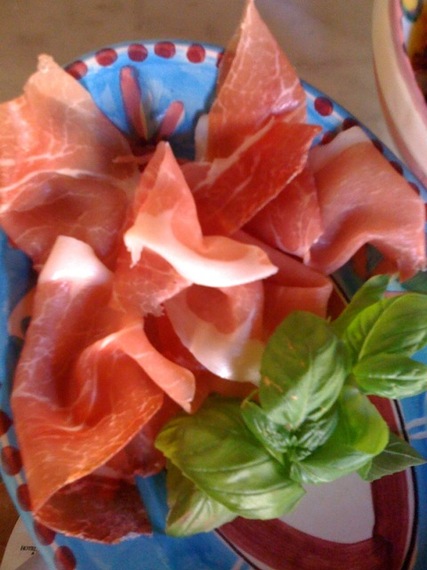 Photo courtesy of Andrea Gargotta
Introduce Italian Favorites
My favorite appetizer is arancini, a popular snack in Italy, especially in the south. (The Italian word for orange is arancia, and arancini means "little orange.") Arancini is basically a deep fried rice ball filled with yummy goodness. Every region has its own spin on the filling but most commonly proscuitto and peas are tucked inside. My children love them and so I make my own variation this time of year. Although you can obviously enjoy them anytime and any season we seem to all crave them during the holidays when I am preparing more hearty comfort dishes such as risotto. I love dishes that can be repurposed several times and leftover risotto is the perfect base dish for this.
Begin with the Perfect Risotto
For me a perfect risotto must be prepared with homemade broth. I prefer chicken for my basic risotto but vegetable is great too. A lot of people are so intimidated by the process. It is actually quite easy and the difference in the taste is incomparable. I usually prepare several stocks throughout the year. I freeze them in ice cube trays as well as sandwich-size Ziploc baggies; this way I have two portion options. I measure one cup per baggie. Label well with date and quantity. Any cookbook has stock recipes. My basic risotto is so simple. I use onion, arborio rice, broth, and parmesan cheese. Sauté the onion in butter and olive oil. When just limp add the rice. Sauté a few minutes until the rice is pearly in color. (You are not cooking the rice, just opening it up.) Slowly add one cup of hot broth. As it evaporates add another cup. Stir constantly. The proper consistency should be like oatmeal. And have an ever so slight bite to the rice. Like perfect al dente pasta. Remove from heat and add grated parmesan. I am not a measurer, but I typically add about ¼ cup of cheese. Basically it is 2 cups broth to 1 cup rice. You will need to prepare at least 6 cups of rice to have leftovers for the arancini.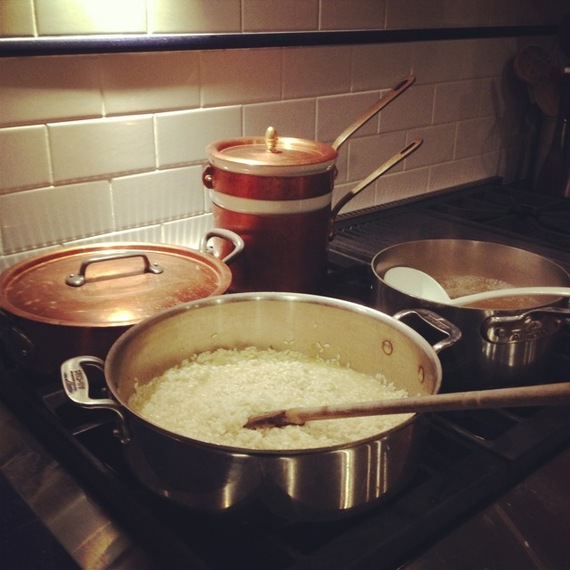 Photo courtesy of Andrea Gargotta
Have Fun with Different Types of Arancini
I take the leftover rice and put it all into a Tupperware container. The next day I prepare my arancini. To do this, fill a baking dish with unseasoned Italian bread crumbs. Another one with beaten eggs with a dash of milk added. Scoop rice into your palm the size of a tangerine. Make a hole in the middle and fill with your favorite filling (see below). Take a little more of the rice and cover the hole. Role around in your hand so it is completely smooth. Next roll in egg wash and then the bread crumbs. Line them up on a baking sheet until you have filled them all. Your final step is to put about 2 inches deep of vegetable oil in a pan and heat to medium. Once hot start to fry the arancini, turning constantly for even browning.
On occasions when I am not serving them immediately for an open house, I freeze them. I take a paper plate lined with parchment paper and line them up according to the filling. Then I slip the plate into a freezer bag and label and date it. The bags will last up to 3 months. When ready to eat simply thaw and heat in the oven at 325 degrees Fahrenheit for about 15 minutes.
My Top 6 Arancini Fillings:
1. Dollop of homemade tomato sauce with a cube of provolone cheese
2. Sautéed ground beef and cube of mozzarella
3. Peas that have been sautéed in pancetta and onion
4. Cubes of ham and provolone
5. Pesto and peas
6. Sautéed eggplant chunks with cube of smoked mozzarella
Always Have a Giveaway
As your guests leave make sure to have a special token gift for them to take away. I usually make a homemade jar of sauce or jam, tied up beautifully with a nice note inside. Another idea is to have instant cameras out so people can take pictures of each other. I just love the idea of the reverse hostess gift--instead of getting, I am more about the giving.
Ciao! Buona Festa!
Professional chef and party planner Andrea Beth Gargotta has built a career on effortlessly dishing up a variety of healthy, exotic dishes. She is known for her art of detail in every aspect of the culinary experience -- from menu development to shopping to clean up. She opened and ran her highly acclaimed craft-services company, Andrea's Craft Service, with the goal of creating a healthier food experience on the film set, gaining admirers such as Tim Allen, Mary J. Blidge, Michael Bay, Joe Pytka, Adam Sandler, Jane Seymour, and countless other A-listers. She is at work on a book about her culinary experiences.