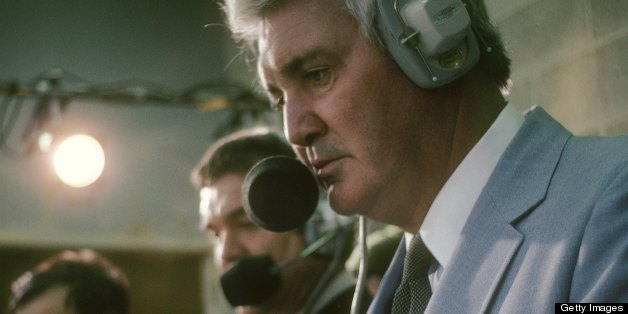 In December of 1958, a couple of days after the Baltimore Colts had defeated the New York Giants in what has since been called "The Greatest Game Ever Played," Bill MacPhail, the President of CBS Sports, called Charlie Conerly, the Giants quarterback, to invite him to tryout for a job as a sportscaster. Conerly was not home, and his roommate, Summerall, answered the phone. MacPhail relayed his request to him and then suggested that Summerall "had a pretty good voice" and why didn't he come down for a tryout too. We all know the results -- Summerall sounded great, Conerly not so good, and Summerall got the job.
MacPhail was a great judge of talent and a great sports executive. It was he who created the bond between CBS and the Masters Tournament, a bond that has lasted more than 50 years. In 1963, MacPhail introduced Summerall to the Tournament and Summerall was the voice of the Masters for the next 27 years.
Bill MacPhail was my friend. I hired him at CNN when we desperately needed him to make peace between sporting events and our network. Ted Turner had offended much of the sports world when he put the Atlanta Braves on his national satellite. Suddenly, home teams faced competition for the television audience. They were not in the mood to make a deal with us. Bill solved all those problems; his father had owned the New York Yankees. He also brought in the NFL -- Bill had been best man at Pete Rozelle's wedding. Once we had both baseball and football, basketball was easy and for two years CNN was able to exclusively air clips from all those sports.
Bill also made sure that CBS got the rights to the 1960 Rome Olympics, the first Olympics broadcast in the United States. He was the premature Roone Arledge. But he was inventing the new sports medium while Roone merely improved upon it.
Bill knew sports and he knew broadcast talent (click here), but most importantly, he was loyal. He kept in touch with Summerall for all the years I was at CNN and he was always happy to tell us how he had accidentally found one of the great sportscasters of all time. Charlie Conerly didn't do too badly either -- he played the Marlboro Man in Philip Morris commercials.