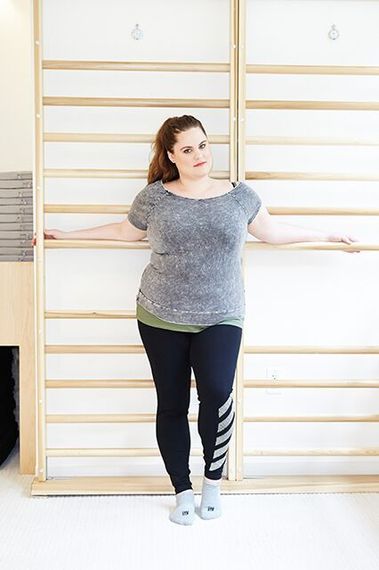 ALL PHOTOGRAPHED BY LAUREN PERLSTEIN.
The first time I walked into a barre workout, I did it with arms crossed and eyebrows raised.
"What do I even wear to this thing? Like, a tank and leggings?" I had texted my friend hours earlier, incredulity oozing through the phone.
"A tank top and leggings is fine," she replied.
"And, like, those sock things?"
"Well, do they even sell them there?"
There was no excuse. So, with the grand sulk of a teenaged goth at prom, I slouched toward the Bar Method Brooklyn studio in my blackest leggings and tank.
The primary pillars of my new health/lifestyle are intuitive eating, body positivity, and rational, sustainable fitness. The "anti" part of Anti-Diet Project means anti-fad, anti-trend, anti-get-thin-quick bullshit. I now know that exercise doesn't necessarily require a gym, and that a workout is a workout even if you don't hate it. I work hard to un-link the concept of fitness from calories spent and fat burned. I work out to feel better -- not to look like someone else's idea of "better."
So, whenever the topic of barre workouts came up, all my "anti" alarm bells went off. Because what could be more trendy? In my mind, bar was the engagement workout. It was the realm of the tall and reedy; the lifelong blondes. It was for girls who fancied themselves ballerinas, and me and my thunder thighs had no place in that pretty, pink world. I mean, not that I'd even want to be there, gawd.
Then, my friend Kelsey Osgood got hooked on it, attending classes at Bar Method Brooklyn. Kelsey and I have more than a name in common: We're both writers, and we've both written extensively about our fucked-up food issues, she most notably in the kick-ass memoir, How To Disappear Completely: On Modern Anorexia. She's done many more years of work on this than I have and therefore has an even higher bullshit meter than I do. So, when she urged me to give Bar Method a shot, I gave her an earful about the evil, shaming construct of contemporary fitness culture, irrational expectations that set us up for failure, and also FEMINISM. She replied:
"I can do 25 push-ups in a row now."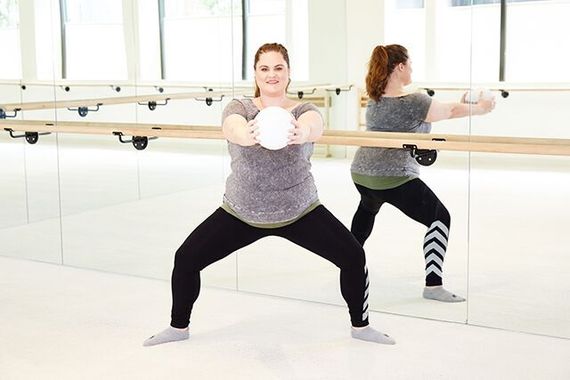 SUBSCRIBE TO & FOLLOW LIFESTYLE
HuffPost Lifestyle is a daily newsletter that will make you happier and healthier — one email at a time. Learn more