Day Two of StarChefs International Chefs Congress had a high-energy buzz. Maybe it took everyone a whole day to get into the swing of things, but there was a definite upswing in the energy level inside the Park Avenue Armory.
I started my day at the interactive workshop conducted by Ken Oringer of Boston's Clio restaurant. A regular to the International Chefs Congress, I first became an admirer of Ken when he made the most delicious oyster chowder for the cocktail hour in 2006. Served inside a hollowed-out egg shell with tiny straws, I must have consumed at least twenty of them.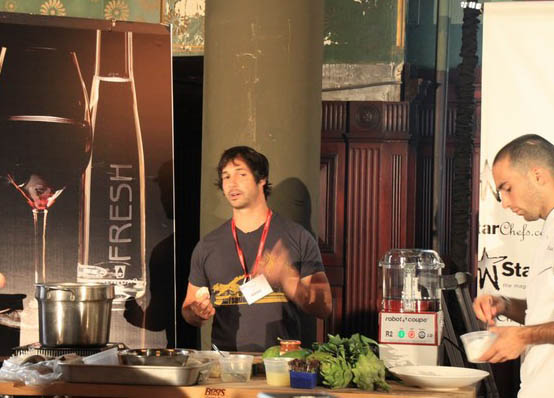 Ken Oringer and Douglas Rodriguez (Photo by Regina Varolli)
This year, Ken's workshop was called The Low Down on Low Temp Cooking, where he demonstrated the trendy sous-vide technique using various proteins. Him and his team from Clio, Chef de Cuisine Douglas Rodriguez (who bravely conducted the workshop on crutches), and sous chef Zach Watkins, had everyone taste several dishes. One was Gouey Duck, which isn't actually a duck, but a clam, and at Clio this dish is the Razor Clam Ceviche.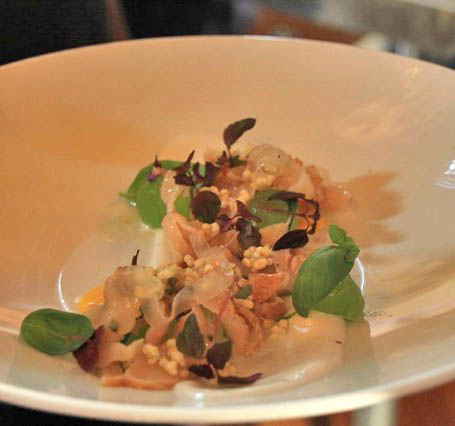 Razor Clam Ceviche (Photo by Regina Varolli)
My favorite was the Australian Lamb belly with green curry sauce and crispy Thai basil. Like pork belly, lamb belly is tricky to get right, and sous-vide really helps that process. It's incredibly fatty, which is why it's so delicious, and after undergoing sous-vide and then a quick stint in a frying pan at high heat, you get the perfect combination of soft, melt in your mouth meat with a crispy exterior. I had come to the workshop a bit late and had missed the tasting, but Douglas and Zach were happy to throw together a sample just for me, which made me enjoy it all that much more.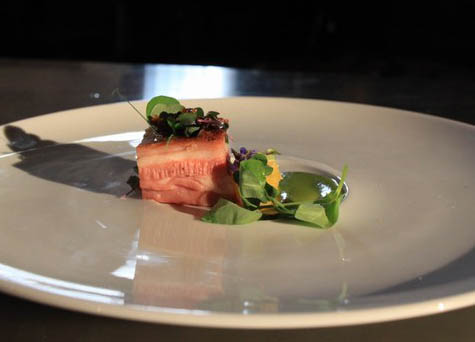 Australian Lamb Belly with Green Curry Sauce and Crispy Thai Basil (Photo by Regina Varolli)
Heading over to the main stage, I caught Charlie Palmer's demonstration Translating Creativity from Mentor to Protégé. Palmer was given very heart-felt introduction from Rick Moonen of RM Seafood in Las Vegas, who said of Palmer, "It's all about mentoring with Charlie, he's a great guy to work with because he really is there for his people."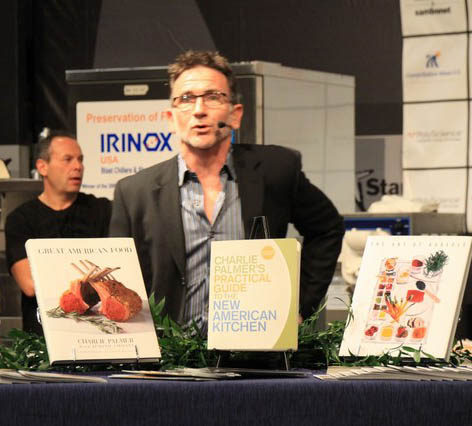 Emcee Rick Moonen Introducing Charlie Palmer (Photo by Regina Varolli)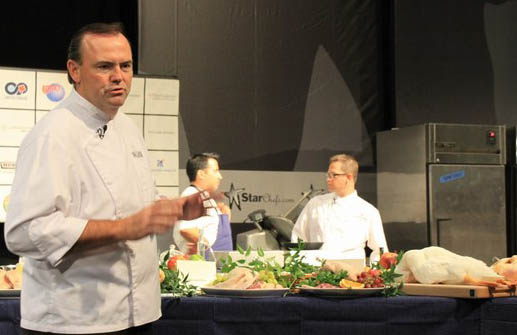 Charlie Palmer Talks Duck (Photo by Regina Varolli)
With a table of ducks laid out before him, and his team of protégés standing behind him, Charlie Palmer discussed all the different kinds of duck one can find in America. He even opened up one duck carcass to show the audience all the inner parts, and explained where fois gras come from.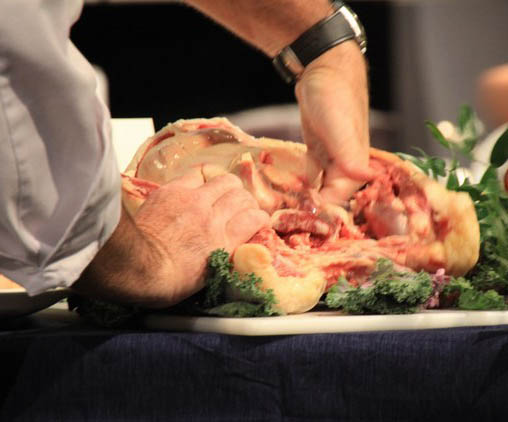 Then he turned the show over to his protégés Matt Hill, Christopher Lee, Scott Romano, and Amar Santana, who proceeded to cook the various kinds of ducks in ways that made me wish it was a workshop and not a demo, because in a workshop you get to taste the food, not just smell it, which of course only makes you hungry!
To me, the most exciting demo of the day came when Dan Barber of Blue Hill at Stone Barns bounced onto the main stage... and kept bouncing through his entire talk. The small yet energetic chef-cum-scientist rambled on about the amazing things they do at Stone Barns. Way more than just a farm to table operation, Dan Barber's experiment in agriculture goes beyond just organic.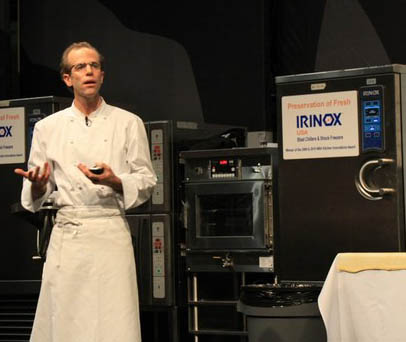 The energetic and imaginative Dan Barber (Photo by Regina Varolli)
Barber explained that at Stone Barns they follow the life of their pigs from birth to death, controlling their environment, the grass they graze on, and the foods they eat. In order to have better grass, they've culled bits of forest to allow more light to hit the grass, producing a more succulent, nutritious grass on which to graze. He explained his use of biochar, pulverized charcoal, by adding it beneath the surface soil to enrich the Earth. An age old Brazilian technique that causes all his produce to grow 15 times faster than normal.
Barber makes his own biochar from culled trees as well as animal carcasses. He's made biochar from lamb and pig bones, as well as biochar from the shells of lobsters. He noted that after the meat has been used for food and the bones or shells have been boiled for stock, he then takes the remains and creates biochar, thus getting the most out of his food, by far.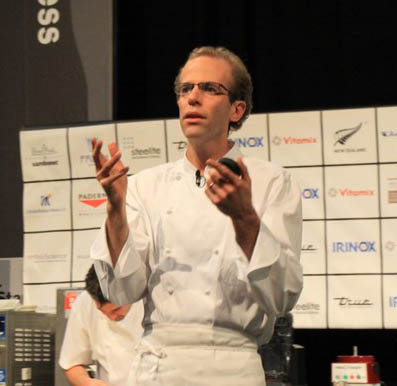 The inspired and inspiring Dan Barber, with Alex Grunert in the background preparing strudel dough. (Photo by Regina Varolli)
Working with geneticists, Dan Barber grows tomatoes that haven't even been named yet. "But," he said, "these tomatoes are developed for taste, not for their ability to be shipped across the world and last three weeks in your refrigerator, like they do at Monsanto."
Barber also works with Dr. William Li in his research on antiangiogenic foods (such as green tea, strawberries and olive oil), and their relationship to fighting cancer. He's now sending his vegetables to Dr. Li to see if a better vegetable has better powers as a cancer-fighting food. Of this, Barber said, "There has to be a reason we go after the best flavors in our food beyond just seeking pleasure. They must be connected to a better ecosystem in our bodies."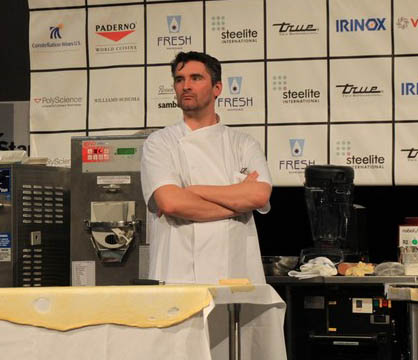 Blue Hill at Stone Barns Executive Pastry Chef, Alex Grunert looks on. (Photo by Regina Varolli)
Day Two also saw the First Annual StarChefs.com International Pastry Competition wittled down to the three finalists from its original twenty contestants. Ron Paprocki of Gordon Ramsay at The London in NYC, Ian Gresik of Drago Centro in Los Angeles, and Chris Ford, of Trummers on Main in Clifton, Virginia, all made their way to the front of the main stage, where they were to meet again on Day Three for the final dessert battle.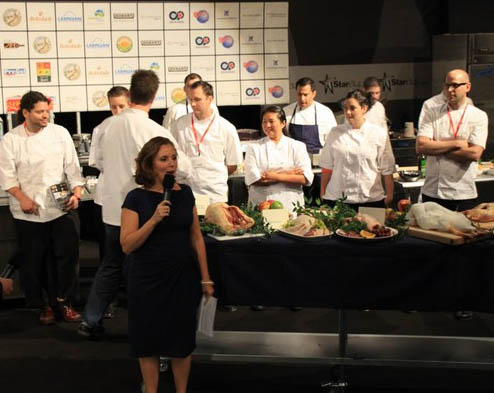 StarChefs.com Founder Antoinette Bruno announces the three finalists in the Pastry Competition (Photo by Regina Varolli)
SUBSCRIBE TO & FOLLOW THE MORNING EMAIL
The Morning Email helps you start your workday with everything you need to know: breaking news, entertainment and a dash of fun. Learn more