In late 2005, before the first season of Top Chef aired, Johnny Iuzzini was contacted by Bravo TV to come to California for an interview. But Iuzzini, Executive Pastry Chef at the Michelin three-starred Jean Georges restaurant, was told by Jean-Georges himself that he'd have to leave his position to go to California for what was an unknown period of time. The restaurant's busy season was upon them, and Jean-Georges just couldn't let his head pastry chef take what amounted to a vacation.
Johnny told me, "I didn't know what Bravo was looking for, a judge, a host... and I though Top Chef? That sounds silly anyway, what the hell is Top Chef? So I didn't quit my job and go to California. Then the show was a huge hit, and I was kicking myself for not going."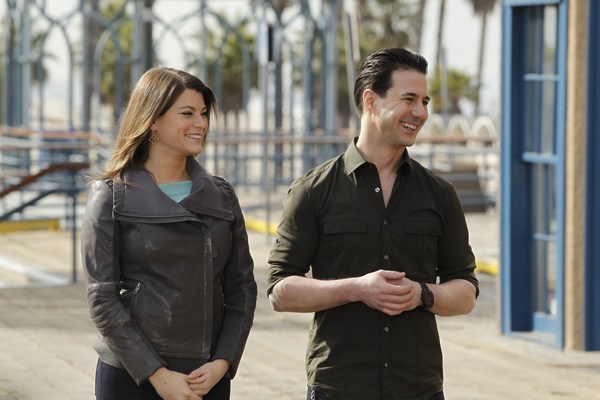 Johnny Iuzzini with Just Desserts Host Gail Simmons (Photo Courtesy of Bravo)
Years later, rumors of a Top Chef Just Desserts starting floating around. "When I heard they were doing Just Desserts I immediately called every contact I had and told them I wanted a shot at this. I didn't care if it was on camera, I just wanted to be a part of it. It was the first time pastry chefs were getting any of the spotlight and I wanted to make sure it really showed who pastry chefs are and what we do because I have so much pride in being a pastry chef."
Johnny Iuzzini should have a lot of pride in his work. He's a driven, accomplished pastry chef who from an early age was smitten with sweets.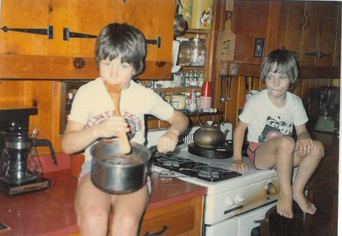 Johnny hogging the batter from his brother Josh. "As kids my mom would always let us help bake, and if we behaved, we got to lick the beaters clean." (Photo Courtesy of Johnny Iuzzini)
Iuzzini's first foray into a kitchen was by misfortune, though you could call it fate. As a young teen he just wanted a summer job, and the best place to work in the Catskills was the Osiris Country Club, where he hoped to be a caddy, driving golf carts in the sunshine and getting big tips from club members. Instead, given all of his friends had work papers before him and took all the caddy jobs, the only thing left was a position in the kitchen, in the basement, as a dishwasher.
"I was the only one of my friends who ended up washing pots, smelling like crap, my feet soaking wet and my shoes rotting. But the job kept me out of trouble and gave me a paycheck. I didn't come from a wealthy family, my dad told us if we wanted spending money we had to earn it. So I developed an early work ethic."
Soon Iuzzini's focus in the kitchen moved beyond the dishwashing station. Eventually he got to do prep work, and prove himself a quick learner and hard worker to the Chef himself. When Chef Brad Goulden left the country club for a different position, he took Johnny with him.
Iuzzini enrolled in a high school vocational-technical program studying culinary arts, and Goulden told him about the Culinary Institute of America. "Goulden was a CIA grad," said Johnny, "and one day he said to me, 'There's a whole school for this, a whole culture. You can go anywhere with cooking'."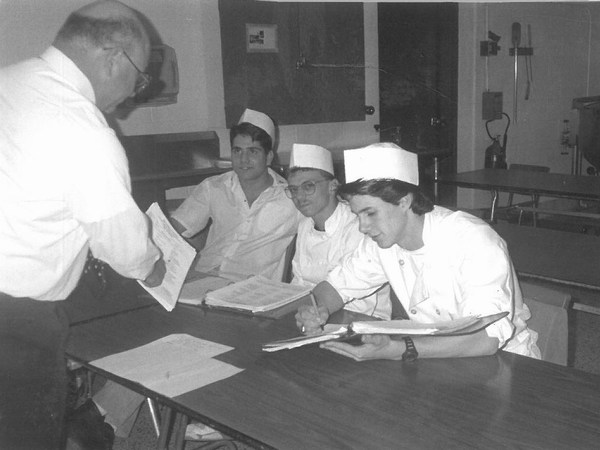 In the High School Vocational-Technical Program (Photo Courtesy of Johnny Iuzzini)
However, after being exposed to the work of both savory and pastry chefs, Iuzzini took the pastry path. "I couldn't stand killing lobsters or seeing whole animals butchered. My mom was a rescue veterinarian and I grew up helping her nurse injured animals back to health. Any deer hit by a car, fox caught in a trap, whatever it was that got hurt, everyone brought them to my mom."
Gripped by a growing love of pastry, Iuzzini would spend his days working savory prep for pay, then work nights for the pastry chef for free. He decided to contact the CIA where he'd already been accepted and change his focus to the pastry program. "I fell in love with pastry because I felt I could be much more creative, it's precise, and you don't have to kill anything."
While at the CIA, Iuzzini wanted to do more, he wanted to work for the "famed and feared" French pastry chef François Payard, then the Executive Pastry Chef at Daniel, Daniel Boulud's flagship restaurant. He got an introduction through Chef Lincoln Carson, and after a tough interview and sixteen hours in his kitchen, Payard told Iuzzini he could have the job. "But," recalled Johnny, "I was still in school, and when I told François I couldn't work full time, he yelled at me, telling me I was wasting his time. Then he clamed down and agreed to let me work every Saturday. After I graduated the CIA on a Friday, I started work full time at Daniel the very next day."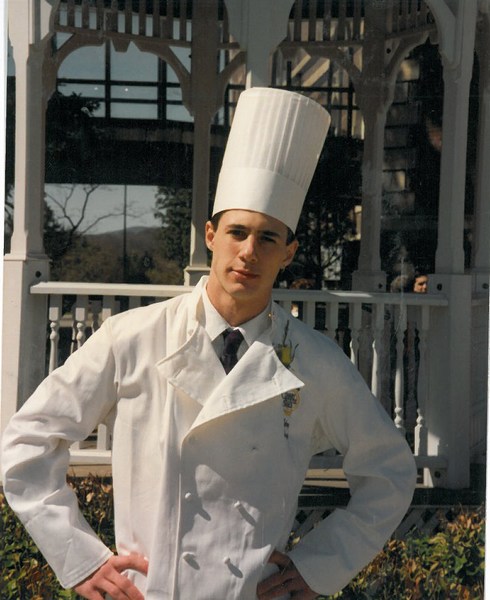 Graduation Day at The Culinary Institute of America, 1994 (Photo Courtesy of Johnny Iuzzini)
From there Iuzzini's life was a whirlwind of frantic yet focused energy. He lived a double life, pastry chef by day and club promoter by night, getting precious little sleep. Then after passing out on the bowl of a 60 quart stand mixer, and getting pneumonia, he knew he needed a break. So with a loan from Daniel Boulud himself, Johnny took off to clear his head, make some decisions, and travel the world.
"I was asking myself, Why do I want to be a pastry chef, getting yelled at all day, making no money, being told I'm stupid, when I can work in nightclubs, make a ton of money, and have people love me?"
But on his travels, Iuzzini always gravitated to pastry kitchens, working a week here and there in some of the most prestigious establishments in Europe. He even did a stint in the pastry kitchen of François Payard's father.
When he eventually returned to New York, he went back to Daniel, who had told him he was confident of his return or he wouldn't have lent him the money in the first place. "Daniel saw something in me that I didn't see in myself."
Johnny (in the mask) with Daniel Boulud and then Pastry Chef Thomas Haas, New Year's Eve 1999-2000 (Photo Courtesy of Johnny Iuzzini)
By age 26, Iuzzini was made the Executive Pastry Chef at Daniel. Eventually however, always wanting to challenge himself, he set his sights on change. When Jean-Georges Vongerichten heard he was thinking of leaving Daniel, he reached out and offered Iuzzini the Exec position at the illustrious Jean Georges restaurant, where he remains to this day.
"The hardest thing I ever had to do in my life was give notice to Daniel, he'd been a second father to me. But Daniel knew me as a kid, and I didn't have that relationship with Jean-Georges. Jean-Georges hired me into the executive position, so he saw me as a mature pastry chef and we have more of a business relationship. "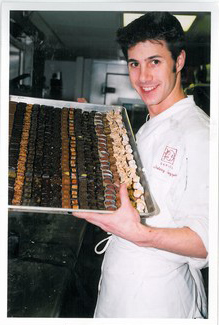 Iuzzini in his role as Pastry Chef at restaurant Daniel, doing chocolate production in 2002 (Photo Courtesy of Johnny Iuzzini)
But there's no hard feelings between Daniel and Johnny, and they remain close. When Iuzzini's mother passed away, Boulud showed up at the memorial service, and then, without telling anyone, he took his team to Johnny's parent's home and prepared all the food for the guests coming back from the service. When Johnny told me this, he was visibly moved just recalling it.
Just as Iuzzini had grown over the years as a pastry chef, he's grown over one season in his role as head judge on Top Chef Just Desserts. "In the first season I tried to emulate Tom Colicchio. But the thing is, I'm a different person than Tom. In season two, I've come into my own and I'm more comfortable in front of the camera. I get to be myself more, and as consulting producer, this season I got to be a part of writing the challenges."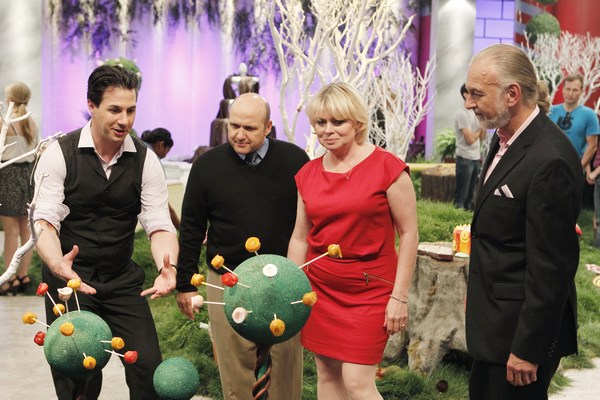 From Episode 4 "Pure Imagination" with judge Hubert Keller and the original cast members of Willy Wonka and The Chocolate Factory (Photo Courtesy of Bravo)
Speaking of the challenges and twists thrown at the pastry chefs, Johnny laughed, "It's easier to throw pastry chefs for a loop because we're used to working alone in our kitchens with our ingredients. We're very Type A personalities so when we change things up on the competitors it's easy to mess them up."
Iuzzini, very much a fun-loving guy despite being such a hard worker, told me about his own personal challenge in the role of head judge. "I'm a prankster, but in this role I can't always be that person. I have to be kind of stern. Sometimes during filming they'd have to tell me 'Johnny, don't say that with a smile on your face!'"
At the tasting table with the cast of Real Housewives of Beverly Hills (Photo Courtesy of Bravo)
Iuzzini sees the second season of Just Desserts as a huge difference from season one. "The show is great, and I'm so excited about it! We've got a higher caliber of pastry chefs on this season, we have strong executive level chefs who have actually competed before. There's still drama, but the drama comes from the passion they have for their work. The reason people get upset is because they care so much about what they do, and when you put your heart into something and things get screwed up, you get upset about it."
The author of "Dessert Fourplay," Iuzzini is currently working on a second cookbook, looking forward to more seasons of Just Desserts, and developing a new business concept focused on cocktails, which he loves. Speaking of his future, Johnny told me, "I want to do more TV and more books. I want to have my hand in different projects. I'm way too hyper, I'm just one of those people who has to have a lot going on."

SUBSCRIBE TO & FOLLOW THE MORNING EMAIL
Start your workday the right way with the news that matters most. Learn more