Scott Conant, Chopped judge and host of 24 Hour Restaurant Battle, invited me into his kitchen -- his very hot kitchen -- in the basement of his NYC Scarpetta restaurant, where he made a delicious asparagus soup with mussels that's currently featured on his always seasonal menu.
Chef Conant has five Scarpetta locations: in NYC where I was with him, in Beverly Hills at the Montage Hotel where his weekend brunch also serves brunch pastries created for him by Last Cake Standing winner Richard Ruskell, in Miami and Toronto, and in Las Vegas, next door to his D.O.C.G. Enoteca. Although he frequently travels to work in all of his kitchens, he says, "I have great teams in all of my restaurants and I empower them to do things on their own."
NYC is the place he calls home. Father to a 15-month-old daughter, his NYC location is only open for dinner to give Conant as much time as possible with his family, and because he admitted, "I'm not a morning person." Although, as Scott said, "I'm still in my kitchens every day," fortunately his restaurant is walking distance to his apartment.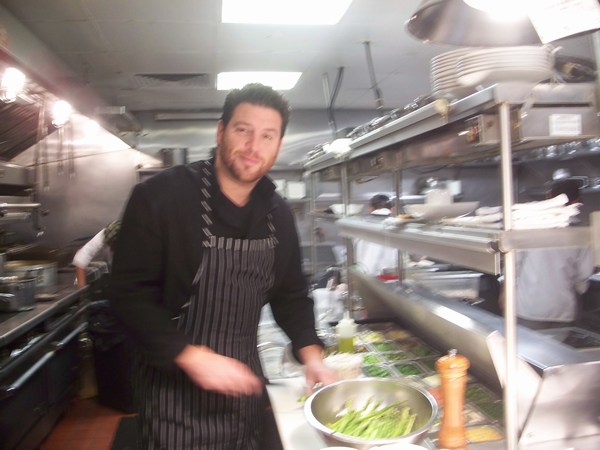 Chef Conant making his asparagus soup. Yes, the image is blurry, but the chef was constantly in motion despite the hot kitchen! (Regina Varolli)
Scott Conant's food is his own take on Italian cooking. And while he spent a fair bit of time in Italy learning different regional Italian cuisines, Scott told me, "I use the food in Italy as an influence but I'm not pinned down by its traditions, the food in my restaurants is essentially my own."
What originally drew Chef Conant to professional kitchens was a bit different than other chefs. "I grew up playing sports, and the sense of team work and camaraderie was the initial draw." While in high school, Scott was already working 60 hours a week in kitchens, "My dad was upset because I dropped out of baseball to work in a kitchen."
His success with the Scarpetta restaurants was justified when I tasted his asparagus soup with mussels. And in case you're wondering, he didn't choose the name Scarpetta after the Italian word for "little shoe" -- scarpetta is also the word for the little piece of torn-off bread we Italians use for swiping up the remaining sauce (or soup) from our plates. As Scott said, "Our logo at Scarpetta actually looks like the mark left on a plate when you swipe your bread."
As the host and decision maker of 24 Hour Restaurant Battle, I just had to ask him if any contestants have ever actually stayed up the entire 24 hours in their quest to win ten grand. With a laugh and a shake of his head, he replied, "Not really, it's not something everyone could handle, and it might require the use of unnatural stimulants which we couldn't encourage."
And now, his recipe...
Scott Conant's Asparagus Soup with Mussels
Serves 4
Ingredients
1 lb Asparagus
4 tbsp Olive oil
2 Shallots, medium
Pinch Crushed red pepper flakes
Pinch Salt
2 cups Chicken broth
1.5 lbs Mussels
2 slices Filone, diced into half inch pieces (similar to croutons)
1 clove Garlic
3 tbsp Pickled mustard seeds
4oz Red wine vinegar
2 oz Water
2 tbsp Sugar
1 cup Diced white & green asparagus
2 oz Micro-basil
The mise en place (Regina Varolli)
Make the Asparagus Puree
Chop the asparagus into ½ inch pieces, reserving about half of the tips separately. Heat 1 tablespoon of the olive oil in a saucepan over medium-high heat. Add the shallots, red pepper flakes, and a large pinch of salt. Cook, stirring occasionally, until the shallots are tender and just taking on some color for about 5 minutes. Add the asparagus (but not the reserved tips) and cook for about 1 minute. Add the broth plus 1 cup of water and bring to a boil, then reduce the heat to a robust simmer and cook until the asparagus is tender. Let cool a bit and then puree the soup in batches, adding 1 ½ teaspoons of olive oil as you puree it. Return the soup to a clean saucepan, season to taste with the salt, and reserve. (The puree can be made ahead and refrigerated for a day.)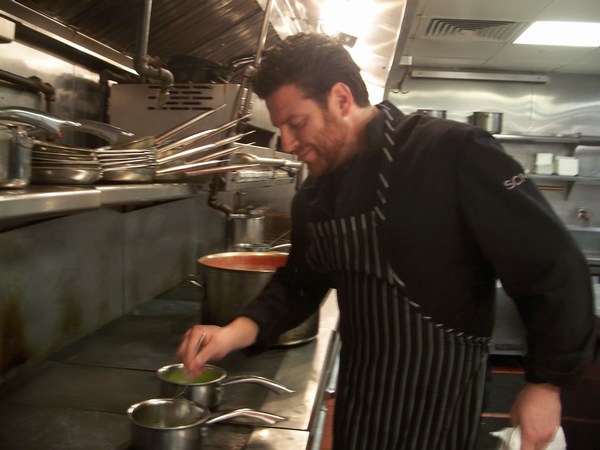 Chef Conant over the stove. Blurry again, but hey, you know it's not some posed and polished pic! (Regina Varolli)
Steam the Mussels
Heat about 1 tablespoon of olive oil in a large saucepan over high heat. Add the mussels and ½ cup of water and cover. Cook until a peek inside shows that almost all of the mussels have opened wide, 3 to 5 minutes. Remove the mussels from the pot. Pour the liquid into a measuring cup, being careful to leave any grit behind. When the mussels are cool enough to handle, remove them from their shells.
Charred Filone
Season filone with olive oil and salt. Using a grill or a la plancha, char the filone and rub with fresh garlic afterwards. Cut into half inch cubed pieces.
To Pickle the Mustard Seeds
Add the red wine vinegar, water, sugar, a pinch of red pepper flakes into a pot. Bring to boil and add the mustard seeds. Cover and let cool.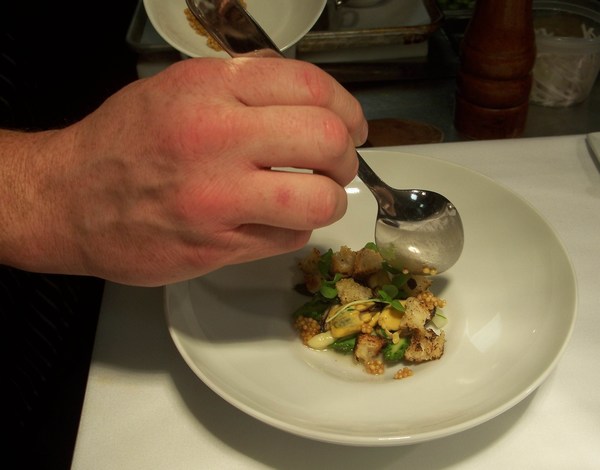 The Chef plates the soup by adding all the garnishes into a warm bowl and then pouring the soup around them. (Regina Varolli)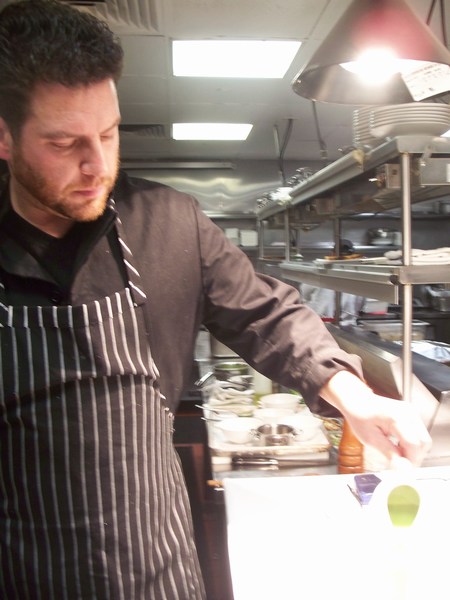 To Finish
Heat a teaspoon or two of olive oil in a small sauté pan over medium-high heat and sauté the diced white & green asparagus. Add the reserved mussel cooking liquid and mussels to the pan until warmed through. Serve immediately in warm soup bowls and garnish with the pickled mustard seeds, micro-basil and filone croutons.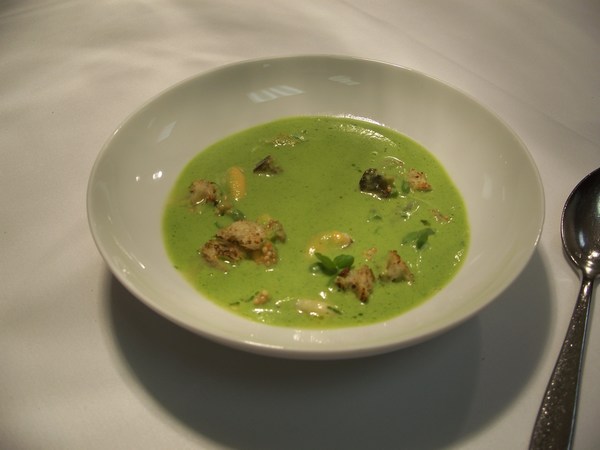 Grab a spoon and a piece of scarpetta, you won't want to leave a drop behind in the bowl!
SUBSCRIBE TO & FOLLOW THE MORNING EMAIL
Start your workday the right way with the news that matters most. Learn more