Before Susur Lee made it to the top of his field, and made it to the final battle on Top Chef Masters, he learned some hard lessons in life. He grew up the youngest of six kids in a working class Hong Kong family, and he suffered a terrible personal tragedy shortly after moving to Canada in his early 20s. But as Susur told me, everything he experienced shaped him into the person he is today.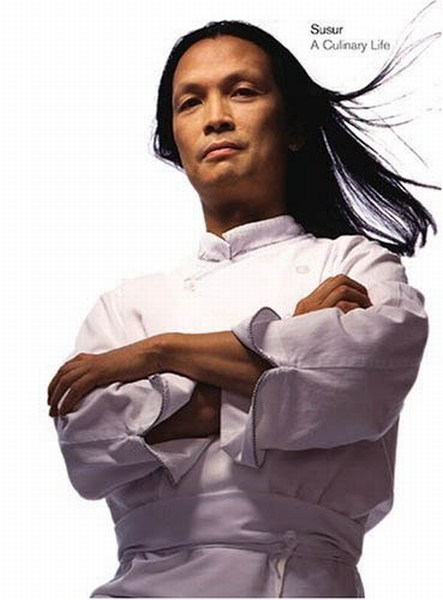 "A Culinary Life" by Susur Lee (Photo Courtesy Susur Lee)
Susur began to work during childhood, and work hard. "In my home, everybody was not so much into education. My childhood was more about work, everybody had to bring money into the family starting from an early age."
By age 15 the independent-spirited Susur wanted to leave home and go to live with one of his older brothers. But, even moving out of the family home, Susur wasn't getting any free rides. "My brother was OK having me live with him, but he told me 'If you want to live with me, you have to pay rent'." So his brother, who worked in the front of the house in a Hong Kong restaurant, got Susur a job.
From day one, Susur fell in love with the work he found in the kitchen. Everything about the job, the people, and the culture, appealed to the 15-year-old. "I really liked the tools, the knives, and I was curious about everything. I always liked moving quickly, so the fast pace of a kitchen was natural for me. Plus I liked the restaurant culture. I loved hanging out with the people after work. I was young and could stay up all night and still come to work the next day... and not complain about being tired!"
Being from what he called "a different generation and a different culture" Susur never feared hard work or discipline. As a 16-year-old apprentice at Hong Kong's Peninsula Hotel, his treatment would make any kitchen commie in America feel like they were being treated like royalty. "This generation today is so different. When I was an apprentice, you didn't have things so easy. You couldn't buy jars of garlic or shallots already peeled, you had to do it by hand. There were no juicers, or so many of the other things people use today to make their work easier. For me and my generation, it was hard work and there were no shortcuts. And our chef treated us like slaves!"
After years of doing things the hard way and rising up the culinary ladder in Hong Kong, Susur moved with his wife to Canada. His career was taking off and he did time in the kitchens of some of the best restaurants in Toronto. But his bright future suddenly went black. His wife was flying back to Hong Kong to teach for a semester when her plane crashed. She didn't survive.
"I just didn't know what to do. I was so young and I didn't understand a lot of things about life, and I was also alone, all of my family and friends were back in Hong Kong. So I thought about going back, but instead I stayed in Toronto. I just didn't have any passion for what I was doing anymore. I really didn't care about anything at that time. So I took a job in a burger joint just to make money because I didn't have my spirit in cooking."
Susur's strength, his attitude, and his unwillingness to just let himself fall apart completely, should serve as an example to all of us. Even not having his spirit in his cooking, even flipping burgers, Susur Lee didn't give up entirely. His strength, his drive to keep on going, and his ability to find something of value in a life-pile of rubble is what makes him such an inspirational figure.
"Flipping burgers wasn't something I ever expected to do, but it was a very good experience because all kinds of people came into that burger joint. I met all of these artists and musicians, people who were a part of an underground culture in Toronto, and they ended up inspiring me creatively in ways I never thought of before."
Susur Lee's Sablefish with Mussels (Photo Courtesy Susur Lee)
One day when Susur was riding his bike home from the burger joint he spotted a small sandwich shop in an industrial neighborhood. Hungry, we went in for a bite to eat and was taken back by the beautiful -- and completely unexpected -- artwork hanging on the walls. The food was good, so Susur became a regular.
Eventually he befriended the owners, one of whom was the artist responsible for the canvases in the shop. They learned about Susur's life, the loss of his young wife, and how he ended up flipping burgers when he had talent for greater things. Before long the owners asked Susur to man the shop when they would go out of town, and he happily took them up on the offer.
"Whenever I walked into that place when they were gone I got the feeling that it was the perfect environment for me. It wasn't flashy but it was really clean, and I had my independence. So I asked them finally if I could buy the place when they retired. They said yes, and we made a contract on a paper napkin. At first I just rented the place until I got some money saved up and then I worked with a friend on building the place up. We changed the kitchen and went to restaurant auctions to get whatever we needed. It wasn't perfectly matched, but I said to myself, as long as the food is great I don't care if we have fancy stuff!"
So at 27 years old, Susur transformed a sandwich shop in an industrial area of Toronto into his first restaurant, Lotus. By the second year in business, Susur told me "I started seeing Mercedes and Porches parked outside and all these fancy people were coming in to eat all the time. I was the first to do Chinese-European fusion food in Canada, and everyone seemed to love it."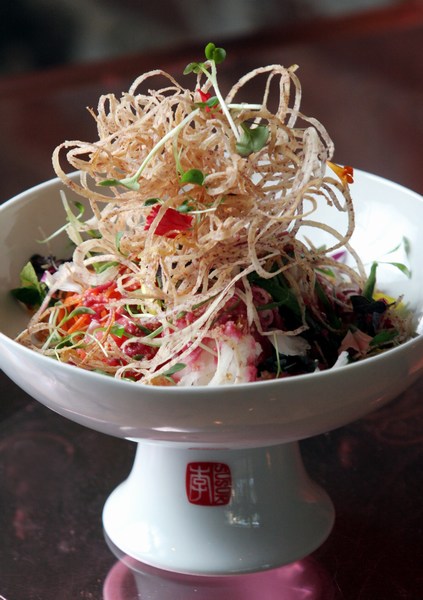 Susur Lee's "Singapore Slaw" (Photo Courtesy Susr Lee)
The experience of building up and running his own restaurant, and traveling throughout Europe to learn about the cuisine, saved Susur personally. He told me "the place, the whole experience, really helped me through the loss of my wife."
By age 30, Susur was getting so much recognition for the little restaurant that gave him back his passion and his spirit, he began traveling all over the world doing demonstrations and making appearances. "I learned so much at that period. I met so many chefs doing so many different things and I got to bring it all back to my kitchen."
With growing accolades, more restaurants, and a book, Susur thought his culinary life had reached its full potential. Then one day he got a completely unexpected call from the producers of Top Chef Masters.
"I couldn't believe I was invited to be on the show! I loved the idea of Top Chef Masters and I immediately wanted to do it. There were so many great chefs on the show! It was so exciting for me, it made me feel so alive.
"The show was like boot camp. And every day I'd get up early so I'd have time to do stretches and breathing exercises to be relaxed. It was really fun, but really fast-paced and stressful so I had to do that to make sure I could do my best."
Susur couldn't always do his best though, because some of the challenges just threw him into completely unfamiliar territory. "When they gave us the Simpsons challenge I was so lost, I'd never even seen the show! Or then there was the tail-gate party. I didn't know what that was, it just wasn't a part of my culture. When I arrived at the tail-gate I noticed there were already some chefs there, then I realized they'd been there all night partying!"
Even though Susur was in the end defeated by Marcus Samuelsson, he said he'd do it all again in a heartbeat. "I learned so much about American culture. I learned a lot about myself. But I also learned about media and television, things I wouldn't have learned just cooking. I realized that in a way, TV people are just a different kind of hospitality, and like chefs, they provide a kind of entertainment."
Looking back with me over his life and career, Susur said something that sticks in my mind, something that any artist might say, whether they're a chef, a writer, or a musician -- something that speaks a fundamental truth to all of us.
"It took a while to understand that this is me, and that being me is sometimes really hard. But I can't be, I wouldn't want to be, anyone else."

SUBSCRIBE TO & FOLLOW THE MORNING EMAIL
Start your workday the right way with the news that matters most. Learn more