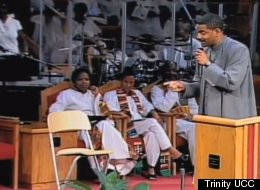 On Sunday, September 15, 1963 during the Civil Rights movement in America the 16th Street Baptist Church in Birmingham, Alabama was bombed and four little girls were killed. 11-year old Denise McNair and 14-year olds, Addie Mae Collins, Carole Robertson, and Cynthia Wesley were murdered at their family church because of racism and because African Americans in the South wanted to exercise their Constitutional right to vote.
​49-years later after Denise McNair, Addie Mae Collins, Carole Robertson, Cynthia Wesley lost their innocent lives because their community wanted the right to vote, today, September 8, 2012, states have passed the Voter ID law which suppresses the rights of the poor,former prison inmates, elderly, Hispanics, and African Americans to vote in local, state, and presidentialelections. The Voter ID law also makes it more difficult for college students, the disabled, immigrants and people of color to vote.
​In this day of the viral "empty chair," the church community and the interfaith community must speak to the "empty chair" and what it represents. The "empty chair" represents invisible racism and voter suppression in America.
​The spirit of God is love and justice. The "empty chair" of invisible racism disregards the meaning of God's love. As people of faith, we must ask ourselves, why is there an intentional invisible racism voter suppression movement to prevent eligible citizens the right to vote?
​As people of faith, we must be concerned about the least of these in America. All citizens 18-years and older must have the inalienable right to vote; to ensure that the homeless have a place to live, the hungry have food to eat, all children have access to quality education, former prisoners and their families can apply to live in public housing, and the elderly and all people in American can receive healthcare.
​Thousands of people, of all cultures and religions, marched with the Rev. Dr. Martin Luther King, Jr so that all people, no matter what their station in life could have the right to vote.
​Denise McNair Addie Mae Collins, Carole Robertson, Cynthia Wesley, Dr. King, Viola Liuzzo, James Chaney, Andrew Goodman, Michael Schwerner and other unnamed children, women and men died so that allpersons can experience the "American Dream." The Voter ID law dishonors the lives of children, women and men who died for the right to vote. It is time to unseat invisible racism in America.
We must unseat invisible racism because as long as it remains human rights and individual dignity will forever be under threat:
(Click Here To Sign The Petition)
The invisible racism that leads to Voter Photo ID laws that suppress the democratic rights of the elderly, people of color and the poor;
The invisible racism that made targets of thousands of African American, Latino and working class households, as unscrupulous lenders caused them to lose their homes to foreclosure;
The invisible racism that drives a torrent of anti-immigration laws instead of legislation that provides paths to citizenship;
The invisible racism that allows tragedy as long as there is profit in places like the Democratic Republic of Congo, where more than 4 million children, women and men have died as a result of "Blood Coltan" and other mineral mining operations; and
The invisible racism that has resulted in more African American men currently in prison or jail, on probation or parole, than were enslaved in 1850, before the Civil War began.
I petition to unseat invisible racism and to drive it from the dark corners of humanity, into the light, so that its true nature of injustice is revealed.
Quotes From Martin Luther King, Jr.
Martin Luther King Jr. Memorial
"We shall overcome because the arc of the moral universe is long, but it bends towards justice."

"Darkness cannot drive out darkness, only light can do that. Hate cannot drive out hate, only love can do that."

"I believe that unarmed truth and unconditional love will have the final word in reality. This is why right, temporarily defeated, is stronger than evil triumphant."

"Make a career of humanity. Commit yourself to the noble struggle for equal rights. You will make a greater person of yourself, a greater nation of your country, and a finer world to live in."

"I oppose the war in Vietnam because I love America. I speak out against it not in anger but with anxiety and sorrow in my heart, and above all with a passionate desire to see our beloved country stand as a moral example of the world."

"If we are to have peace on earth, our loyalties must become ecumenical rather than sectional. Our loyalties must transcend our race, our tribe, our class, and our nation; and this means we must develop a world perspective."

"Injustice anywhere is a threat to justice everywhere. We are caught in an inescapable network of mutuality, tied in a single garment of destiny. Whatever affects one directly, affects all indirectly."

"I have the audacity to believe that peoples everywhere can have three meals a day for their bodies, education and culture for their minds, and dignity, equality and freedom for their spirits."

"It is not enough to say, 'We must not wage war.' It is necessary to love peace and sacrifice for it. We must concentrate not merely on the negative expulsion of war, but on the positive affirmation of peace."

"The ultimate measure of a man is not where he stands in moments of comfort and convenience, but where he stands at times of challenge and controversy."

"Every nation must now develop an overriding loyalty to mankind as a whole in order to preserve the best in their individual societies."

"We are determined here in Montgomery to work and fight until justice runs down like water, and righteousness like a mighty stream."

"We must come to see that the end we seek is a society at peace with itself, a society that can live with its conscience."

"True peace is not merely the absence of tension: it is the presence of justice."
Follow Rev. Otis Moss III on Twitter: www.twitter.com/om3