Who is financing Mountaintop Removal now that Chase got out of the business? Our answer came from the Rainforest Action Network. Two banks, mostly, PNC Bank of Philadelphia and UBS Bank of Switzerland.
UBS? How do we even get within haling distance? UBS is famous for secret bank accounts and Nazi loot. In New York, UBS has a building that suggests a stream-lined mountain surrounded by a moat of speechlessness. When the security rushed toward us on Thursday, it wasn't because of what we were saying in the bullhorn - no, it was that they could hear words. Words! The only word allowed was the logo "UBS," beaming from the side of the building above us. And security insisted that we couldn't video-tape that logo.
Oh? And you're not video-taping me now? UBS - you've got a problem. Your bank is on a public street. We'll make art out of your logo. We'll discuss your politics while eating a taco. We'll flirt with your employees. You want to pretend you're not here? Fine.
As we paraded toward the 60-story skyscraper we found no border between the sidewalk and the plaza of the bank. So we set up our praying and singing, and lifted our mountainous Coal Valley soil retrieved from their dynamite. Their private police shouted at us that it was all private. They stared at our little mountain.
When the real police came, they had no violation that they could cite. "We got a phone call - you're bothering people." We handed out more and more flyers. The building hovered above us, straight mirroring lines up to the clouds. These UBSers are from the Alps; they created this corporate mountain; they bomb mountains in Appalachia. Got a mountain theme going on here!
This mountain of a skyscraper doesn't want to admit that it has a commons it joins to; doesn't wish to have a ground-floor where the non-rich mix with their laughter, brown bag lunches, and New York protesters. Note to UBS: You want to be the mountain of the dark ages, all eagles and awe and gods. But when you put a mountain across from Radio City Music Hall, you got people in your foothills. There are also families living beneath your mountains in Appalachia.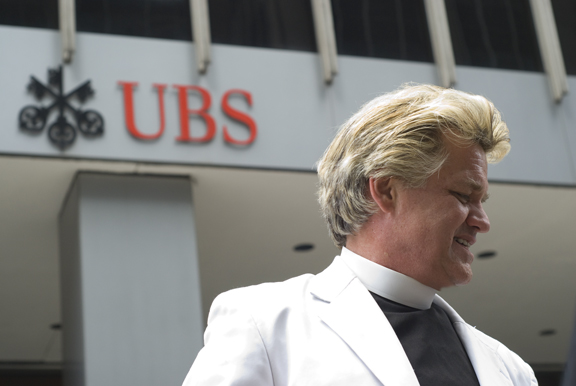 The reason that UBS is vulnerable to the pain and suffering of people on the receiving end of their investments is that we can travel from West Virginia to the foot of their bank-mountain with our dirt on them. The valley people can talk to each other, from here to Kentucky - all the way to Zurich.
UBS executives take elevators to the basement limousines and get helicopters on the roof - they are as unseen as their tax evasion. But their workers are lunching with us. They didn't know what Mountaintop Removal was, but they do now. After lunch, they'll go back up inside.
SUBSCRIBE AND FOLLOW
Get top stories and blog posts emailed to me each day. Newsletters may offer personalized content or advertisements.
Learn more