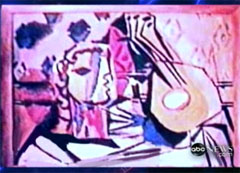 We've seen the treasures found on PBS' Antiques Roadshow week after week and wonder, "Is it really possible to find valuable items at garage sales and resale shops?"
The answer to that question is simply ... possibly!
At a yard sale earlier this month, Tiesha McNeal bought what she thought was an interesting painting for $2.00.
It wasn't until she got it home did she realize the painting had an all too familiar signature; Picasso.
McNeal states she was drawn to the painting because of the bright colors. She stated the painting looked like a woman, and if you looked at it again, like a guitar or possibly a baby.
Once she noticed the name, she called the FBI.
McNeal brought a news crew with her back to the home of the garage sale where she told the owners how valuable the painting might actually be. The homeowner, Edith Parker, said "It makes me sick that I sold it for $2.00."
Parker told ABC news that she was helping the relatives of an elderly neighbor sell some things. The neighbor was an art collector. When Parker asked the relatives about the signature on the painting, they told her it was fake.
The FBI checked to see if the painting was on the national list of stolen art, to which it was not. The painting is currently in the process of being investigated.
SUBSCRIBE TO & FOLLOW LIFESTYLE
Get top stories and blog posts emailed to me each day. Newsletters may offer personalized content or advertisements. Learn more