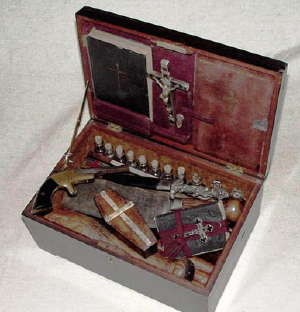 I'm not talking about the pending Twilight: New Moon movie (Opening in theaters this November 20th...
(I would have loved to been on board for the merchandising of this series!)
I'm talking about collecting, upcoming auctions, and an authentic piece of vampire history you can acquire this Halloween.
Stevens Auction Company in Aberdeen, Miss is hosting another wonderful antique furniture and decorative arts sale, but with a special item, available to bidders, lurking among the civil war firearms and Confederate Currency...
An authentic Vampire killing kit.
And just what IS a vampire killing kit you ask (you know you did!) - it includes the following:
A Rosewood case with mother of pearl cross inlay, pistol, silver bullets in a coffin case, silver occult dagger and Holy Water vials.
To place your bids, or to attend the sale, please visit their website for more information:
www.stevensauction.com
SUBSCRIBE TO & FOLLOW LIFESTYLE
Get top stories and blog posts emailed to me each day. Newsletters may offer personalized content or advertisements. Learn more