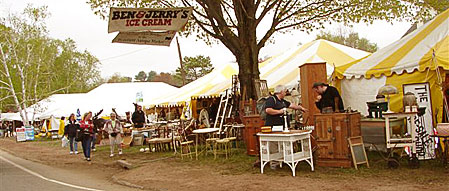 Three times a year in the sleepy town of Brimfield Mass., thousands of dealers come from across the country to peddle their wares in hopes of making a few dollars.
Brimfield shows have been known to turn up quite a few prizes over the years. There are over 5,000 dealers in 20 different fields set up with fine art, antiques, collectibles and more looking for bargain hunters who are in the mood to haggle.
If you are in the area this July 14-19th (and even if you're not you should make the trip!) take a drive over to Route 20 -between exits 8 and 9 off the Massachsetts Turnpike - and see what goodies you can find. Then come back and tell me all about them!