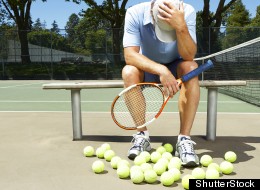 Every Wednesday from 8 to 10 a.m. I have a tennis game with my two sons and a fourth. Spring to fall, we play on the public courts in Central Park around 95th Street. In the winter, we play indoors at Midtown Tennis Club, 8th Avenue and 27th Street.
This game has been going on for a long, long, long time. At 86, I am still consistent but with the power of, say, Nancy Reagan on Bonamine. My serve floats in reliably with the speed of a large tractor laboring uphill. What I do is mostly return serve and then let the three of them battle it out. I am tolerated, even welcome, because I am father, our matches are close, and I foot the $160 bill at Midtown.
This past Wednesday, Peter, my oldest, and I won the first set. In the middle of the second set, I suddenly didn't feel so good. My energy sagged. I felt lightheaded and had discomfort in my upper chest -- sort of like heartburn. I suggested that I rest a bit, which I did, then back on the court. Two more games, during which I made an amazing shot that Nadal would be proud to do if only he could.
But again, I was tired and I rested. When I got up to serve, both my sons resisted. "that's it, Dad, we're finished." Now I hate to break up a game and I like to serve. "LET ME SERVE!" I screamed. "LET ME SERVE!." No use. The kids knew best. The hell they did, but what's the use?
Instead of changing my clothes and going to the office, I decided to take a taxi home and lie down. Peter came in the taxi and called my wife, Iris, on his cell. Iris told Peter I was having a heart attack and proceeded to call my cardiologist, who called us in the cab and said, "do not go home, do not go to my office, go straight to the New York Hospital emergency room."
Which we did. They were waiting for me. They did a brief EKG and then whisked me like a runaway train down corridors, up the elevator to the catherization lab. There they threaded two stents through my groin to an artery feeding my heart that was 100 percent blocked by a clot that had formed from surrounding plaque.
I spent five days in the hospital and was released this past Monday with some important restrictions called "doctor's orders."
Now here's the thing. If I had continued to play tennis, it probably would have been my last game. If Iris hadn't been home to take Peter's call (she often isn't at that time) I would have gone home, lain down and probably never risen. If Doctor Inra had been unable to talk to Iris immediately, I would have gone home.
Luck was certainly with me last Wednesday.
Is there a moral in this story? I think there might be but it doesn't interest me.
I'm just glad to be alive.
Earlier on Huff/Post50:
Yoga offers a myriad of wellness benefits: flexibility, balance, centeredness, strength, mindfulness and others. Yoga is a great option for aging bodies, as it promotes working within your own comfort zone. Postures and sequences range from gentle and relaxing to more intensive for advanced yogis.

Another way to promote flexibility and overall health is incorporating some simple stretches into your daily routine, be it at home, at the gym or even outdoors. Stretching prevents injury, can relieve back pain and boosts energy. Note: It's important to stretch properly to avoid injury. Check out some good examples of stretches here and these common stretching mistakes.

Biking is a great low-impact, cardiovascular workout, not to mention it's a lot of fun. There are a few ways to incorporate biking into your routine. Joy rides in your free time are always a good option -- alone or with a group. You could consider joining a local bike group or riding to nearby destinations instead of taking the car. Stationary bikes also have great health benefits. Already a cycler? Here's how to get more benefit from your bike ride.

One of the most beneficial exercises is something humans have been doing for centuries: walking. Simple modifications to your routine, like parking further away and walking the extra distance or taking the stairs instead of the elevator, can really add up to boost your overall health. For an even greater benefit, take brisk walks that get your heart rate up.

Pilates is another low-impact exercise that's ideal for aging bodies. It's similar to yoga but puts more emphasis on gaining control and balance of the body by strengthening the core muscles. Pilates can be done in a class or at home with a video or other guide. This piece offers a great run-down of the activity, along with images of some classic pilates stretches and workouts.

Tennis is a classic sport, well-loved for being fun and great for you. It's a strong aerobic workout and helps keep you agile, especially important as you get older. Tennis is also a very social activity -- great for the body, mind and spirit!

Swimming is easy on the body and is also one of the most comprehensive workouts, hitting all the major muscle groups: shoulders, back, abdominals, legs, hips and glutes. If you're getting serious about swimming, it's important to learn proper techniques, but even free-styling in the local pool or outdoors in the summer is a great way to exercise.

Dancing is one of those activities that doesn't feel like working out, but is an incredible aerobic exercise. It's a good option for those that want more physical activity but don't like the gym or in the winter when it's harder to get outdoors. There are a bunch of styles to choose from: ballroom dancing, contra dancing, salsa, ballet, tap, country and others.

As the body ages, running and jogging can take a toll on the joints, knees or back and potentially cause injury. An elliptical cross-training machine is an alternative to running, which still gets your heart rate up but at a lower impact.

You can take a simple walk to the next level by bringing weights along to build strength in your arms and boost the cardio benefits. Strength-building techniques like pushups, squats and lunges are easy to do at home or can be squeezed into buckets of free time throughout the day.