According to Gawker, those who "have Gumby" participate. Not ones to sit idly by and watch from the sidelines, these are the folks who jump in and use their wits and intellect to get the job done. They overcome the most troublesome glitches and find innovative solutions. Gumby isn't yes-or-no; it's how and why.
In the 1950s and 1960s, the green Gumby and his pal Pokey were Idol-like TV fixtures as they joyfully lived the adventures that kids dreamed of: going to the moon, jumping in and out of books' fanciful tales, hanging with people from far off lands.
Because Gumby was a Claymation creation, he was eminently flexible and had a special knack for getting into, out of, and through fantastic and often danger-filled escapades.
Gumby is more than ever becoming a key to success in whatever world you tool around in.
Gumby lives on in all of us--at least in those who can wipe away the thought, I can't. Gumby's power is more than flexibility, though. The next time a colleague, a friend, or Aunt Bertha asks how you of all people triumphed in the face of some unbelievable odds, tell her, simply, "Gumby." If she runs off looking for the latest gadget code-named for our little green hero, let her go. If she asks "What do you mean, my young niece . . . ?" here are the real-life answers:
Gumby is attitude.
Snark is so fashionable; popular culture lauds Gawker.com and its cadre of follower blogs and downloaders that pride themselves on carefully crafted sarcasm and forever cynicism. Gumby is confident, ambitious, and willing to get the job done--that's the essence of "Gumbitude." Gumby is optimistic and focuses on solutions--not problems. You call it like it is . . . and then you are willing to get how others see it.
Gumby is action. Lazy is easy. Action is often strenuous and sometimes exhausting, but those who have Gumby (or saw him on TV, and not the Eddie Murphy persona!) know that taking the effortless path rarely gets you where you need to be.
Identifying nascent trends, which is so important in these dire times, requires vigorous analysis of information from multiple sources, searching beyond your comfort zone.
Gumby is results. Gumby the flexible character was all about getting the job done--both well and in a timely fashion--by effectively using all tools available. Gone are the days when tasks came with a "when you can get to it" deadline. If you're lucky enough to remember the office euphoria when IBM introduced the Correcting Selectric, then your head probably spins at the plethora of tools available to office workers now. These machines and doodads can help or hinder, and Gumby is all about knowing how to use them to deliver results that have a measurable impact on a non-cliché bottom line, no matter your department.
Gumby learns. In each of his escapades, Gumby got his education from those around him. He sought information and explanations; he had fun figuring it out. Today, we're bombarded by data from more sources than we can count, and those who embrace Gumby invest the energy to constantly expand their wealth of knowledge.
Those who have Gumby participate. They do not sit idly by and watch from the sidelines, for they are the few who jump in and use their wit and intellect to get any job done, never clucking,or wondering if it's in their job description or should they pass it off to someone "below" them or lower on the chain.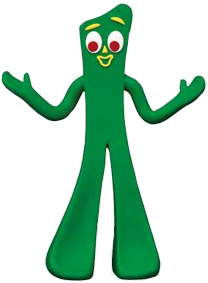 Gumby fans overcome the most troublesome glitches and find
innovative solutions. Gumby isn't yes or no; it's how and why.
Ask anyone from the military, who will tell you without blinking that on day two, someone told him that no matter what, "Remember that nothing is a problem." In the Air Force, I'm told they say it with fortitude: Semper Gumby! That's the way I feel right now about the little green guy.
Twitter Feed www.twitter.com/laermer For more on this buy 2011: Trendspotting, the book.