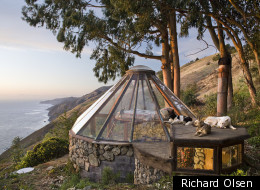 In my new book Handmade Houses: A Century of Earth-Friendly Home Design (Rizzoli) I explore the history of ecological architecture, telling the story through a presentation of homes located in the United States, Canada, France, Italy, Spain, the United Kingdom, and Australia. I give special attention to the woodbutcher movement that grew out of 1960s environmentalism, and in the following text I touch on the movement's beginnings.
"My perception was that architecture, as it was practiced, was a dying thing, that you had to get into building if you wanted to be independent of all these horrible structures and the monolithic architecture and engineering firms. You had to be able to build your visions first-hand and have those skills," said eco-architecture pioneer Sim Van der Ryn, looking back to late 1960s and early 70s.
In 71, roughly a year after the first Earth Day celebration, Van der Ryn, then a UC Berkeley College of Environmental Design professor of architecture and a practicing architect, had co-created and sold the university on the idea of a course that would teach students about subsistence living and how to design and build a handmade house. Called "Making a Place in the Country," Van der Ryn's workshop was held on his own five-acre hilltop, beside a wilderness preserve in the Marin County nook called Inverness.
Week after week, the group, both young men and women, collaborated like a family. They improvised their designs, allowing themselves total liberation from the rigid Modernist ideology that dominated architectural education and practice. They salvaged their needed materials, repurposing wood from old chicken coops. In their many building projects, they not only let handcraft's "mistakes" be an integral part of the process, they highlighted them in the finish work. At the end of the semester, students left the Inverness woods holding both a Van der Ryn-created tongue-in-cheek certificate that declared their official status as Outlaw Builder and, as would eventually come to light, a radically altered view toward conventional values and practices.
Unbeknownst to much of the class, the handmade houses that were left behind in Inverness following the course's conclusion (a few of them remain and serve as homes today) looked a lot like certain buildings that had been created during the same period in other parts of the United States and well beyond. Throughout the 1960s, a series of paradigm-shifting events--political, social, and environmental--had conspired to create a culture of protest, and by 1970 the vexation had clearly boiled over into architecture and construction.
Out in the country, a movement in homebuilding--a craft-focused, anti-technology protest architecture--was gaining adherents and taking on codification. Its fullest expression would be found on the West Coast, in Big Sur, Canyon, and parts of Marin County, California, and in British Columbia. It flourished in these locations to a great extent because of plentiful materials and land resources and because of their great geographic distances, not to mention the growing philosophical removal, from capital-"A" Architecture's arbiters on the East Coast. Big Sur had the added benefit of a rich stock of extant late 19th- and early-20th-century pioneer buildings--most of them were of hand-hewn redwood--that could serve as models.
In describing these dwellings that appeared preoccupied with old-world qualities like "feel" and "soulfulness" and that had been built from mostly used materials, the participating artists, carpenters, architects, and novice do-it-yourselfers adopted the humble label "handmade house" or the entirely self-effacing "shelter." The back-to-the-land movement was in full swing then, and these homebuilders had been gathering ideas and inspiration from the most unpretentious of building types, the architecture of the farmer and rancher. At a time when residential design and construction was becoming increasingly corporatized, when the average home was nothing if not a celebration of factory-made, mass-produced parts and outfitted with the latest technological advances, these outlaw builders were going for the polar opposite: the decidedly imperfect, "no-tech" peasant house made of one-of-a-kind, richly patinated collected objects, an architecture free of idealism--"architecture without architects."
In 1964, when 28-year-old journeyman carpenter and former UC Berkeley graduate sculpture instructor Deva Rajan set out to build his house in Canyon, California, he did so with the intention of reviving the Arts and Crafts-era tradition of using a labor force of artists. It took him 10 years to complete it.

Spanning the 31-foot width of Rajan's living room are a series of 8" x 18" fir beams salvaged from a decommissioned railway trestle in Eureka, California. The wood-burning stove was originally an ocean buoy picked up from the Oakland naval supply yard for $5.

The seminal Hill of the Hawk (1966), a high-art handmade house in the mode of Mark Mills's nearby Wild Bird for Nathaniel and Margaret Owings, teamed architect George Brook-Kothlow with builder Lloyd Kahn, a few years before Kahn joined Stewart Brand in the Whole Earth Catalog.

In 1969, when the Los Angeles Times Home magazine published Hill of the Hawk, they described how reclaimed timber had been used for the structure, the siding, and the floor, marveling that, "None of these is finished or treated in any way." The living room has a massive fireplace made of stones gathered from the isolated beach below the cliffside site.

In 1967, on the Esalen Institute's property in Big Sur, California, jewelry designer Goph Albitz was mining the possibilities of outsider architecture for himself and drawing inspiration from old Esalen buildings such as the Waterfall House and Selig Morgenrath's design of the Fritz Perls House.

Commissioned by a University of British Columbia professor of Buddhist studies, Leaf House (1969), on Hornby Island, B.C., is a creation of designer-master builder Lloyd House. The little Zen-inspired hut sparked the island's rich woodbutcher tradition.

Lloyd House dreamed up a lightweight leaflike roof made of three layers of ½-inch laminated cedar and a driftwood-log ridge beam, all ingeniously dependent on a single driftwood post. The built-ins are also driftwood.

On Sim Van der Ryn's property in Inverness, California, The Ark, one of the buildings created in 1971 by the class he taught at UC Berkeley, continues to serve as a residence. Most of the wood was repurposed from chicken coops.

The living/dining area of Van der Ryn's The Ark, which was renovated by current residents David Hastings and Sara Morris.

The Clark House (1973) in Ojai, California, is exceptional for how the twenty-something builders' artistic vision encompassed every surface of every room. In the living room, sandblasted reclaimed-fir posts and beams and homemade oxidized-steel joinery plates draw attention to a lava rock fireplace.

For over 13 years (and with girlfriends and their children along for the ride), architect Mickey Muennig lived in the tiny Greenhouse--his 1976 take on the then-popular dome and his celestial artistic response to the 1970s Big Sur lifestyle that he'd fallen in love with. From the deck of the outdoor bath, you can see up the coast.

Inside the one-room house, the reclaimed-redwood platform bed hangs on slender steel rods fastened to the ceiling. The ceiling cap is a vent--the house's thermostat.

The front elevation of the late Mike Breen's five-unit, redwood wine-barrel house in Big Sur, California, surely the most ingenious example of its kind anywhere. 32 years old when he started on the project, in 1984, Breen had never before built a house. He wasn't even known to have carpentry and construction skills.

In 1982, Breen had moved from Lansing, Michigan, to Big Sur to work as an assistant to artist Gregory Hawthorne, who had just relocated his home/studio there. Two years later, Breen set out to "build the coolest wine barrel house ever." In his kitchen, a stair fashioned from redwood slabs and hand-forged steel provides access to the second-floor master bedroom.

In 2004, in Yulan, New York, Scott Newkirk designed a handmade house for himself, building it with old barn wood. The fashion stylist and interior designer drew inspiration from the 1973 book Handmade Houses: A Guide to the Woodbutcher's Art. The outcome of his efforts ushers the 1970s New York woodbutcher tradition into the new millennium, retaining all the soul while substantially raising the flair.

An exposed-structure made of reclaimed wood, especially old, notched hand-hewn barn timbers like those of Newkirk's living area/kitchen, offers depth of character--a storied richness--that begs for minimal intrusion, as shown here. The stair accesses the loft bedroom. Used as a summer getaway, the house is off grid and is without electricity and running water. A brook in front of the house allows for bathing.
All photos courtesy of Richard Olsen.