THE BLOG
Genius On The Edge: The Drug Addict Who Revolutionized Surgery
Less than 150 years ago, surgery was little more than a gamble, a hyper-risky venture often deadlier than the ills it was supposed to cure. Sterile surroundings were still unknown in hospitals, anesthesia often consisted of holding down patients while doctors cut away, and in the disdainful eyes of both the public and the profession, "surgeons" were deemed little more than butchers posing as physicians.
All that changed in America thanks largely to the work, research and determination of a remarkably complex man most people have never heard of: Dr William Stewart Halsted.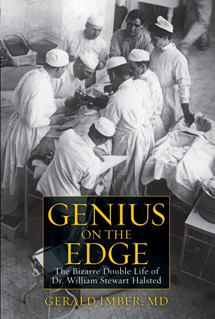 This scientific pioneer is the subject of a new book by prominent New York plastic surgeon, Dr. Gerald Imber : Genius On The Edge: The Bizarre Double Life of Dr. William Stewart Halsted (Kaplan Publishing).
A gripping mixture of medical history and detailed biographical analysis, Imber's book recounts how the 19th century father of modern surgery -- born to an austere Quaker family in the decade before the Civil War -- entered New York City's College of Physicians and Surgeons in 1874. There he became obsessed with the need to discover scientific ways to make patients safe from infection and to transform surgery from its barbaric, ineffective state into the life saving miracle that it is today.
Struggling against the norms of his time, Halsted introduced aseptic surgical practices, fought for solid training for surgeons, pioneered effective mastectomies, hernia operations, and was the first to insist that the scientific world experiment on dogs and other animals rather than on humans -- and do so in strictly antiseptic laboratories. Even the use of sterile thin rubber gloves -- a mainstay of modern surgery -- was a Halsted innovation.
He was also among the first surgeons to seek proper local anesthesia for his patients -- experimenting, for starters, with a drug that was being used by "an impoverished young physician in Vienna named Sigmund Freud,"
The anesthetic was cocaine, which was sold freely in the US until 1914. At the time, it was used in everything from Coca-Cola to over the counter patent medicines. For a while, it became Halsted's drug of choice -- not only for his surgery, but for himself. He was soon totally addicted, and would often combine the stimulant with use of morphine. The drugs had a stranglehold on his private life (which was in itself a strange Victorian combination of fine food, elegant lifestyle and a carefully guarded separateness in which the bearded Halsted and his long suffering wife, Caroline, lived largely apart under the same roof -- both at home and at their country estate in North Carolina).
Amazingly, it did not prevent Halsted from continuing his pioneering research -- a medical adventure in which he occasionally used members of his own family as guinea pigs. In 1882, he carried out the first recorded surgical removal of gallstones, in an emergency operation on his own mother as she lay atop a kitchen table at two in the morning. An early believer in ways of preserving and transfusing human blood, he once discovered his sister moribund as the result of post-partum blood loss. Without hesitation, he daringly withdrew a quantity of his own blood and boldly transfused it to her -- saving her life.
Drawn by the presence of colleagues he respected -- and who respected him -- Halsted moved to Baltimore where he was named the first chief of surgery at Johns Hopkins Hospital when the famed institution opened in 1889. He was later credited with launching Johns Hopkins' formal surgical training program, the first in the United States. Eventually he became professor of surgery, a position he held till his death in 1920.
Imber, whom I've known for many years and whose cosmetic surgery I've written about in the past, has had a long fascination with the Halsted story. "I actually studied with people who had worked under Halsted's long time assistant, George Heuer", he told me, "Few people -- even in the profession -- know about Halsted's accomplishments. Where would we be today without him?"
Imber decided some years ago to devote himself to a full biography of the complex Halsted. He commissioned his own son, Jason Imber, to begin the project's initial research in the archives at Johns Hopkins. Genius on the Edge is the eventual result.
It's a fascinating, novel-like read that would make a captivating film. Attention, John Malkovich!