Back in the late '70s-early '80s it's where you went to be seen playing naughty with the likes of Andy Warhol, Liza Minnelli, Calvin Klein and host Steve Rubell.
The extravagantly wild "Studio 54" is long gone. Its gigantic ground floor space has become the soberly enjoyable Roundabout Theatre. But it's sprawling East 54th Street basement now boasts a new New York landmark: one of the theater district's only surviving cabarets, the ever lively "54 Below".
There's where you can drink and dine while delighting in the showcase talents of some of the entertainment world's best singers and musicians: Marilyn Maye, Adam Gwon, Barbara Cook, etc.
From time to time, 54 Belowers can also enjoy a delightful introduction to some of Broadway's newest talent - up and coming youngsters whose wide eyes shine bright with hopes of transforming passion into profession.
Last week's those 54 Below spotlights were on Northwestern University Songwriters' Showcase, a cleverly entertaining musical review that featured10 senior college students comfortably and professionally performing original and lively show tunes whose music and lyrics they'd both written and performed during recent renditions of Northwestern's annual "Waa-Mu Show".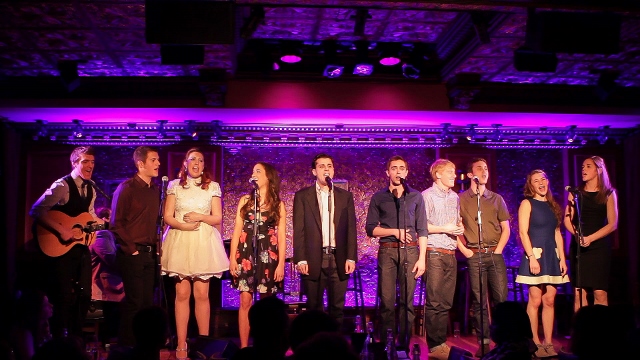 credit: ryan hynes

Now in its 83rd year, Waa-Mu Show began back in 1928 as a joint effort of Northwestern's Women's Athletic Association (WAA) and Men's Union (MU) . It remains the largest annual student written musical staged anywhere in the U.S. And it boasts a well-earned reputation as an important launching pad for some of America's most talented and respected performers.
The recent New York Waa-Mu showcase was directed by David Fiorello and produced by Desiree Staples and Ryan Garson . Its cast of student performer/writers included Jack Mitchell (whose music composing and lyricist talents were among the showcase mainstays) , Ed Wasserman, Corey Moss, Ben Estus, Will Carlyon, Patrick Budde, Jessica Kahkoska, Desiree Staples, Evelyn Jacoby, and Lillie Cummings.
There were clever tunes from previous years shows about college life challenges, the reluctance to enter adult life -- and the eagerness to do just that. Among the audience favorites: "Moma's Boy" and "You Were There Though" a sophisticated but sentimental ode to graduation.
There were also some choice numbers from the forthcoming 2013 Waa-My Show - "Flying Home" which which runs from May 3 to 12, at Northwestern University's Cahn Auditorium, at the school's Evanston, Ill. campus.
"This year," explains Jack Mitchell, " we had spent enough time training our writers and transitioning the show... to a full book musical. We chose 3 source texts, 'The Wizard of Oz', 'Alice in Wonderland' and 'Peter Pan' and came up with the idea to have 7 orphan school boys in Victorian London fall through a mirror on the night before graduation and discover that they arrived in a world which contains Wonderland, Oz, , and Peter Pan."
Under the direction of award-winning Northwestern faculty member David H. Bell, the journeys of Alice, Dorothy and Wendy are woven together into a brand new fantasy. As the upcoming show program explains, "we follow a group of young schoolboys who insert themselves into the stories and turn the tales upside down. 'Flying Home' explores the things learned while on the brink of adulthood, and how, if ever, we can return home."
If you can get to see the new Waa-Mu, don't miss it! Aftyer all, consider this list of just some of the Northwestern alumni whose careers were launched in past Waa-Muu shows : Warren Beatty, Karen Black, Sheldon Harnick, Heather Headley, Brian D'Arcy James, Walter Kerr, Cloris Leachman, Shelley Long, Paul Lynde, Ann-Margret, Garry Marshall, Michelle Nicastro, Charlotte Rae, Tony Randall, Tony Roberts, and more!
*Waa-Mu 2013 Flying Home runs May 3-12 at Cahn Auditorium in Evanston, IL Tickets can be purchased online at waamu.northwestern.edu