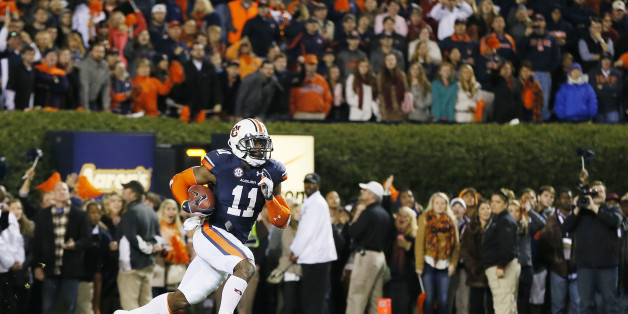 Superstitions, especially in the world of sports, have long been top of mind for many players, coaches, owners and fans. Bud Light successfully built an entire campaign around the bizarre rituals people go through to ensure a win. It's easy then to imagine the angst the number 13 -- as in 2013 -- must have represented for those who are ruled by such behavior. For those who prior to this year had never given this unlucky number a thought, what must they be thinking now as this year ends and 2014 begins?
Here are a few of sports' unlucky or lucky moments -- depending on the viewfinder you're seeing them through.
A Wing, a Tip and a Prayer at Jordan-Hare:
Never has lighting struck twice the way it did for the Auburn Tigers. Coming off a record of 3-9 overall, and 0-8 in the Southeastern Conference in 2012, Auburn began this college football season unranked and hardly a threat to have an impact in the SEC let alone the National Championship.
Alabama, on the other hand, sporting back-to-back Natty Champs and a preseason ranking of No. 1 saw the Bulldogs of Georgia (preseason ranked in the top six) as their greatest threat in derailing them from a conference title and a chance to hoist another crystal trophy.
It was easy to see why all roads to Pasadena would have to go through Alabama. It was impossible to fathom "going through Alabama" actually meant Auburn. The manner in which it all played out over the course of several weeks was straight out of a Hollywood movie with Jordan-Hare Stadium as the backdrop.
Exhibit A: Georgia Bulldogs - On fourth and 18 with 25 seconds left, Auburn QB Nick Marshall's heave was tipped by a Georgia player, deflecting into the out-stretched hands of Auburn receiver Ricardo Louis, who raced into the end zone for the game-winning touchdown. As the stadium exploded, CBS Sports announcer, Gary Danielson exclaimed, "A miracle of miracles!!" And for two weeks those words were spot on -- that was until Bama arrived on the scene with their season on the line.
Exhibit B: Alabama Crimson Tide -- The Iron Bowl -- 78 years of bitter blood. This year's rivalry had more at stake than most. So why shouldn't it come down to a Bama 57-yard field goal attempt with :01 second left? Or even better, why shouldn't it fall short and into the hands of Auburn's Chris Davis? This was the same stadium, where two weeks earlier, "The Immaculate Deflection" happened. So, is it any wonder Davis ran it back 109 yards for a winning touchdown ending Alabama's hope for a three-peat sending Auburn to the SEC title game and forever cementing Jordan-Hare Stadium and this year's football team in the annals of must-see-sports TV.

The Return of Rafa:
Novak Djokovic started 2013 ranked No. 1. Rafael Nadal started the year the same way 2012 ended: off the tour and still in need of medical attention after a career-threatening injury. Cut to nine months later, Nadal was replacing Djokovic as the world's best, completing a remarkable comeback no one saw coming, especially Rafa himself.
With Novak claiming the Aussie Open it appeared it would be business as usual. After all, Roger Federer was in the twilight of his career, Nadal was slowly mounting a return on clay and Andy Murray -- best positioned to challenge the Serb's reign on top -- had just lost to Djokovic in the finals down under.
Then in the desert sun of Indian Wells, fifth-ranked Nadal gave the tennis world its first taste of things to come. In a crème de la crème men's field, Rafa took out Federer, Berdych and Del Potro to take home the title, something few would have predicted considering the hard court surface and his feeble knees.
Nadal went on to amass a 75-7 record, including Grand Slam titles at the French and U.S. Open. Djokovic finished the year second, in spite of a not-so-terrible year.
A Cup Runneth Over:
When it comes to riveting television, there is nothing better than the deciding game of a series. Just ask any NBA, MLB or NHL junkie. So why should sailing be any different?
On a sunny and windswept day in the San Francisco harbor, the world's most preeminent catamaran competition, the America's Cup, had boiled down to a winner-take-all race. Down to Team New Zealand 8-1, Team Oracle staged a massive comeback to even the series. As thousands of spectators lined the shores, billionaire Larry Ellison saw his regatta conclude far better than it started, with the U.S. boat racing through the water to win by 44 seconds and claim the 34th America's Cup title.
Hail No, Joe:
It may have been the 2012 NFL playoffs but it still took place in 2013. In his first year as the Denver Broncos' QB, Peyton Manning was proving to be everything they had hoped for and more. Riding an 11 game home-winning streak, Denver was one play away from winning a trip to AFC Championship Game. That's when it all imploded, all set up by a Joe Flacco Hail Mary to Jacoby Jones for a regulation game-tying TD.
Overtime, was undoing time for Denver. Big play receivers disappeared, their running game shut down and turnovers multiplied, including Manning's own, setting up Justin Tucker's game-winning field goal.
Denver's demise became Baltimore's blessing propelling them toward Super Bowl XLVII, AKA the Blackout Bowl. There, Flacco threw for 287 yards and three touchdowns and was named MVP. Lucky for him, he was in the last year of his rookie contract, and if the Raven's wanted to keep their QB it was going to cost them dearly -- as in the tune of $120.6 million for six-years.
A Real Shootout in KC:
A sold-out stadium, with temperatures in the teens and a pitch as slick as ice, 2013's MLS Cup looked more like the NHL's Winter Classic than soccer. This wild, edge-of-your-seat, rough-and-tumble epic duel was one for the record books.
Aurelien Collin's equalizer in the 76th minute of regulation gave home club Sporting Kansas City and it's frozen fans in The Cauldron the jolt they desperately needed. Until then, all the heat was coming from visiting Real Salt Lake's loud and passionate supporters.
Knotted at 1-1, overtime had everything: sick saves, a waved-off goal and a penalty kick that was not. After 120 minutes of stellar soccer it was down to those gut-wrenching penalty kicks. Love or hate them, they're part of the sport, guaranteed to leave a field littered with broken hearts. This final was to be no different.
As darkness settled in and wind chills hovered close to zero, both teams refused to go into the offseason without the title. Penalty kicks went beyond their typical five rounds, this time to 10 with KC leading 7-6, RSL's Lovel Palmer's kick hit the bottom of the crossbar and ricocheted out.
The Cauldron erupted, as Sporting KC celebrated their first MLS Cup title in 13 years. Yes, 13 years!
For those like Flacco, Nadal, Auburn, Sporting Kansas City, Team Oracle and many others (Miami Heat, Adam Scott, Boston Red Sox and the WNBA) 2013 turned out to be one hell of a lucky year.
Here's to 2014, which, ironically, when its numbers are individually added up, equal the lucky number seven.
With the BCS gone from the 2014 college football season, one can safely say we're starting off the year on the right foot.