Why, in this election year, do so many Americans say they are looking for change?
You don't have to look any further than their homes.
For the past 20 years my wife Jennifer Erwitt and I have sent our heroes, peers and some young photographers around the world on an annual "mission impossible" assignment. Our projects, which have appeared on the covers of Time, Newsweek and Fortune, have ranged from countries ("A Day in the Life of Japan") to medicine ("The Power to Heal"), to the Internet ("24 Hours in Cyberspace") to the global water crisis ("Blue Planet Run").
Last September, over the course of a week, we dispatched 100 of the nation's top photographers, plus tens of thousands of amateurs, to fan out across the country for seven days to capture "America At Home". The goal wasn't to do a hallmark card about home or to recreate Architectural Digest. Our intention was to create a digital time capsule capturing the "emotions of home" -- all the distinctive rituals, intimate moments, and myriad ways in which Americans work, play, learn, conduct their lives, and interact with friends and family members (and pets) as they transform their dwellings into their homes.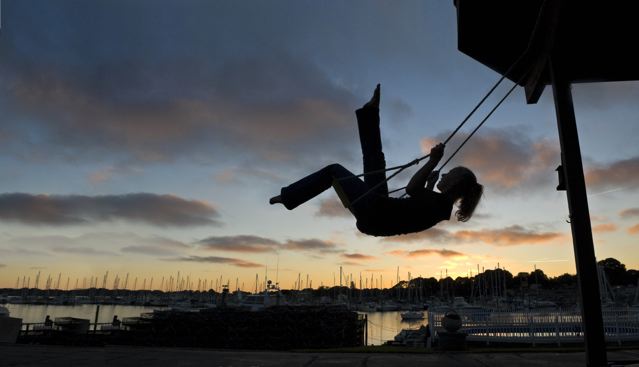 The "America at Home" project was aimed at being the most extensive record of American home life ever attempted and we were amazed at how many people were willing to participate as photographers or to welcome the photographers into their homes. Through massive grassroots online outreach by IKEA, as well as Google (which placed an unprecedented announcement of the project on the Google Images landing page), plus scores of bloggers, tens of thousands of Americans contributed their own photos of life at home via a series of daily snapshots taken across the nation throughout the week. The 250,000 digital photographs submitted by professional and amateur photographers were reviewed by a panel of leading magazine and newspaper photo editors.
We've been proud of all our books but "America at Home" surprised us like none of its predecessors.
When you live in Northern California and New York City, as we do, you grow accustomed to living in multi-ethnic, polyglot daily reality. You don't pay any attention to the fact that that you are sitting in a Korean restaurant with a Russian friend listening to fifteen different dialects being spoken around you. And without much reflection, you assume that all of these different folks live somewhat different lives from yours.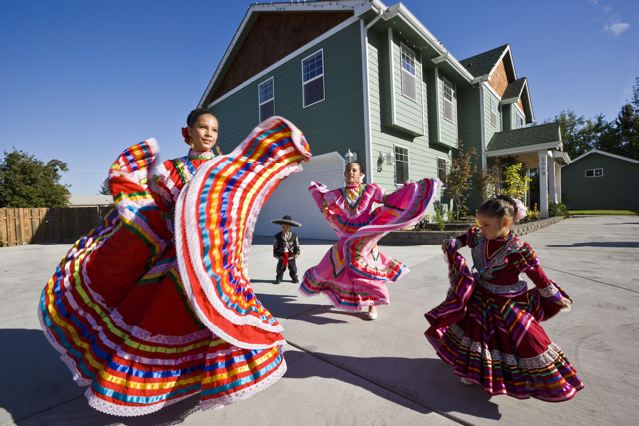 But it is only when -- with the kind of access available only to photojournalists -- you are allowed to enter into the deepest recesses of people's homes, and even the most intimate parts of their private lives, that you experience just how different Americans really are from each other.
For example, in our initial assignments to the photographers, we asked them to try to capture the range of domiciles and domestic arrangements in which Americans now find themselves. We expected ranch homes, Cape Cods, mobile homes, city apartments, farmhouses and perhaps a yurt or log cabin somewhere.
But when the images starting pouring we were stunned to see much more variety than we had ever anticipated: an 84 square foot traditional two-story cottage small enough to fit into a parking slot; a tiny shack in the middle of a giant skateboard park, a converted Atlas ICBM silo, an old aircraft hangar, a couple living a lighthouse, and of course, a yurt. The photos we received represented astounding array of dwellings that people refer to as "home."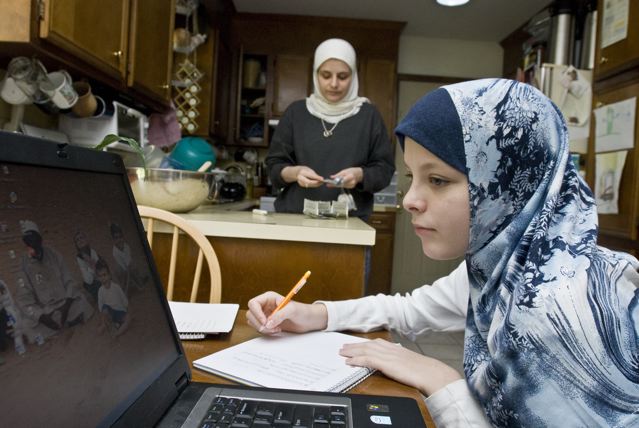 And we learned that what goes on inside these homes is even more diverse and, in some cases, mind-boggling. A tiny apartment might hold three generations of an immigrant family. Or a six foot pile of books and newspaper clippings could be the residence of an old homeless man hidden within. We found a New York apartment dweller who had transformed an upper West Side rent-controlled flat into a jungle of vines and potted plants. Another urban dweller had made his flat into a museum of antiques and oddities. An anonymous suburban tract house turned out to hide a small temple dedicated to an obscure deity. Another was filled with multi-room train set. And in one New Orleans home we found every room covered, floor to ceiling, with freshly-painted murals created with a mothers memories of a lost child.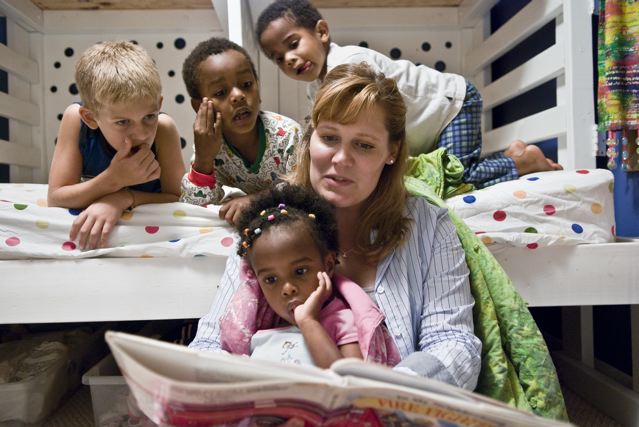 Indeed, as the number of photographs, sent in by both the professionals and the inspired amateurs, grew to more than a quarter-million, it occurred to us that nothing about America is quite what it seems any more. The front door to a columned and clapboarded executive home in Eugene, Oregon opens... and out walk the family children in traditional Mexican dresses and charro suits. The homeless couple huddling for warmth over an open fire on the streets of Manhattan... watches movies at night on a DVD player and one of them turns out to have a PhD. in Computer Science.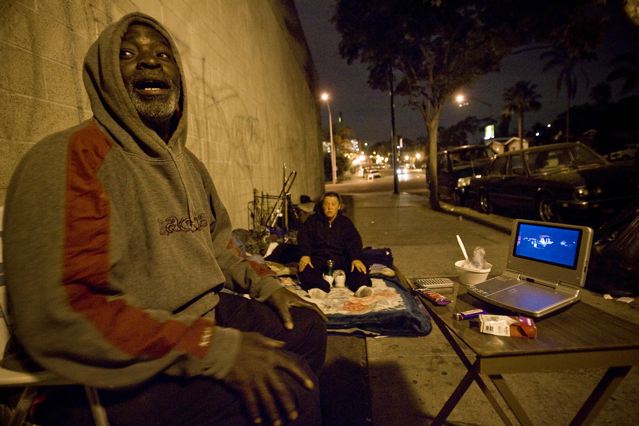 In addition to selecting photographs that put a human face on the extraordinary diversity that makes up American family life, we also commissioned a team of researchers to identify equally surprising statistics about American home life.
A few of my favorites include:
• The majority of Americans live their lives within fifty miles of the place they grew up.
• Twenty percent of school-age children speak a language other than English at home.
• More than 1.7 million American households have adopted children, 13 percent of which are foreign-born.
• As many as 3.5 million people experience homelessness in a given year--one percent of the U.S. population.
• More than 93 percent of homeowners consider their neighborhood safe, and 78 percent are not afraid to walk alone at night.

• America's population is expected to grow by 100 million people over the next 37 years. More than 50 percent of that growth will come from immigrants or their children.
• 80 percent of married men say they would marry the same woman if they took a time machine back to the day they got married. Only 50 percent of married women would do the same.
To spend time with the individuals and families featured in "America at Home" is to quickly appreciate that at the nexus of our diversity and our liberty something new and wonderful is being created. Those who fear that we are losing our individualism couldn't be more wrong: Americans have never been more free to create and recreate themselves. And those who worry that we are losing our national identity are also mistaken: it is this complexity itself that now determines who we are.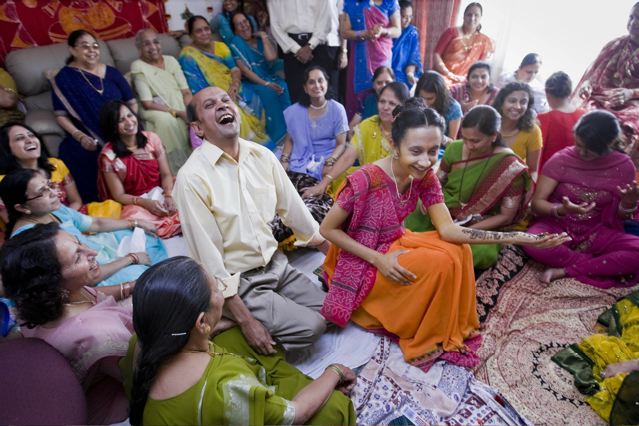 Americans are changing right before our eyes. They are choosing different lifestyles, families, traditions and ways of living. And when the polls say that we Americans want "change", I think the real message is that we need those who we choose to govern us to appreciate and cultivate that change. And most of all, we demand that, going forward, we insist that our government be more reflective of -- and more congruent to -- the endlessly changing, fluid, and inclusive society we have become.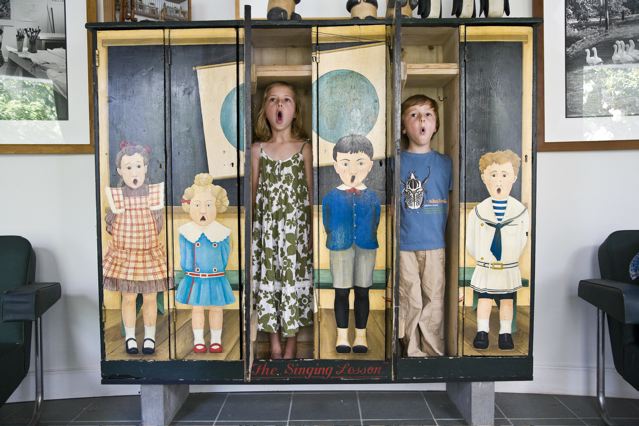 To look at some of the fascinating photos of American at home please visit the project website at: www.MyAmericaAtHome.com