Hebron's Tomb of Abraham -- Tensely Shared between Jews and Muslims
Hebron is the West Bank's biggest city, and is also home to one of the holiest sites in the Holy Land: The Tomb of Abraham, who is a revered figure among Jews, Muslims, and Christians. According to scripture, Abraham had one son by his wife, Sarah (Isaac, the ancestor of the Jews), and another son by their Egyptian servant, Hagar (Ishmael, from whom the Muslims are descended). So both Jews and Muslims come to the Tomb of Abraham seeking their spiritual roots. While this confluence could have been an opportunity for unity and cooperation, instead it has turned the tomb into a divisive place. The tension in Hebron -- and especially at the tomb itself -- is palpable.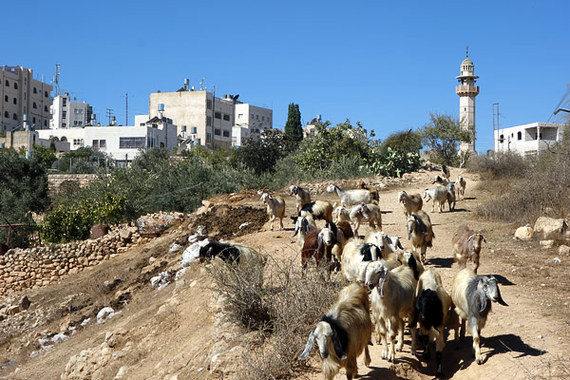 We hiked, passing dusty goatherds, to a great perch to film me saying this line: "As if rising out of those ancient olive groves, the ancient city of Hebron, with over 200,000 people, is the largest city in the West Bank. And it's the bustling commercial capital, with nearly a third of the entire country's economy."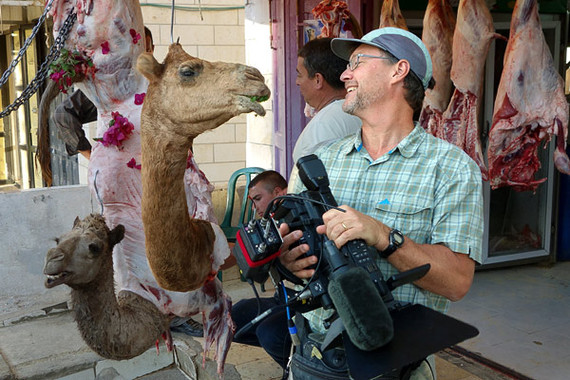 In Hebron, just strolling the streets, dodging cars, and mixing with the people, we feel the energy of a country that seems ready to grow economically. Commerce spills out everywhere. Exploring the market streets, I'm immersed in a magical travel experience. And if you know where to look, you can find whatever you need...even a hunk of fresh camel.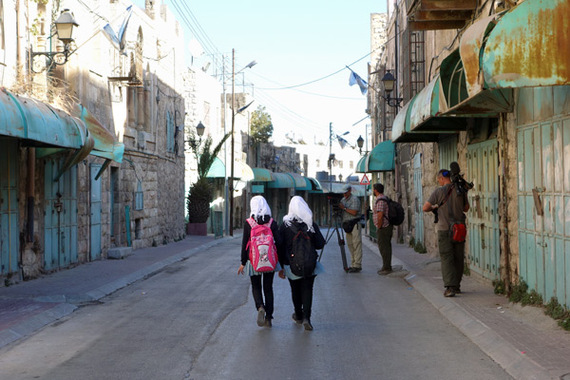 In the middle of all of Hebron's market activity is a pocket of tension and high security, surrounding the Tomb of Abraham. This ghost street, fronted by blocked-up buildings, divides the communities of the feuding descendants of Abraham.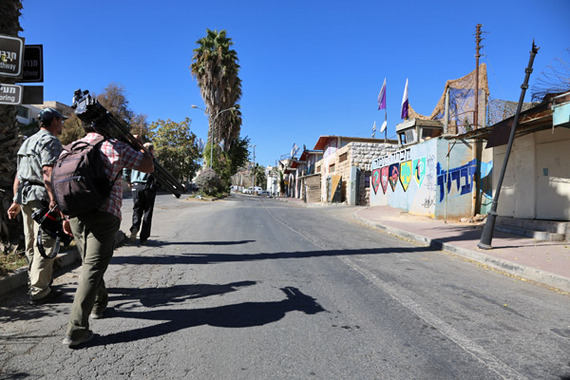 A couple thousand Israeli troops are posted here to manage the security. Turnstiles and checkpoints are a way of life. A no-man's land with Jewish political art decorating closed buildings divides the two communities. Walking down this street with our crew was tense.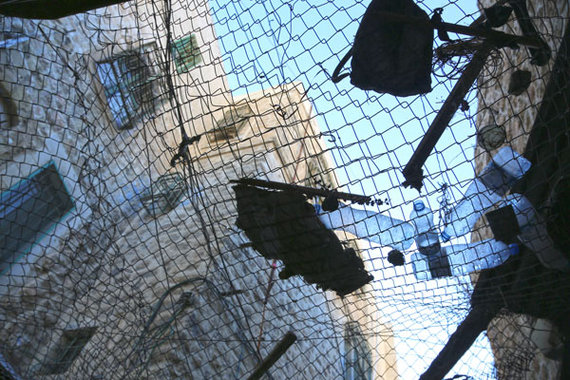 Here in Hebron, Jews live literally atop Muslims, as the two communities struggle to be near the Tomb of Abraham. While the city is Palestinian, a determined and well-protected community of several hundred Israeli settlers has staked out the high ground. The tension between the communities is illustrated by a chicken-wire net that protects the Arab food and clothing market from the garbage of the Jewish hilltop settlement above.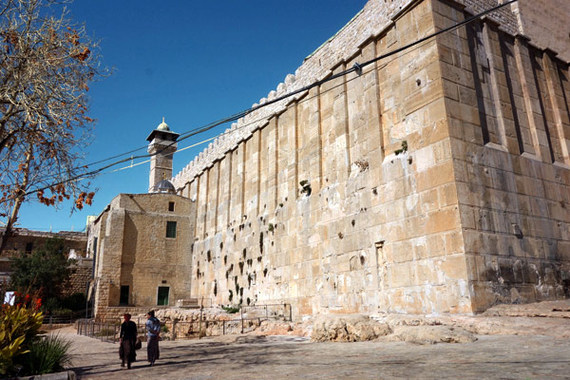 And it's all about this site: an ancient structure capped by a medieval church (which now functions both as a mosque and a synagogue) holding the tombs of Abraham and his family.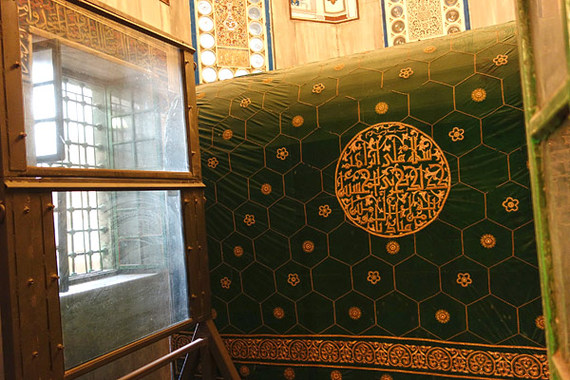 The focal point for both faiths is the Tomb of Abraham. Windows from the synagogue and the mosque look onto this space -- but, sadly, access is divided by a pane of bulletproof glass. This holy place's history has a tragic aura. For centuries, Jews were generally not allowed to worship here. Then, after the Israeli victory in 1967's Six-Day War, this holy site was shared by Muslims and Jews. But during a Muslim service in 1994, an Israeli-American settler entered with his gun and killed 29 Palestinian worshippers. Since them, this holy place is divided -- emblematic of the difficult challenges that permeate the Holy Land.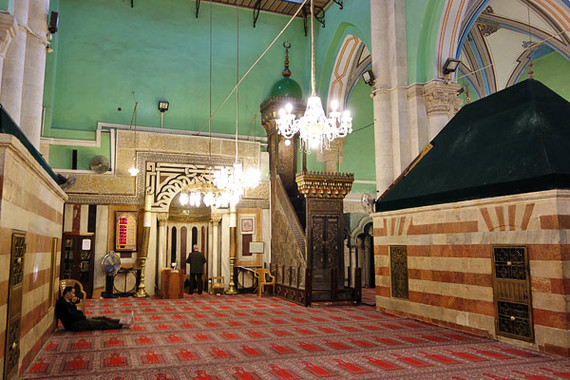 On one side of the wall, Muslims worship. The mosque section has an exquisite mimber (staircase from which the imam addresses the congregation) -- a rare original from the 12th century, with inlaid wood and no nails.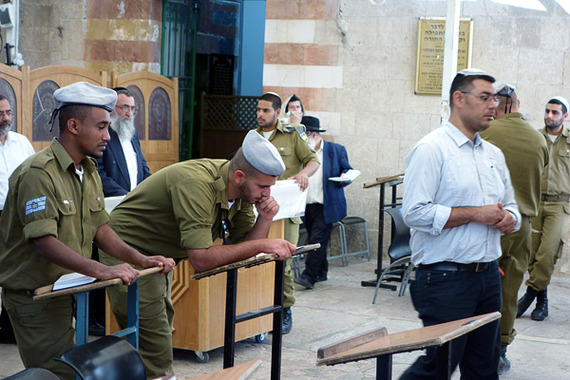 Jews worship in the synagogue -- singing, studying, praying, and honoring their great patriarchs. This is the second most holy place for the Jewish faith. I was there as a group of new soldiers were visiting on an educational field trip. At the age of 18, every Israeli serves in the military. Many are "fresh off the boat," and three years in the military does three things: helps provide for Israel's security; gives the government a great source of inexpensive labor; and helps assimilate newcomers into society. As if graduating from a kind of cultural boot camp, first-generation immigrant children leave the service speaking Hebrew and understanding the heritage and culture of their newly adopted homeland. They then invigorate Israeli society with a new energy.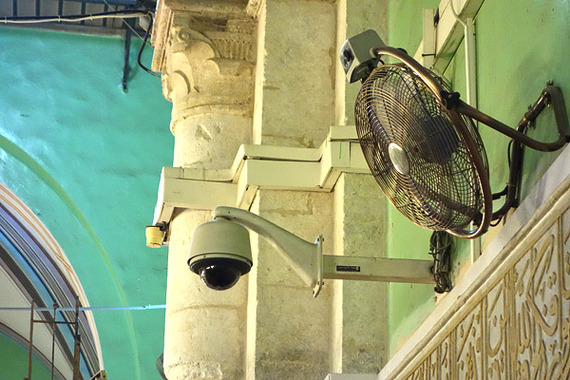 Locals joke Palestine is "one nation under CCTV." In special places (like this holy mosque), you get accustomed to looking up and seeing Israeli security cameras keeping a good eye on things.
I'll continue this Holy Land series until November 21st. Then, to celebrate my homecoming, I'll give a live, free slideshow lecture on Thursday, November 21st at 7 p.m. P.S.T. in Edmonds, Washington. You can attend in person (registration required)...or watch the live webcast from anywhere in the world (no registration required). Learn more at Rick Steves - Holy Land: Israelis and Palestinians Today.
Follow Rick Steves on Twitter: www.twitter.com/@RickSteves