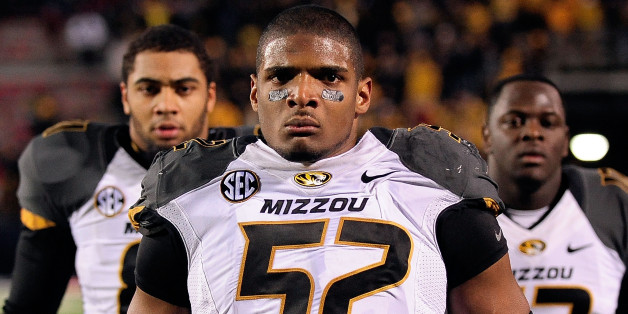 I was lying on my futon in a post-Sunday-dinner daze when I read the breaking news alert scrolling across my computer screen.
Missouri's Michael Sam Reveals He's Gay.
Both my hands shot up into the air. I let out a quick howl of excitement that probably woke my elderly neighbors. I (somewhat embarrassingly) felt my eyes well up a bit too, because this is big. This is huge.
For the first time, an NCAA Division I college football player -- and a prominent one at that -- came out as gay. And if he's drafted after becoming eligible this May, he might be the first out player in the NFL.
Michael Sam, you are a hero.
Do you know how many lives you just changed? How many protein-bar-munching, muscle-tee-wearing bros are -- as I type -- rethinking what it means to be gay? How many closeted middle- and high-school boys in football jerseys now have a trailblazer to look up to who has made their journeys a bit easier?
I wish there had been a Michael Sam a few years ago, when I was in one of those jerseys. It was a basketball jersey, just for accuracy's sake, but that hardly makes a difference.
Like millions of others, I know how it feels to be the odd man out in the locker room, to hear words like "faggot," "queer" and "homo" tossed around casually, followed by hearty laughs from others, as you quickly tie your sneakers and distance yourself from the very people who are supposedly your teammates, your brothers, your friends. You, Michael Sam, just made moments like that a little less tough and a lot less lonely for countless people you'll never even meet.
My hands eventually came down from above my head. My excited howls stopped too, although my old neighbors were definitely up by then. (Coincidentally, another apartment had started blaring techno music.)
But just as the good news began settling in, the bad news began making its way to front pages and Facebook feeds. You might be one of my heroes, Mr. Sam, but you're not everyone else's.
"I just know with this going on this is going to drop him down," an anonymous veteran NFL scout told Sports Illustrated after the news broke. "There's no question about it. It's human nature. Do you want to be the team to quote-unquote 'break that barrier'?"
Eight unnamed NFL coaches and executives spoke with SI.com about the news. The takeaway? A significant drop in Michael Sam's draft stock is inevitable. No one does want to break that barrier -- you know, that big, gay one.
No one wants to break the tradition of dehumanizing locker-room rhetoric or ruffle the feathers of some homophobic fans who might not be pleased with Michael Sam's disclosure. No one wants to answer curious reporters or challenge the idea that a football player can't raise their rainbow flag and then flatten a 350-pound lineman. No one wants to look at Michael Sam and judge him on his SEC-best 11.5 sacks and 19 tackles for loss.
They'd just rather not. Who needs that kind of stress anyway?
An NFL assistant coach told Sports Illustrated it wasn't a "smart move" by Sam to come out, and that the news "legitimately affects his potential earnings."
"There are guys in locker rooms that maturity-wise cannot handle it or deal with the thought of that," he continued.
A player personnel assistant chimed in too: "It'd chemically imbalance an NFL locker room."
Michael Sam, I can't comment on your future earnings potential or how NFL players will treat you on and off the field. I have no idea if you'll be the butt of every degrading joke, or if your immature teammates will even be able to hold a locker-room conversation with you without wearing full pads.
I don't know what the NFL really thinks of you, but I know what I do. And I can't think of a more necessary chemical imbalance for the NFL than an out and proud Michael Sam.