We always hear about people succeeding "Overnight", but in truth that's rarely the case. Someone might rise from obscurity overnight, but they've been working hard, often their entire life to get to that point. In Blair Anderson's case, the calendar on overnight is at a couple of decades.
Okay, I'm being a bit facetious, but not all that much. I've known Blair Anderson since she was a toddler, so I'm counting those years. Since she's always wanted to be an actress, I think it's a legitimate decision on my part. And to see someone go from acting out in the living room and barely able to cobble together coherent sentences, though always with a ready, albeit wobbly soft shoe, to having a featured role with two songs in the national touring company of The Addams Family: The Musical - preparing all your life counts. And even that isn't stardom yet, not by a long shot, but it's finally finding the path and getting on it.
Hey, "overnight" takes a long time, as I said.
She did all the things young actresses do. Drama club, school plays, starring in your obligatory high school production of Bye Bye Birdie. Then on to NYU and its Tisch School of the Arts. Doing more plays there (and more. And more...)
That's the easy part. Those are the fun days. Then real life kicks in.
After graduating from NYU/Tisch, she pounded doors for a while, and eventually got hired by Disney to act in musicals on their cruise ships. It was a great leap forward, but one-shot deal, however they liked her so much and kept relentlessly re-hiring her on board that I think she was almost eligible to become an Admiral in the U.S. Navy. At the very least, though, she does now have lifetime membership in the Disney Princess Club, whose benefits include an unlimited supply of seasickness pills. (And no, I believe it's not a coincidence that the word, "Dramamine" starts with Drama.) Finally, however, she was set to return to blessed land and the bright lights of rejection, but then the Disney folk wanted her yet again to go on their cruises, but this time around the world, and that's something hard for even actresses just out of college to turn down.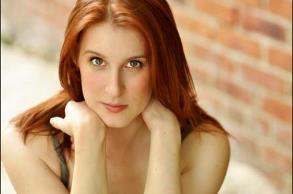 But eventually, people needs to get their land legs back, if only to try to practice the dance steps that never quite come out right on a pitching ship. And it was back to auditioning, working your day job and pushing forward.
Ah, hi-fiddle-dee-dee, an actor's life for me, indeed.
There were the shows out of town, playing in Iowa for the musical version of Happy Days, an international tour of Grease, and starring in her dream role in She Loves Me.
And then came The Break.
It's been a good year, by any measurement. High on that list was starring in the short film, M is for Maid Service. A bizarre film...but not for the subject matter - which is actually a quirky thriller - but bizarre because Blair Anderson is someone who "does musical comedy." She's funny. She gets hired because she's...funny. And in this film, she is...well, it's decidedly not a laugh riot.
But that paled compared to The Other Thing. The break. That which all actors hope for. In this case, it was getting hired by Tony-winning director Jerry Zaks to play a featured role in the national touring company of The Addams Family.
The funny thing is that she was picked to play Alice Beineke, prospective mother-in-law to Wednesday Addams, the fiancé to her son. What's funny about that is that Blair Anderson is about the same age as the young actor playing her son, only a few years more. But she was so funny in her audition (see?!) that the company wanted her, regardless of the age incongruity - that, after all, is not only the Magic of Theater, but the reason why God created makeup and wigs. The result is that she now sings several songs nightly, including one solo, "Waiting."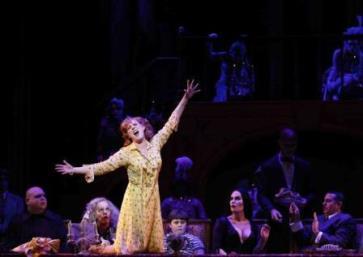 And funnier still is that when the musical plays this week in the Los Angeles area, it will settle down at the Thousand Oaks Civic Arts Center. Why this is funny is that it's just down the block from where she grew up, where her parents still live, and where she went to Oak Park High School just a few years ago.
Gee, guess who will have a big contingent there? But though so close in distance and even close in time, it's still a long journey.
It's a long road going from putting on plays at home to high school drama club to hitting outlying towns and the high seas to a major national tour. And there's still that road ahead. But then, that's just what goes with the territory for actresses. "Life upon the wicked stage," is what Oscar Hammerstein II wrote in Show Boat. Getting this national break is huge on that road.
And how bizarre that that road has taken her back to literally where she grew up.
This post has been modified since its original publication.
*
Robert J. Elisberg's comic novel, A Christmas Carol 2: The Return of Scrooge, just reached #1 on Amazon's bestseller list for Humor/Parody. It is available in paperback or Kindle ebook edition.
Follow Robert J. Elisberg on Twitter: www.twitter.com/RobertElisberg