As difficult as it is for a professional sports team to win back-to-back championships, it's even more challenging in college. Don't even begin thinking about "dynasties."
In college, even if you put together as great a team as can be imagined, your players will graduate every years. Worse, today, teams can lose its best player after a single year, when that person leaves to go pro.
Certainly there have been college dynasties. The UCLA basketball teams under John Wooden won an astounding seven consecutive national championships and 10 in all. (To this day, it is presumed that that was accomplished by using some sort of time warp continuum.) But there hasn't only been one NCAA basketball team to win even back-to-back championships in 17 years.
But there is a college dynasty today. On Sunday, for all the near-impossibilities of a team to win two NCAA championships in a row, this team won its fifth consecutive.
To be sure, it's not in a major sport. ("Not a major sport" is the polite way of saying that you haven't seen it on ESPN -- and ESPN broadcasts poker and hot dog-eating. But when you win five National Championships in a row, you have earned politeness.)
The sport is women's lacrosse. I don't fault ESPN for their scheduling. I'm just pointing out facts, and explaining why you likely haven't heard about this dynasty.
And a dynasty powerhouse this team is. Five NCAA championships in a row.
The powerhouse athletic teams in college sports are legendary. North Carolina, Texas, Notre Dame, UCLA, Florida, and others. It takes serious focus and commitment for a school to become a powerhouse athletic team in the NCAA. Well, now, you can add one more.
Northwestern.
Yes, mighty Northwe...
Wait a moment, is that right? Northwestern? A dynasty jock school? Hold on, let me check my notes. That has to be a mistake...
Yes, it's correct. The Northwestern University women's lacrosse team just won its fifth consecutive National Championship. The Wildcats.
Northwestern doesn't win single sports championships, let alone become a dynasty. Northwestern wins Nobel Prizes. And Pulitzer Prizes. Northwestern is known for historians. Physicists and chemists. Economists. Medical research. Journalists. Supreme Court Justices.
(And actors. And actors and actors. They grow like rabbits there).
You know how Northwestern gets in the news? Remember that American journalist recently arrested in Iran for being a spy, and just released? Roxana Saberi. She went to Northwestern. That's how Northwestern gets national attention.
Also fake journalists, like Stephen Colbert.
Northwestern gets in the sports record books by losing 34 football games in a row, the most ever by a Division I team. It hasn't won a bowl game in 60 years. It hasn't won a tournament basketball game -- ever. That's because it hasn't been good enough to ever have even been in the NCAA tournament.
Northwestern students have actually won two more Miss America contests than NCAA tournament basketball games. Honest. (Katherine Shindle in 1998, and Jacquelyn Mayer, 1963)
The closest Northwestern comes to getting on the playing field is by graduating sports reporters. Brent Musberger. Michael Wilbon. J.A. Adande. Rachel Nichols. Kevin Blackistone. Mike Greenberg.
(Rick Telander would count, except that he actually played pro football. And the manager of the New York Yankees, Joe Girardi, went to Northwestern. But you don't need many more fingers.)
And yet, on Sunday, the Northwestern women's lacrosse team won its fifth national championship in a row.
And it's more remarkable than even that. Teams not in the east don't win at women's lacrosse. I don't mean metaphorically -- I mean, they literally don't win. Do you know how many teams have won the NCAA women's lacrosse championship that didn't play in the east?
Zero. Nada. And now the women of Northwestern University lacrosse have won five of them. In a row.
And it gets better than even that. Under coach Kelly Amonte Hiller, the team has won 29 consecutive games -- and is on a streak of 106-3. They've had two undefeated seasons. Further, Northwestern didn't just win the championship, defeating North Carolina 21-7, they set an all-time record for most goals in a championship game and the biggest margin of victory.
Despite last year's NCAA player of the year (and the favorite for this year) Hannah Nielsen only taking one shot in the final two games, the team still won. Katrina Dowd was named the tournament's Most Outstanding Player - and she's only a junior. So, too, is Danielle Spencer -- who scored four goals in the final. Are these scholar-athletes tough? Hilary Bowen blew-out her knee at the beginning of the season -- and she scored five goals in the final. Toss in their great goalie, Morgan Lathrop, for good measure.
They don't play for public fame. They don't play for money. They don't even play for their future. They just play because they love it. Them and pretty much all women athletes. At Northwestern women's lacrosse, they just happen to be great at it, too.
I will admit to being biased. I graduated from Northwestern and sat through more losing games in all manner of sports than I wish to remember. So, it is with immense pleasure (and disbelieving awe) that I admire the accomplishments of this Northwestern team, winning five championships in a row.
But then, that's an amazing accomplishment for any team. In any sport. Anywhere.
The Mighty Northwestern Wildcats. Go figure.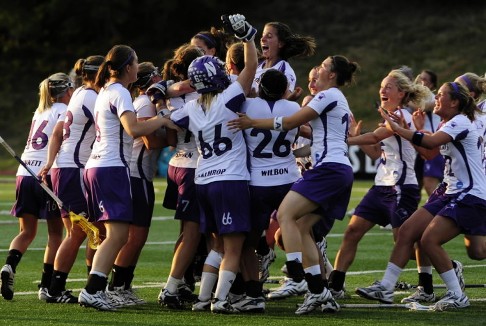 Photo credit: Algerina Perna/Baltimore Sun
SUBSCRIBE TO & FOLLOW ENTERTAINMENT
THE spot for your favorite fan theories and the best movie recs. Learn more