A Brief History of the Literary Sea Monster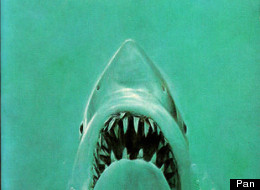 More than 375 million years ago, a prehistoric fish named Tiktaalik lifted its head from the oxygen-poor swamps and set an evolutionary flow-chart in motion that would eventually lead to us. Far out, right? Not so fast. Our ancestors may have left their diluvial world behind but our fears of the creatures that inhabit the depths are alive and well.
Is it some primordial instinct left over from a time when we had fins or is it merely a rational response to toothy shadows that enjoy snacking on human beings? We have been fascinated by - and terrified of - sea monsters since the dawn of time.
I couldn't avoid writing Mannheim Rex - the idea for this novel had been circling the shadows in my head for too long. It was a story that explored the foundations of friendship and it was anchored around a lake monster that gnawed fishermen in half. You know - same-old same-old.
I wanted a small cast to tell a big story and I didn't have to look far to find my setting. I have a cabin on a lost lake in the mountains where, according to friends, I spend too much time. It's a great place to write and think and a lot of my novels have come together up there. One August night while out for a midnight swim, something cold and heavy swept by me. Even though I knew it was nothing to be worried about, some buried fear sensor went off in my brain and images of a scaly nightmare biting me in half flashed across the monitor in my head. Whenever I go in the water these visions never seem to be too far away. Most people I talk to have told me the same thing.
When I sat down to write Mannheim Rex, I had a rich literary history to visit. Forget the things that go bump in the night; here comes a list of sea monsters that could swallow you whole.
Or tear you to pieces.
All cultures have their myths of an enormous man-eating fish and one of the most colorful is found in The Book of Jonah. The narrative describes how God, angry with Jonah, sends a giant fish to swallow him as retribution. Jonah spends three days camping out in the creature's belly until God's abuse forces him to repent his disobedience. Once Jonah has been reprogrammed, the fish vomits him up on dry land, winks, and sinks out of sight. Some theologians believe the fish to be a shark, others a whale. For The Adventures of Pinocchio, 1883, Carlo Collodi settled on the latter.

Tennyson's brooding sonnet took its imagery from Erik Pontoppidan's 1753 Natural History of Norway, where the Kraken was described as, 'the largest and most surprising animal in all of creation' – as big as an island and able to drag ships down into the ocean. The Kraken reads like the lyrics of a Judas Priest song, a power chord number about a giant creature slumbering at the bottom of a dark sea, waiting for the end of time. It sets a tone in 15 lines that most novels can't do in 400 pages.

Meet the white whale, the big bad voodoo king of sea monsters. Moby Dick chewed off legs, smashed boats, drowned sailors, sunk the Pequod, and dragged the insane egomaniacal piano-legged Ahab into the depths of the ocean. Good old-fashioned family fun.

The monster in The Undertakers is a child-eating crocodile – a bloated over the hill rock-star of a reptile living off his past, endlessly extolling the virtues of his gravest-hits box-set and drinking way too much of his own PR Kool-Aid in front of an audience of sycophants. The beast brags about its exploits, itemizing the men, women and children it has devoured over the course of its long life. It enjoys being revered as a god and spreading terror but the past eventually catches up with it when a boy it tried to eat – now a man – comes back for Tarantino-esque retribution. The groupies look on, grinning and clapping. Both hubris and schadenfreude in one river-monster story.

No other creature that swims the ocean is responsible for as many sea monster stories as the giant squid and its place in literature – and the public consciousness – was secured by the French writer Jules Verne in his seminal novel Twenty Thousand Leagues Under the Sea. Even those who have never read the novel or seen the Disney film know of the scene where the monster attacks the Nautilus and stuffs one of the crew into its gaping serrated beak. The giant cephalopod makes numerous literary appearances over the next 140 years – notably in Ian Fleming's 1958 novel, Dr. No, where Bond kills one of the creatures with a table knife, a lighter, and his trademark luck; and again in Peter Benchley's 1992 bestseller, Beast, where swimmers, sailors, and submersible diving bells do double-duty as appetizers.

Hemingway avoided using the giant fish as the sea monster, and pitted the tough old fisherman against nature itself. I have discussed The Old Man and the Sea over enough booze to make Papa proud and I am still amazed at the low-frequency menace that a lot of people I have spoken to seem to miss. The verdict? Nature is a bitch.

Nineteen-year-old swimmer, Chrissie Watkins reaches down and feels the stub of denuded bone where her foot used to be. Meet the star of the novel, a 25 foot great white shark. Benchley's monster is a relentless tourist-eating machine that seems intent on driving Amity into bankruptcy. It eats swimmers, dogs, air mattresses, anti-shark cages, marine biologists, boats, and fishermen. And the character of Quint – a demented Ahab high on Vitamin I – is one of the best supporting characters of all time. My favorite by far.

After reading this little nugget from Mr. King, you'll never think of swimming at the cottage in the same way ever again. The Raft is the story of an iridescent oil slick that sucks teenagers through the planks of a swimming platform. What makes this sucker so scary is that it cannot be put into any kind of recognizable geometry. How do you fight something like that? How do you escape it? It turns out that you can't.

The first written account of a 19-foot Northern Pike with a mouth like a Ginsu snow blower appeared in Conrad Gessner's 1558 Historia Anumalium IIII - its first appearance in English was in William Samuel's The Arte of Angling of 1577. From then on there are dozens of written accounts of the giant pike that swallowed children and pulled mules into the pond at Lautern. Until the middle of the 20th century, this story was taken as fact.