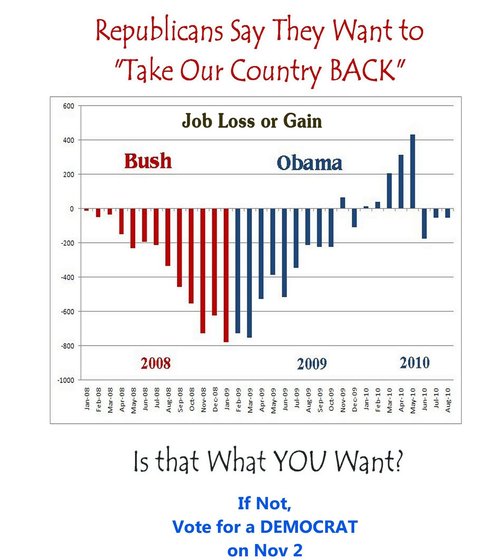 In a letter to the New York Times published on Wednesday last week, I briefly stated what Democrats need to do to retain control of Congress. In its simplest form, the message is this:
There will still be a powerful government in January; the only question is whether that power will be returned to the party of Wall Street that produced the economic mess or retained by the party trying to clean it up and prevent its recurrence.
The suggested campaign poster above puts the message even more directly.
Will the party utilize this simple and accurate message?
Historian Robert S. McElvaine is Elizabeth Chisholm Professor of Arts & Letters at Millsaps College. A 25th anniversary edition of his classic book, The Great Depression: America, 1929-1941, with a comprehensive new introduction comparing circumstances then and now, has recently been published by Three Rivers Press, an imprint of the Crown Publishing Group.

This Blogger's Books and Other Items from...
SUBSCRIBE AND FOLLOW
Get top stories and blog posts emailed to me each day. Newsletters may offer personalized content or advertisements.
Learn more