Art has taken many forms since paintings were hand-pressed on walls 32,000 years ago in a grotto in France.
The occupants of Grotte Chauvet apparently spit pigment on their hands to make them virtual stencils. Definitely analog. And they probably never thought of them as art.
In its latest incarnation, some art is made up of 1s and 0s. Definitely digital.
Many museums, including the Denver Art Museum, have displayed digital art for several years.
YouTube has become the primary international display of such art in just five years. There are other locations, such as the online Digital Art Museum.
The difference, in a word, is access. Like painters in antiquity, YouTube has no filters. History has shown that even some of the greatest artists, such as Mozart, struggled to get their work known in their lifetimes.
Even though Rachmaninoff was widely known in the art world, two pop versions of his work by Eric Carmen, "All By Myself" and "Never Going To Fall Again," brought his work to millions more.
Who hasn't been bowled over by some of what is created for the Internet?
YouTube, working with the Guggenheim museums, is bringing some of the best of this art together in what it calls "YouTube Play: A Biennial of Creative Video."
Online video artists have been invited to send their work to YouTube, and on the eve of the final date for submission, 8,600 works had been offered from 69 countries.
"Maybe what is in your head is the next thing," said Andy Berndt, vice president of managing director of Google's Creative Lab. "Show us something that hasn't been before ..."
A wide range of celebrated artists and art experts will winnow the submissions down and ultimately pick 20 to be displayed at the Guggenheim museums in New York, Bilbao, Venice and Berlin. The works will be displayed along side Picasso and Van Gogh.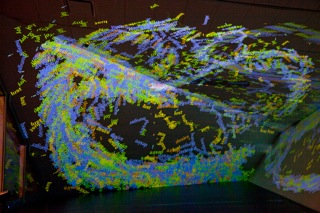 Charles Sandison, Chamber, 2009. Video projection. Denver Art Museum; Museum purchase with funds from Polly and Mark Addison, Cathey and Richard Finlon and Baryn, Daniel and Jonathan Futa. © The artist. Photo courtesy Denver Art Museum.