Imagine you get invited to decorate one of the nation's most historic and prestigious houses for the holidays--and you have three weeks to do it. First, you panic. Then, you get busy.
This has been the Natural Home team's reality over the past month. We found out in mid-November that we were one of six magazines invited to decorate rooms at the U.S. State Department and Blair House, the president's guest house--and we had to get gorgeous, green decor installed by December 4. We immediately got on the phone with a few of our favorite vendors--including Viva Terra and Ten Thousand Villages--and called in the most talented designers we know to help. Denver-based Associates III, a pioneering design firm that literally wrote the book on green interiors, took on the Jackson Conference Room and Entry at Blair House, while Washington, D.C.-based J.D. Ireland got to work on the Monroe Room at the State Department. Our staff members started crafting many of the DIY Christmas projects we've featured in the magazine over the years.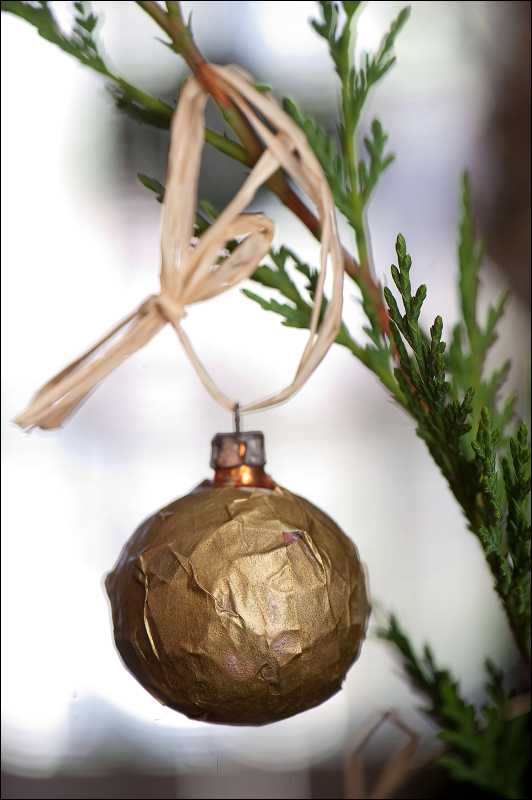 Homemade decoupaged glass balls adorned live Christmas trees. Photo by Rob Cardillo.
We went for simple, stylish and sustainable elegance--decorations that would respect and enhance these beautiful rooms without competing with their classic decor. We wanted to show that Christmas doesn't have to be about excess, so we kept our decorations tasteful and relatively minimal, choosing every item with care. Our rooms feature only decorations with a story to tell: angels made from old oil drums by Haitian artisans, fragrant eucalyptus mistletoe balls made by a Peruvian cooperative, jars and bells made from recycled glass. We hung homemade citrus slice ornaments and decoupaged glass balls on live Christmas trees that lent festivity to the rooms--and will continue to bring cheer when they're planted outside come spring.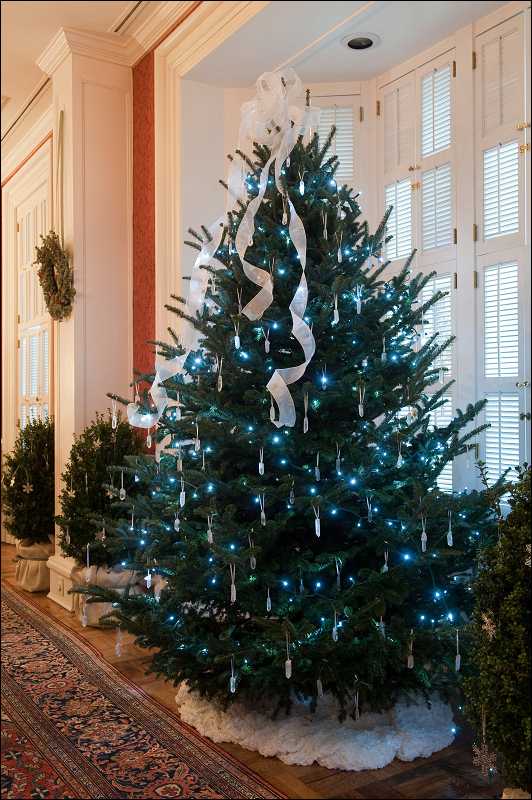 We decorated the Blair House's traditional annual 9-foot Christmas tree with natural quartz crystals, LED lights and a big white bow. Photo by Rob Cardillo.
We debuted our decorations during a State Department reception last Monday, which honored the families of dignitaries and diplomats unable to be home for the holidays and showcased its evergreen goal of encouraging international peace and diplomacy. We could think of no better way to convey those wishes than by choosing fair trade, artisan-made items that benefit our planet and its citizens. During the reception--where we got to show off our work to, among others, Secretary of State Hillary Rodham Clinton--people were mesmerized by our 9-foot Christmas tree, dazzling with bright white LED lights (which use 75 to 80 percent less energy than traditional bulbs), quartz crystals and a big white bow. The crystals (which I'm now coveting for my own tree) are said to bring spiritual clarity--not a bad thing for passersby to glimpse through the window as they head down Pennsylvania Avenue to the White House.
Peace be with you.
Follow Robyn Griggs Lawrence on Twitter: www.twitter.com/robynlawrence