Preppy pupils Hudson and River (no not Hudson River) along with their friends Willow, Jasper, Oliver and others are back under the guise of children's literature to help Ralph Lauren sell back-to-school wardrobes.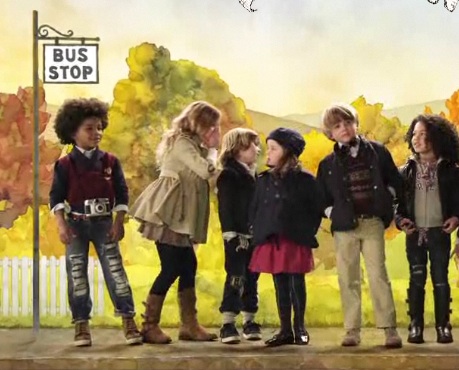 For the third time, Lauren's RL Gang appear both in a virtual story and a printed book written by the famed children's author, Ralph Lauren Childrenswear, that hawk $165 Burnham wool-blend jackets and and $135 Pointelle Fair Isle dresses.
Ralph Lauren is described as "proud to present an innovative way for parents and children to experience style, literature and digital technology." He is proud of a book that is filled with glittering prose such as, "You know what? Leaves change colors in the fall." Publicity for the project calls it "awe-inspiring," but rather it is yawn-inspiring.
For those of us familiar with the adventures of the RL Gang, we can only assume that they didn't fare well during the 2010-2011 school year because they are all back in the same class with the same teacher, the rakish Randolph Latimer. Perhaps Professor Latimer needs to be held more accountable for his teaching rather than his wardrobe. But, on a positive note, this year we are treated to "a rare glimpse into their (RL Gang's) homes."
This season John Legend is the celebrity narrator of The RL Gang: An Absolutely Awesome School Adventure. In the past Harry Connick Jr. and Uma Thurman have been narrators with a portion of sales during a limited time period going to the celebrities' charity. It is ironic that Legend, whose Show Me Campaign asks what each of can do to help break the cycle of poverty, is telling affluent parents to spend huge amounts of money on back-to-school wardrobes so that his charity can receive 15% of (the website typo say "15% off the sales") the sales between August 18th and September 18th can support his charity.
In addition, parents are encouraged to purchase the book version of the story from Barnes & Noble for $13.50. I don't fault Legend, Thurman and Connick for trying to raise money for their charities. And I don't fault parents for trying to make their children look and dress stylish. But I do fault Ralph Lauren Childrenswear for their continual use of faux children's books to pimp clothing. I encourage you not only to comment here about your views but to go the RL Gang Facebook and the Ralph Lauren Facebook Videos pages and post a comment there.
I also suggest that you take the $13.50, the price of An Absolutely Awesome School Adventure and give it to the Show Me Campaign or a school or public library. And as I have said in the past, share the Eleanor Estes' The Hundred Dresses, a book about a poor girl who is bullied about what she wears with a child. It will be a more valuable lesson for children than online shopping.

FOLLOW HUFFPOST