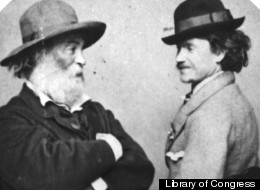 Barack, why didn't you just keep your big pie hole shut? Come on, guy, I voted for you and I went to your inauguration--so why are you doing this to me?
The thing is, four years ago when I came up with the title for the book I was working on, Outlaw Marriages, I was pretty darned proud of myself. Back then, the only state where two dudes or two babes could tie the knot was Massachusetts, which is so blue with liberalism that it didn't really count.
So for me to label the pairs of men and pairs of women profiled in my book "outlaws" because they'd become couples as long as a century ago--my title was totally edgy.
But then the tide started to turn against me. First, Connecticut joined Massachusetts, and then, not long after that, Vermont and New Hampshire fell in line, along with New York and Iowa--that last one's in the Midwest, for Pete's sake. Even the District of Columbia joined the parade.
Still, the title Outlaw Marriages was clinging to at least some of its tattered edginess until you, Barack, started yakking about, "You know, Malia and Sasha, they have friends whose parents are same-sex couples." Barack, what are you doing to me, bro? How's my title going to ring provocative when you start bringing the kids into the whole Adam and Steve picture?
And as for that loose-lipped sidekick of yours, don't even get me started on how my title--not to mention the book itself--would be a whole lot less mainstream-sounding if Joe Biden hadn't started babbling about being "absolutely comfortable" with same-sex marriage.
Maybe I should just count my lucky stars that Rick Santorum hasn't come out with some statement like, "I think it's great that two homos walk down the aisle . . . as long as they don't try to go to college."
Here are some of the couples I discuss in my book:
Many literary scholars consider Walt Whitman this country's most influential poet. The works collected in Whitman's Leaves of Grass pay homage to the freedom and dignity of the individual while celebrating democracy and the brotherhood of man. Peter Doyle was a 21-year-old conductor on a horse-drawn streetcar when he and Whitman, who was 45, became lovers. Whitman and Doyle were in an outlaw marriage from 1865 until 1892, when Whitman died.

Martha Carey Thomas made history by creating the first graduate program in the United States that admitted female students. Mamie Gwinn played an instrumental role in Thomas's success, including completing a major research and writing project that her partner took credit for to earn her doctoral degree. Thomas and Gwinn were in an outlaw marriage from 1878 until 1904.

Jane Addams was, during the early years of the 20th century, the most widely admired woman in America. Addams revolutionized the field of social work by founding Hull House, an institution she established in a poor neighborhood of Chicago to provide services for recent immigrants--such as classes in music and literature. Addams later became the first American woman to win the Nobel Peace Prize. Mary Rozet Smith played several vital roles in Addams's success, including raising funds that allowed Hull House to keep its door open. Addams and Smith were in an outlaw marriage from 1891 until 1934, when Smith died.

Elsie de Wolfe is widely recognized as the founder of the field of interior designer. Bessie Marbury was a highly successful theatrical agent, as well as the woman who made a series of suggestions that helped de Wolfe in her pioneering work. De Wolfe and Marbury were in an outlaw marriage from 1892 until 1933, when Marbury died.

Gertrude Stein was an avant-garde author as well as a literary mentor for such legendary writers as F. Scott Fitzgerald and Ernest Hemingway. Alice B. Toklas took it upon herself to get Stein's work published, becoming not only her partner's editor but also her literary agent and publicist. Stein and Toklas were in an outlaw marriage from 1907 until 1946, when Stein died.

Tennessee Williams was a Pulitzer Prize-winning playwright. Frank Merlo earned his living as a truck driver until he fell in love with Williams and began the process of weaning the playwright off his toxic dependence on drugs and casual sex. If it hadn't been for Merlo, it's unlikely that Williams would have written Cat on a Hot Tin Roof or many of his other plays. Williams and Merlo were in an outlaw from 1948 until 1963, when Merlo died of lung cancer.

Ismail Merchant and James Ivory were widely recognized, during the final decades of the twentieth century, as setting the gold standard when it came to adapting iconic novels into sumptuous motion pictures. Among their best-known works are A Room with a View and Howards End--both films won multiple Academy Awards. Merchant and Ivory were in an outlaw marriage from 1961 until 2005, when Merchant died.

Audre Lorde was a widely acclaimed author who focused on the issues of racism, sexism, and homophobia. Frances Clayton was a tenured professor of psychology at Brown University, until she left that position to support Lorde's evolution as a writer. Lorde and Clayton were in an outlaw marriage from 1968 until 1988.