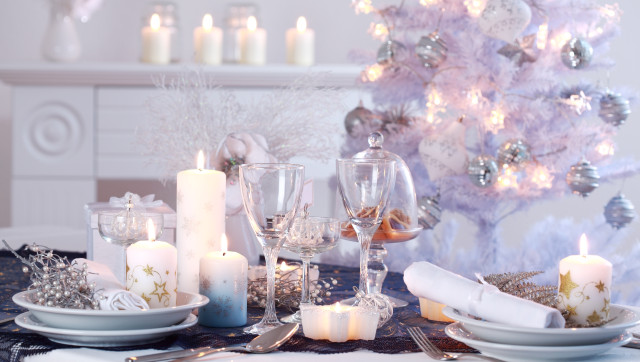 This time of year, no matter what you are celebrating, entertaining is on everyone's mind. Time spent with friends and family, over night guests and those who drop by for a quick cocktail, and maybe even some hot-chocolate sipping little pals. While the company can be fun, figuring out where to put everyone -- and everything -- can be more stressful than Thanksgiving dinner at the in-laws. Luckily, we've compiled a list of the 5 must-have's for your holiday entertaining, and maybe even for hosting a few soirees throughout the year. Having a small space doesn't mean that you can't throw a big party -- so, cheers!
1. If you have having guests that plan on staying and eating more than just a few quick bites, you'll need somewhere for them all to comfortably fit for the holiday feasts. Not the everyday dining table type? Not a problem. A small table that spends most of its days serving as a storage console is the perfect solution and pulls out to comfortably seat your guests. No dining room required!
2. Open spaces always feel bigger, which are necessary when you have a quickly crowding room. Don't have an open loft with a view? Nothing gives the illusion of space better than reflective surfaces and good lighting. A large mirror and strategically placed lamps will help your home feel as cozy as it is, and dimmed lights help larger spaces feel more intimate. In a small space, you'll want to be sure your guests can comfortably and safely enjoy the evening by providing ample and well-integrated lighting. An interestingly-designed lamp that works as a conversation starter is never a bad idea.
3. If your guests aren't coming for a 5-course meal, you can get away with not having a central table as long as there's plenty of seating for everyone. Normally dine solo? Chairs and ottomans that are easily stored away or serve another purpose for everyday life are the ideal solution. Folding chairs that stack and still look chic are a standard go-to or you can go the hidden route with the Cubista, which serves as an ottoman and conceals seating for five. If you are thinking ahead, you can go the pouf-as-a-coffee-table route during the year with a tray on top. This way, you have instant seating and a serving surface: multitasking at its best! Whatever you choose, make sure it can serve another purpose when not being used as seating, like a chair that doubles as a bookshelf -- again, useful AND a conversation piece.
4. Are your guests more the overnight variety? For those of us without the spare bedroom awaiting out-of-town friends, who have perhaps outgrown a crash on the couch, you'll need a multi-tasking piece. A well-hidden bed with additional seating and maybe even some storage solves all your problems, except maybe assuring that your guests aren't too comfortable to extend their stay past New Year's. Again, thinking ahead and careful planning are key. Anticipate your lifestyle and what works for you - year round.
5. Be flexible and creative! No matter how well-prepared a hostess you are, there will be some unexpected surprises and some shifting of items to prepare for a fete of any size. Having ample surfaces and storage room will assure that you can scoop those few things that prefer to remain well-hidden into a designated spot and avoid last minute scrambling. There are a multitude of options available whether you prefer a sleeker, more customizable option, a place for stacks of office papers or just need a place to store coats.
The holidays are a great time for gathering with friends and reconnecting with family. Avoid the rush of the season by making your space work for you and planning ahead. Your guests will love you - and your home - and after it's all over you can sink into your seat with your own glass of bubbly and celebrate another year well done. Happy celebrating!
Have something to say? Check out HuffPost Home on Twitter, Facebook, Pinterest, Tumblr and Instagram.
**
Do you have a home story idea or tip? Email us at homesubmissions@huffingtonpost.com. (PR pitches sent to this address will be ignored.)